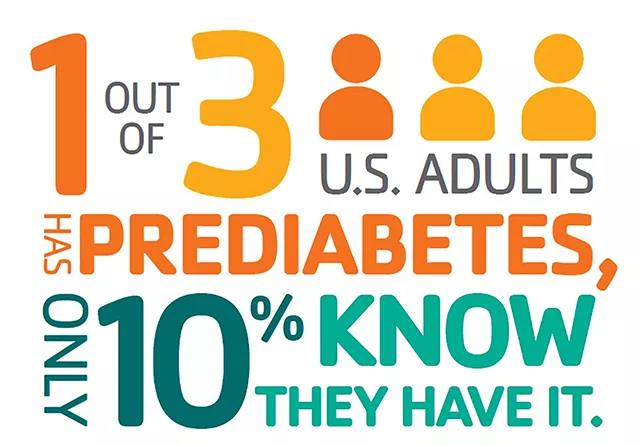 Diabetes is the seventh leading cause of death in the United States. November is National Diabetes Awareness Month, designed to focus attention on the impact of diabetes on millions of Americans. Over 110 million Americans have diabetes or are at risk for developing it, according to the National Institute of Diabetes and Digestive and Kidney Diseases (NIDDK). The Illinois Office of the American Diabetes Association (ADA) reports that over 1.3 million people in Illinois have diabetes, representing 12.8 percent of the state's population. According to data compiled by the ADA, there are approximately 20,000 individuals with diabetes in Sangamon and Macon counties, including nearly 6,000 with undiagnosed diabetes.

Diabetes is on the rise, and the ADA says 1.5 million Americans are diagnosed with diabetes every year. In addition, more than 84 million people age 18 or older have prediabetes. Recent studies document that diabetes is also on the rise in children and teens. A 2014 report from the U.S. Centers for Disease Control and Prevention says, "Without weight loss and exercise, prediabetes develops into full-blown type 2 diabetes in 15-30 percent of cases within five years."
Types of diabetes
There are several types of diabetes: type 1, type 2 and gestational. Type 1 diabetes, once known as juvenile diabetes or insulin-dependent diabetes, is less common and related to autoimmune, genetic and environmental factors. The pancreas produces little or no insulin, which is a hormone needed to allow glucose to enter cells and produce energy.
Type 2 diabetes is the most common form, representing 90-95 percent of diagnosed cases, according to the Centers for Disease Control. The ADA explains that with type 2 diabetes, blood glucose (sugar) levels rise higher than normal and the body does not use insulin properly. At first the pancreas makes extra insulin to make up for it. But over time, insulin resistance develops, as the pancreas isn't able to keep up and can't make enough insulin to keep blood glucose at normal levels.
Gestational diabetes develops in a small percentage of pregnant women and usually disappears after the pregnancy is over. However, women who have had gestational diabetes have a higher risk of developing type 2 diabetes later in life.
Risk factors and complications
The Centers for Disease Control says that risk factors for diabetes include older age, obesity, family history, prior history of gestational diabetes, impaired glucose tolerance, physical inactivity and race/ethnicity. African-Americans, Hispanic/Latino Americans and American Indians are at particularly high risk for type 2 diabetes. NIDDK says people are more likely to develop type 2 diabetes if they are not physically active and are overweight or obese, as extra weight can cause insulin resistance. The location of fat is also a contributing factor. Extra belly fat and visceral fat can be linked to insulin resistance. Diabetes can also cause other serious health complications, including heart disease, blindness, kidney failure and lower-extremity amputations.
Diabetes in America, third edition, published by NIDDK, is "a compilation and assessment of public health, clinical, epidemiologic and clinical trial data on diabetes and its complications in the United States." According to this report, people with diabetes:
• Have about twice the risk for stroke, higher risk of dementia and increased symptoms of depression,
• Are twice as likely to have heart disease,
• Are twice as likely to have nonalcoholic fatty liver disease,
• Commonly develop diabetic foot ulcers,
• Are at increased risk for eye diseases,
• Have double the risk of hearing loss,
• Often have obstructive sleep apnea,
• Are at risk for kidney failure and
• Are at increased risk for bone fractures.
The good news
A number of studies have shown that regular physical activity can significantly reduce the risk of developing type 2 diabetes. Along with lifestyle changes and appropriate treatment, many people are able to prevent or delay the onset of additional complications related to diabetes. In response to the growing health burden of diabetes, the U.S. Department of Health and Human Services is actively pursuing three approaches: prevent diabetes, cure diabetes and take better care of people with diabetes to prevent devastating complications.
Diabetes in America, third edition, also finds some good news:
• People who are at high risk can prevent or delay the disease by losing a modest amount of weight,
• People with type 1 diabetes are living longer and healthier lives by keeping blood glucose levels as close to normal as possible early in the course of the disease, and
• Improvements in management of diabetes have led to decline in some complications.
Treating and managing diabetes
Treatment for type 2 diabetes typically includes diet control, exercise, home blood glucose testing and, in some cases, oral medication and/or insulin.
There is an opportunity to learn more about these issues firsthand. The Illinois Prairie Diabetes Alliance is presenting the fifth annual Healthy Life, Healthy You free community education seminar on Tuesday, Nov. 13, 4:30-7:15 p.m. at the Dove Conference Center, Prairie Heart Institute, 619 E. Mason St.
The Prairie Diabetes Alliance is a group of 25 organizations representing all of the major diabetes management entities in Sangamon County and the surrounding area. The alliance also includes a number of highly motivated individuals as a result of personal and professional interest. This educational seminar will feature speakers, educational displays and exhibitors from SIU School of Medicine-Endocrinology and Family Medicine, Springfield Clinic-Endocrinology; Memorial Medical Center Weight Loss and Wellness Center, St. John's Hospital and HSHS Joslin Center and private vendors.
The program will include:
• Mindfulness and managing diabetes stress,
• Cooking demonstration segment with emphasis on plant-based eating and using produce made available through local food "baskets,"
• Presentation on blood pressure goals and why blood pressure is related to diabetes management and risk.
Cindy Yergler, registered dietitian, certified diabetes educator and lifestyle coach with SIU Medicine-Division of Endocrinology, says:
"The management of diabetes has never been more exciting or hope-filled. Recent changes in care and management include the use of personal continuous glucose monitoring, which reduces the need for constant finger-stick blood testing. Development of 'partial closed loop' insulin pumps, which closely mimic the human pancreas, have increased patient safety related to low blood glucose and provide overall improved management for many. Technology, through the use of a myriad of diabetes and health apps, has revolutionized patient safety and quality of life."
An awareness of the high prevalence of diabetes in and near Springfield and the serious health consequences of untreated or poorly controlled blood sugars is essential. Michael Jakoby, MD/MA, associate professor of medicine and chief of the SIU School of Medicine Division of Endocrinology, says, "The School of Medicine is making more resources available for patients in our community with diabetes by maintaining an ADA-accredited diabetes program, recruiting new endocrinologists to the community, and renovating clinical space to create a state-of-the-art diabetes center in 2019."
Healthy Life, Healthy You Seminar
Tuesday, Nov. 13 • 4:30-7:15 p.m.
Dove Conference Center, Prairie Heart Institute
619 E Mason St., Springfield
For information call Mary Rogers at 217-814-4308
Karen Ackerman Witter began freelance writing after retiring from the state of Illinois. She writes about an eclectic range of topics with the goal of connecting people, organizations and ideas to achieve greater results. She has learned more about the role of diet and fitness in preventing and managing chronic diseases such as diabetes through her participation in the Crossfit Instinct Longevity class.