After years of idle public speculation, abandoned plans and long periods of apparent inaction, the stretch of Jackson Street north of the Governor's Mansion will unveil the results of a new streetscaping project. This will coincide with the completion of the renovation of the mansion itself as well as the premier of the newly completed Bicentennial Plaza behind the Illinois Realtors building at 522 S. Fifth St. All three locations, long blocked off as construction areas, will be open to the public as of Saturday, July 14.
"This block has seen a lot of change over the past 150 years," said Mark Mahoney, Springfield's director of public works, referring to the Y block, which was purchased by the city in 2014. Indeed, previous to the YWCA, the space had once been home to the Abraham Lincoln Hotel as well as the Roxy movie theater along with various churches, restaurants and other businesses. "If you go far enough back it was an industrial site and even further back, Fifth and Jackson had been a swimming hole."
This particular piece of history is relevant to one of the most important – albeit least visible – features of the improved block, a new drainage system designed to mitigate the large amount of flooding the downtown area is prone to. "We saw this as an opportunity for the city project to do some underground storage," said Mahoney. "There's about 46,000 cubic yards of storm water storage underneath [the Y block] that's all been covered up. It meant digging a hole and putting in pipes where the water is stored and retained until we can let it run off." The system cost just shy of $2.5 million, split between the Downtown TIF and the city infrastructure fund.
According to Chris Stritzel of CMT Engineers, which was involved in all three projects, 150 years ago there had been a creek running through downtown which regularly flooded. The city built a brick, arched sewer around it in the 1860s. "That sewer was relined in the 1970s with concrete on the inside to make it more structurally sound," Stritzel said. "We have about an 1,800-acre watershed that comes through this creek, which is now enclosed, and when there are heavy rain events it comes to the surface – not just storm water, but sewage." To address this, a 60-inch-diameter plastic pipe was installed, which holds around 350,000 gallons of storm water when the system is activated. "Because it's combined storm water and raw sewage, we could not do a surface solution to this problem, we had to bury it out of sight, which does allow a little flexibility for future development of the block."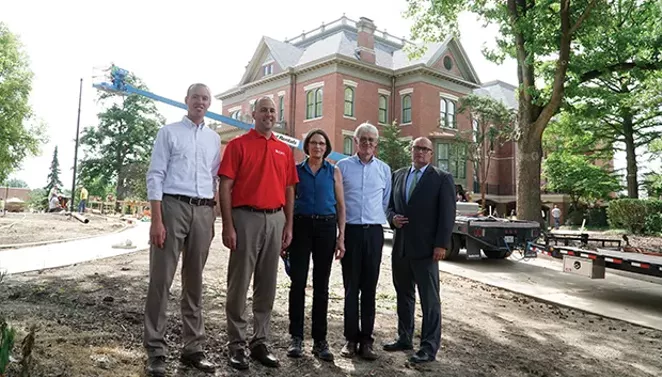 "There has always been a desire to make a connection between the Lincoln Home and the rest of the historic sites," said Gary Clayton, CEO of Illinois Realtors. "And since we own the land behind our building, we were asked if we would consider devoting some of the land for a pedestrian walkway." This idea was floated right around the time that several Illinois Realtors members had begun working on ideas for how the agency might participate in the upcoming state bicentennial.

The plan became to transform the space behind the building – which had previously been a parking lot with 90 spaces – into a plaza as opposed to a walkway. "When people come through we want it to be more than 'how fast can I get across this asphalt?' So we decided to put interpretive panels up to represent events in Springfield and Illinois history that may not get a lot of attention but which are very important for human rights and civil rights," Clayton explained.

Illinois Realtors also got the city involved. "This project has had a tremendous amount of private and public-sector cooperation, not only with the city but with historians at the various agencies. One of the things that we have been steadfast about is that if we are going to put a panel up, accuracy is of extreme importance." Clayton said he personally, along with members of staff, met with every city alderman and talked about the concept and the plan, asking for their support, which the aldermen unanimously granted. "I learned a lot," he said. "There's much more involved in building something like this as opposed to 'smooth it out, pave it, move on.'"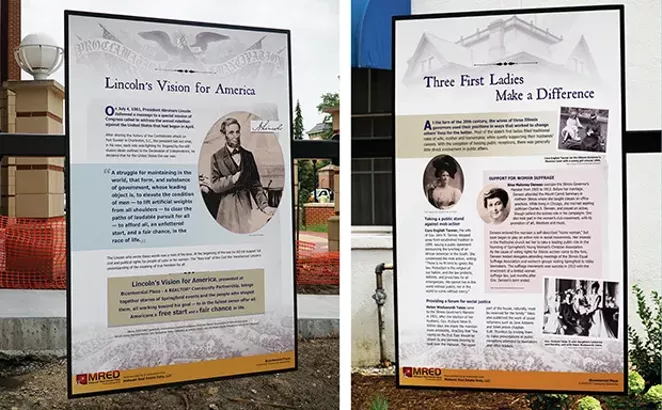 In addition to the interpretive panels, the plaza includes a sophisticated system of LED lights suspended above the walkway, which can be programmed with different color patterns depending on events and holidays (red, white and blue for the Fourth of July, pink for Valentine's Day or green for St. Patrick's Day, etc). "We'll do some things to hopefully increase not only visibility but pedestrian traffic at the holidays and things like that," Clayton said. "We're going to try to stay true to the overall purpose, as a pass-through and a historical presence. The plaza will be potentially available for certain events but it's not going to be the new outside party area or anything like that." Clayton said that the model he has in mind for the future of local tourism is something along the lines of Boston's Freedom Trail, including a map with clear demarcations of pedestrian historical stops.
"The corridor is going to be a wonderful connection between the Lincoln Home and the Capitol complex and it pulls everything together," said Kent Massie of the Springfield landscape architecture firm Massie Massie and Associates, which had a hand in all three projects. "Each block will have its own character and we're hoping visitors will appreciate the more casual connection between locations."
The Governor's Mansion is also set to open July 14. "We got approval about two years ago and started construction last May 15, with the majority completed by May 15 of this year," said Laura Hochuli of Chicago-based Vinci Hamp Architects, who is the architect for the project. "Our goal was not just to make the mansion ADA accessible but to clear it out so that you now have a better view of the mansion from the streets around it." The mansion again has a clear view of the city, which had been obscured by outsize foliage growth in recent years. "Many of the governors who lived here in the past commented on how they had a view of the Capitol from the front yard – when we started this, we did not have that," said Hochuli. "We wanted a very welcoming entrance – now there is a much smaller front entrance compared to when we started the job but we feel it is much more inviting and more appropriate to the 1855 design."
Hochuli said that the overall approach to the mansion renovation was to create a hybrid of different architectural styles. "We are trying to emphasize the 1855 building, bring those details back to this historic building, so we tried to uncouple the 30,000-square-foot 1972 rear addition, to keep it as a separate component, maintaining the front historic building as the focus of this renovation." The more modern back end of the mansion contains the apartment where the first family lives as well as a ballroom and a library, while the ground floor has offices for staff and a commercial kitchen.
As for the exterior, Hochuli said that when they started out, all trim, handrails and window frames were painted white. "We found original wood on one of the windows and did an investigation, looked at all the layers of paint under it. We also have a great, high-resolution image from 1900 that shows the cornice and decorative handrails which we recreated from that image." There will be a new entry plaza, allowing tours to enter on Jackson Street and ascend a curved walkway, which is now ADA accessible. Hochuli said that the interior of the mansion is complete and fully furnished. "It's been a lot of fun," she said. "These are the kinds of projects our office does. We dig in, investigate 'em, and try to bring them back."

According to Kent Massie, a study done by his office in 2013 was the starting point for all three major downtown projects. "This goes to the credit of a lot of people," he said. "There were three different design teams and I think everybody's pulled together."
Clayton said that the overarching goal is to work together with the city, tourism and historians to create "a real experience for people who visit here, not just a one-shot. And we hope Bicentennial Plaza provides at least a continuous flow of traffic."

Regarding the future, Mahoney said there has been discussion about possible developments in the two-thirds of the Y block not standing atop drainage pipes. "That space could be developed at any point in time, whether it becomes a park or buildings or something else." Some ideas include a possible University of Illinois Springfield or Southern Illinois University presence, but for now that portion of the block will be seeded as green space.

"It has been a lot of work," said Mahoney. "People might remember what this block was like years ago – it was basically full of rocks and litter. So it has changed a lot. But before that, this area was very vibrant at one time and we would like to see some of that vibrancy return."

The Governor's Mansion will reopen to the public with tours led by mansion curator Justin Blandford and professionally trained docents from 9 a.m. until 11 a.m. Saturday, July 14.

Scott Faingold can be reached at sfaingold@illinoistimes.com.