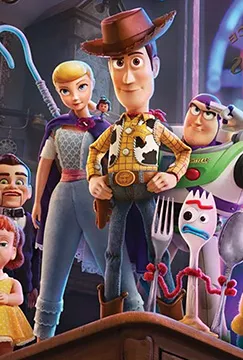 I think I was one of the few who weren't knocked out by Pixar's Toy Story 3. I found it unnecessary, as well as cloying and obvious. I expected much of the same with Toy Story 4, and to be sure, there are times when it's guilty of trying too hard and suffers from repeating things from the first three entries. Yet in the end, it proves to be genuinely moving, at times uproariously funny, and just radical enough to distinguish it from the lackluster sequels that have come from the studio in recent years.
Of course, Woody (voice by Tom Hanks) is the centerpiece of the movie, as he's having a hard time adjusting to his new home. He and the crew, including Buzz (Tim Allen), Jessie (Joan Cusack), Rex (Wallace Shawn) and Hamm (John Ratzenberger), have been adopted by five-year-old Bonnie (Madeleine McGraw) and for the most part, they've adapted well. Woody, however, is proving overprotective of his new kid and winds up meddling, to the point of accompanying her to kindergarten after being told he shouldn't. There, he inadvertently helps the lonely girl make a new toy, Forky (Tony Hale), a misfit created from a castoff spork, pipe cleaners and a popsicle stick. Having seen her through a rough first day, Bonnie clings to the new plaything, an affection that proves problematic when he goes missing while her family is on a road trip.
This sets up the most interesting part of the film as Woody and Forky stumble upon an antique store in their efforts to be reunited with Bonnie, and in the process, find Bo Peep (Annie Potts), who's been separated from the group for years. This character has undergone the most radical change as she's become a fierce, independent warrior, helping abandoned toys find kids to play with. Potts' work matches this change, as she brings a strong, yet warm quality to her voice work that's refreshing.
The romance between her and Woody, a long-unspoken attraction that's finally acted upon, is one of the movie's highlights, Hanks and Potts stumbling and stammering to bring the toys' awkwardness to life. Allen gets a few moments to shine as well as Buzz struggles to find his way and takes to listening to his own special "inner voice" for guidance. This plot point is quite smart and is a testament to the continued clever nature of these films as the writers assign human foibles to these animated stand-ins.
Not only is the film funny and romantic, but at times also terrifying in a fun, imaginative way. The villain of the piece is Gabby Gabby (Christina Hendricks), a doll in desperate need of Woody's voice box who longs to belong to a young girl. While she proves to be a rather bland foil, her four henchmen, rubber-jointed ventriloquist dummies whose heads creepily loll back and forth on their necks, their dead eyes malevolently and indiscriminately casting glances that deaden your soul, produce horrific laughs throughout, as well as set up one of the biggest hoots of the cinematic year.
In the end, Toy Story 4 avoids the fate that's plagued most of this summer's sequels. Its third act ultimately takes a narrative tack that's not just surprising, but radical, in terms of how franchises closely guard their respective narratives and characters. Both the series and Woody are in dire need of change and that both of them embrace this in the end, is a sign of hope for the franchise as well as a strong, poignant message for us all.

Contact Chuck Koplinski at ckoplinski@usd116.org.