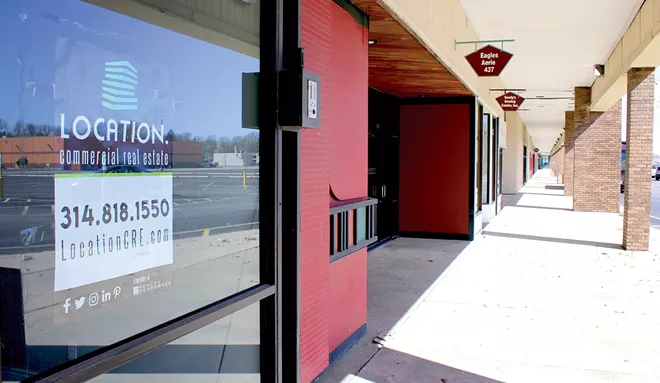 The scheduled auction of Town & Country Shopping Center in May could bring a revival of sorts to the 61-year-old retail site and more positive news for the west side neighborhood, Ward 7's alderman says.
"That site has got a lot of potential, and I'm sure the new buyer will maximize its use," alderman Joe McMenamim told Illinois Times. "I think this can be a very positive outcome. ... It's extraordinarily important to MacArthur Boulevard."
Town & Country, in the 2300 to 2500 blocks of MacArthur, opened in 1961 and was the first outlying shopping center in Springfield as retail outlets across the country began opening in such centers instead of in urban cores of communities.
Covering almost 260,000 square feet, Town & Country is less than one-third the size of White Oaks Mall, which opened in 1977. But Town & Country is poised to benefit from pent-up demand from consumers during the COVID-19 pandemic, a busy, eight-year-old Hy-Vee supermarket next door and 20,000 vehicles passing by on MacArthur each day, McMenamin said.
"Hy-Vee has reenergized MacArthur," he said.
Town & Country's auction is being handled by Ten-X on behalf of bond holders who own the assets, according to Paul Barile, a managing director for Transwestern, a company that assists in real estate sales.
The property previously was owned by a group that included Springfield developer Corky Joyner and city attorney Jim Zerkle.
JPMorgan Chase loaned $13.6 million to Joyner and Zerkle's limited liability company in 2015 but filed a foreclosure claim when the ownership group didn't make required monthly payments on the loan in 2019, according to The State Journal-Register.
The foreclosure happened after Burlington Coat Factory, an anchor tenant since 1989, relocated in 2018 to the southeast corner of Veterans Parkway and Wabash Avenue.
Ownership of Town & Country then transferred to JPMorgan and then to a corporate representative for owners of commercial-backed securities, Barile said.
The minimum opening bid is $1.6 million in the online auction, scheduled for May 20-24. "That's a bargain price," McMenamin said.
The fair-market value of the property is more than $8 million, according to Sangamon County tax records.
A sale will be completed 30 days after the auction, Barile said.
Some of the first retail tenants of Town & Country in the 1960s were the Goldblatt's and S.S. Kresge. Current tenants include the Illinois State Board of Elections, Dollar Tree, Citi Trends, Chuck E. Cheese, Tuesday Morning, Hibachi Grill Supreme Buffet and Underdog Sports, Memorabilia & Games.
Almost 60% of the center is vacant. The biggest empty space – 65,000 square feet – had been occupied by Burlington Coat Factory.
Paul Layton, a Chatham resident who owns Underdog Sports, said he is thrilled about the auction, which won't disrupt current leases at the center.
Having owners who are directly involved and focused on turning a profit likely will result in more aggressive marketing of the site, which covers 18 acres and includes 900 parking spaces, Layton said.
More tenants will lead to more foot traffic at Town & Country, which benefits all tenants, he said.
The current property manager is Cushman & Wakefield, a company with an office in St. Louis, Layton said.
A reduction in COVID-19 cases has led to the restarting of youth sports, which has in turn resulted in a big uptick in business for Underdog Sports, he said. The business specializes in the purchase and sale of used sporting goods.
The scheduled redevelopment of MacArthur Boulevard will make the shopping center even more attractive for potential customers, McMenamin said.
"The convenience of that site is huge," he said.
The improvements, between South Grand and Stanford avenues, are expected to cost the state $28 million and begin sometime between this year and 2027, according to the Illinois Department of Transportation.
The road will be reconstructed, traffic signals will be replaced and there will be other changes related to the Americans with Disabilities Act, IDOT officials said.
Whoever buys the site also could benefit from an existing tax-increment financing district and an enterprise zone to help finance improvements, McMenamin said.
Dean Olsen is a senior staff writer for Illinois Times. He can be reached at dolsen@illinoistimes.com or 217-679-7810.