Historic houses happen to be one of my favorite things, so when I heard about the beautiful Oakland Mansion in St. Louis, I headed out with Annie Jansen and her sister, Joanie, to check it out. Charlie Brown, the president of the Affton Historical Society said Oakland House was built in 1853-1854 by Louis A. Benoist as a country home. The land that the house is built on was once part of a Spanish Land Grant.
Benoist's father made money in the fur trade and moved from Montreal to St. Louis, marrying a wealthy St. Louis woman. Growing up with all the accoutrements of wealth, Louis studied medicine, but switched to law, which he practiced until he traveled to France to settle his great-grandfather's estate. This was a two-year ordeal, and on his return, he was shipwrecked in the Bay of Biscay. Marooned in Spain for three years, he finally returned to St. Louis in 1826.
Once home, he opened one of the first real estate and brokerage offices in the city, Benoist & Company, in 1832. From this wealth he obtained the money to build Oakland for his third and much younger wife, Sarah Elizabeth. The two met while she was visiting her uncle, then they married on Nov. 16, 1849. Louis was 48 and Sarah was 19. Benoist had lost his first two wives to cholera. After his marriage to young Sarah, they honeymooned in New Orleans and in one of the upstairs bedrooms is a bed they bought while there.
Louis bought land and created a working farm. They named their farm Oakland Farms and it served as a summer home for family and friends and perhaps, most important of all to Louis, a place away from the dangers of cholera that frequented St. Louis where his winter dwelling was. Together, Sarah and Louis would have five children during their 18-year marriage.
Architect George Ingrahm, who had recently completed Tower Grove for Henry Shaw, was selected to design Oakland. Using white limestone quarried on the estate, the Italianate home took form. The drawing room of Oakland boasts 14-foot ceilings and offers a windowed alcove set apart with hand-carved Corinthian columns. The library at the other end is offset in the same way. The interior of the house has 24-inch-thick walls and a fireplace in every room.
The freestanding walnut staircase leads to three upstairs bedrooms. There is also a back staircase leading to a fourth bedroom over the kitchen. Like a wedding cake, the house is topped with a tower lookout.
Louis Benoist in his early years had his shipwreck adventure. But this was not the only dangerous adventure he experienced. Louis was on the Pacific Railroad board of directors. He, along with other dignitaries, rode the train to celebrate the dedication of the Gasconade River Bridge near Hermann, Missouri. The bridge collapsed and the train plunged 30 feet into the river. Many prominent passengers were killed, but Benoist's life was spared.
Louis's last grand adventure was in Cuba where he traveled on account of his interest in sugar cane. While there in January of 1867, he contracted the cholera he had tried so hard to avoid. Louis Benoist was 66 when he died in Havana. Sarah was only 36 and left with five children.
Oakland could not be sold until their youngest child was 21. Louis had made other provisions for children from his second marriage. In November of 1867, Sarah married Louis's business partner, James Murrin, and together they had two more children, a son and a daughter. "He was 10 years younger," Charlie Brown said about James Murrin.
Sarah died in 1872 at the age of 42, not long after giving birth to her daughter, Maude, who also died a few months later. After Sarah's death, Clemence, the oldest daughter, raised the family. James Murrin moved to Chicago and remarried.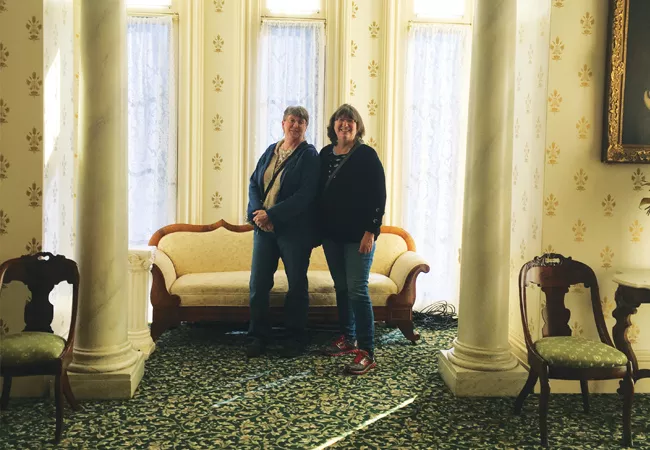 The home went through many owners over the years, including Robert Brookings, who established the Brookings Institution in 1927.
The house eventually fell into disrepair. In 1942 Pauline Schulze and her husband moved into the dilapidated home during World War II. The Schulze family lived there for many years. In 1970, Benoist family members helped form the Oakland Historical Society. Gathering money from dues and hosting fundraisers, the house was purchased finally in 1976.
"In 1977 World War II vets called the Brick and Mortar Gang came every Monday and worked on the house for 15 years," Charlie Brown added.
This home that was already on the National Register of Historic Places began a lengthy restoration process. The caretaker continues to live in the house. Over the years, $200,000 and untold man hours has restored the home to the splendor of Louis Benoist's days.
Located at 7801 Genesta St., St. Louis, the house is often the site of weddings and events. To tour this historic home, log onto
www.oaklandhousemuseum.org
for details.

Cindy Ladage, a travel writer and author of children's books, lives on a farm in Virden.