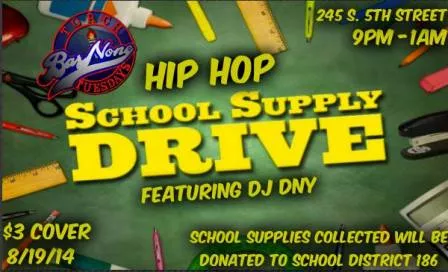 Tonight is the beginning of a three-part school supply drive from the local hip-hop community .Due to budget issues the district closed three elementary schools in the city and are sending all of those students to Feitshans. With such an influx of low income students at one place the need for supplies is at an all time high.
Hip-hop showcase Torch Tuesday has partnered with 217hiphop.com, and Rich Taste Entertainment to collect supplies at three separate events and locations.
Part one is at Bar None's Torch Tuesday this evening and features DJ DNY and live Performances from a few local acts.
Part two will take place at Douglas Park band shell this coming Saturday (Aug. 23rd) and will be "showcasing the core elements of hip hop; Dance, DJing, Graffitii, Rap. The outdoor show will feature a headlining performance from Pytch Wyte, Part three will happen later the same night (Aug. 23rd) at Four Seasons with more live performances from local talent.
Bring school supplies to any of the three events. Alle materials collected will be providedsc to Feitshans elementary school.