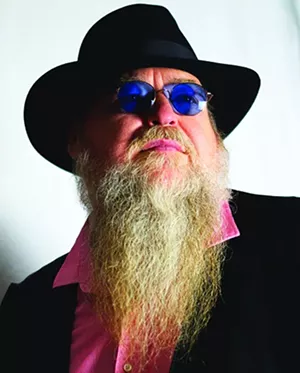 Welcome to our present state of confusion, where things "feel upside down and not in proper order," according to the definition of "topsy-turvy." My mom used the odd phrase to describe our situation back during the initial days of the shelter-in-place order, and the expression seems even more pertinent now in these nonsensical times we're currently experiencing. Let's see what we can make of it all during this third weekend of July 2020.
First, we always give our best to those working on the front lines with the COVID-19 problem and our sympathies to anyone directly affected – at whatever level – by the virus. Please be considerate and follow guidelines as set by medical experts that do know what they're talking about and please don't be like the guy I met at a gig last week. He yelled, "Real men shake hands," as he demanded we all partake in this ancient greeting ritual that works wonderfully well when there is not a worldwide pandemic to worry about. And no, I didn't say what I was really thinking, but I didn't partake in his well-meant, but wrongly advised, salutation, either.
In a reminder of what we've lost this year, the Chatham Jaycees Sweet Corn Festival, definitely one of the most popular annual events in our community, was scheduled for this weekend. With that, let's see what's going on around town, while being aware some venues are cancelling live music shows in regards to the uptick in our local infection rate.
For those of you staying in and not hitting the bars, whether inside or outside, there are a few weekly scheduled online music events. One of my favorites — since one could both watch virtually and listen in real time — is the live-streamed Carillon Thematic Summer Concert every Wednesday evening at 6:30 through Aug. 26. Go to the Thomas Rees Memorial Carillon Facebook page to watch online and download a concert program from the Springfield Park District website.
The Levitt AMP Virtual Music Series continues with a livestream happening almost every Thursday and Friday at 7 p.m. that includes many of the groups who would've played on the city's Y-block this summer. Visit the Levitt AMP website for information on scheduling, for upcoming show teasers and to watch any of the archived performances, anytime. Heads up to support the locals when our very own, The Deep Hollow, livestreams nationally for the music series on Friday, July 24 at 7 p.m.
Cowboy Randy Erwin continues his Take a Break online shows every Saturday night from 8 to 9 and I'm sticking with my Turtle Tank Tuesday nights at 8:38, plus Rick Dunham stops by to sing with me for an interesting music experience every Wednesday at 7:37, all on Facebook.
Other stuff is happening at the usual haunts including The Collective gathering at Longbridge, Sirens of Springfield all-female open mic going on at Buzz Bomb and Mississippi Leghound mopping up at Motorheads, all on Friday night. Then Rockhouse rocks out the Main Gate, Jack Flash stones it at the Curve and Sunshine Daydream floats in at Danenberger's, all on Saturday night. There's a Mini-Blues Fest at the Blue Grouch on Sunday with an incredible lineup of Robert Sampson, Brother Jefferson, Dave Lumsden with Reggie Britton, Skylar Rogers and Jeremiah Johnson from 2-10 p.m. Josie Lowder, joined by Brazilian guitarist Dr. Jose Gobbo, along with Lowder and Manning as well, makes musical magic on Sunday from 4 to 7 p.m. at 3Sixteen Wine Bar in Chatham.
Take care, take care of others and let's take things together well.