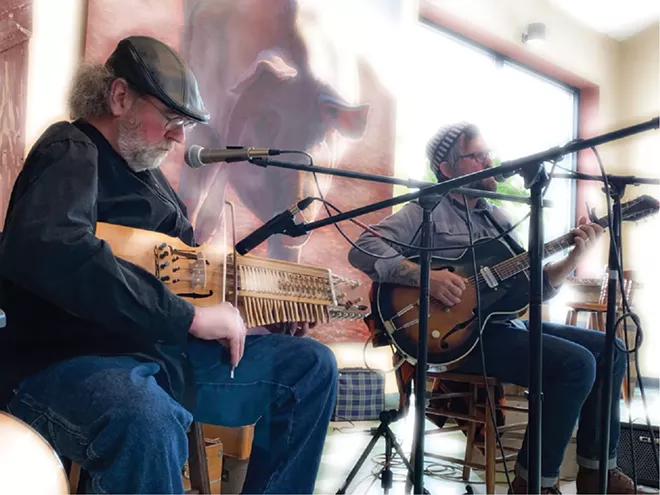 Away we go, searching for the music that matters and what matters in music, and what's the matter with that, I ask? Why absolutely nothing, of course. Let's see what this week holds for our collective consciousness of local live music.
We're going straight to Sunday when a spectacular collection of past and present Springfield musicians gather at the Curve Inn starting at 5 p.m. to celebrate the life and times of Jim "Tooter" Troxell. Jim passed away July 19, 2020, in his adopted home area of central Florida, but local folks know him from his bass and vocal work playing music in the 70s and 80s around town. From the epic days of our original punk-ish group Food and Money to the Flock of Tooters which morphed into the venerable Groove Daddies, plus his time spent with Cicero Slim and the WWIII Blues Band and Tonguesnatcher Revue, as well as other groups, Jim was in it, on it and of it, all the time. Members of these bands and other musicians close to "Tooter" will meet at the Curve to play music, swap tales and generally cause pleasurable havoc to honor the dear friend, exceptional musician and fine all-around fellow who was the spirit and being of Jim "Tooter" Troxell.
This Friday at the Abraham Lincoln Unitarian Universalist Congregation (show time 7:30 p.m.), John Van Orman and Adam Helwin, appearing as Van Orman & Helwin, come to celebrate John's latest work of recorded musical art, Flight to the Moon. Mr. Van Orman's list of achievements, from his work with folk group Finnegan's Wake, his spell as music director at the famed Ozark Folk Center and acclaimed academia accomplishments, onto the many concerts and recordings, as well as instrument building, playing, studying and teaching, is truly astounding. We could go on and on about his stellar career, but your best bet to absorb this lifelong dedication and devotion to folk music is to see him live and just soak it all in. Joined by Adam, the duo performs on a variety of traditional instruments, living up to their description of playing music "familiar enough to be warm and welcoming, adequately exotic to be fresh and surprising" and all done in a wonderful listening room atmosphere.
Other Friday night goings on include a special show by Manny Lee, a Juilliard-trained opera singer doing blues, rock, country and opera at the Sangamo Club (this event is open to the public) from 6 to 8, and those wild and crazy Boat Drunks floating in at the Anchor Boat Club from 7 to 11.
For a really hip happening The Reunion Beatles Fantasy Concert comes downtown to Union Square Park next Tuesday night, July 26, at 7. Hosted by the Abraham Lincoln Presidential Library and Museum, this free show has look-alike Mop Tops doing songs the Liverpool Lads might have done if they reunited, including hits from their respective solo careers, along with the obvious Fab Four songs. And if you want to know what connections the boys had to Illinois, the main reason the Jacksonville Capitol Records manufacturing facility came into existence was to keep up with the demand for Beatles records, or so the story goes. Plus, we know George visited his sister down in Benton months before the big 1964 "Ed Sullivan Show" appearance. Then, there was also the purported Paul McCartney sighting at a gas station out on Clearlake back in 2008.
Along with all the other good stuff in our listings, Don McLean of "American Pie" song fame plays the Sangamon Auditorium on Saturday night. See you next week.