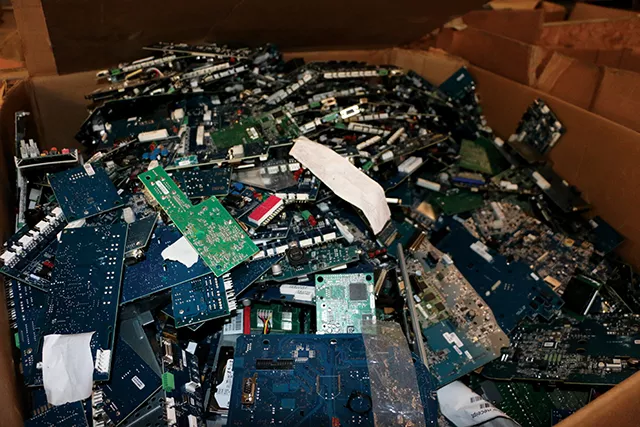 Electronic waste, commonly called e-waste, is a huge issue worldwide. In 2016, 44.7 million metric tones (49.3 million U.S. tons) of e-waste were generated worldwide and only 20 percent was recycled, according to the 2017 Global E-waste Monitor produced by a partnership among the United Nations University, International Telecommunication Union and the International Solid Waste Association. This is equivalent to almost 4,500 Eiffel Towers. The amount of e-waste generated globally is projected to grow to 52.2 metric tonnes by 2021. This comprehensive report says the growing amount of e-waste is the result of several trends:

• The global information society is growing at great speed, characterized by an increasing number of users and rapid technological advances that are driving innovation, efficiency and social and economic development.
• By 2017, close to half the world's population uses the internet, and most people in the world have access to mobile networks and services.
• Many people own more than one information and communication technology device, and replacement cycles for mobile phones, computers and other devices are becoming shorter.
• Disposable incomes in many developing countries are increasing, and a growing global middle-class is able to spend more on electrical and electronic equipment, which results in more e-waste.
With our insatiable appetite for the latest electronics, computers, televisions, mobile phones and other devices, consumers toss aside their "old" devices in order to have the newest technology. According to a USEPA report, 142,000 computers and over 416,000 mobile devices were discarded every day in the U.S. in 2010.
To address the growing problem of e-waste, 25 states and the District of Columbia had passed and implemented some type of electronics recycling legislation as of 2015. According to the USEPA, 41.7 percent of "selected consumer electronics" were recycled in the U.S. in 2014. The rest was trashed – in landfills or incinerators, according to a USEPA report.
In Illinois the Electronic Products Recycling and Reuse Act took effect in September 2008. Among other provisions, this act banned 17 electronic products from landfills when taken out of service from a residence in Illinois, effective Jan. 1, 2012. At the time, it was the most extensive ban in the country. These banned items include:
Cable receivers, computers (desktop, laptop, netbook, notebook, tablet), digital converter boxes, digital video disc players, digital video disc recorders, electronic keyboards, electronic mice, facsimile machines, monitors, portable digital music players, printers, satellite receivers, scanners, small scale servers, televisions, videocassette recorders, video game consoles.
The Illinois EPA 2015 Electronics Recycling Report to the Governor and the General Assembly reported that 69.9 million pounds of electronics were collected in 2014, with televisions making up the largest portion (39 million pounds).
In addition to responsible recycling, there is also a movement to make it easier to repair electronics. Numerous states, including Illinois, have introduced "right to repair" legislation, to provide the right of consumers and smaller independent repair businesses to have access to instructions, parts and tools necessary to repair electronics. If passed into law, this type of legislation would require manufacturers of electronic equipment to sell repair parts and release service information to consumers and independent repair shops.
"I love to see repair being highlighted and encouraged, because all too often in our culture, we're trained to replace rather than repair when we experience minor damage or performance issues," says Joy Scrogum, sustainability specialist at the Illinois Sustainable Technology Center, which is part of the Prairie Research Institute at the University of Illinois at Urbana-Champaign.