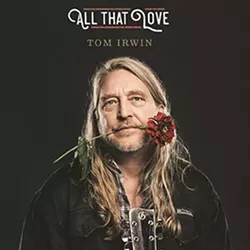 "It's like starting anew out in the big world," said veteran Springfield singer-songwriter Tom Irwin about his experiences recording and releasing his most recent album, All That Love. While far from his first solo release (which was 1989's cassette-only Cornucopia for anyone counting), the new album feels like both a fresh start and a giant step, having been produced by a bona fide music business middleweight, namely John Stirratt, longtime bass player for ever-popular, ever-evolving, Chicago-based alternative rock titans Wilco. The tale of how Irwin (a regular contributor to Illinois Times) happened to make the connection with Stirratt and eventually see All That Love to completion is one of happenstance, musical rapport, hard work and harder lessons.
"We met John at The Castle in Bloomington in 2011," recalled Irwin. At the time, Stirratt was playing bass in "super group" side project Candy Golde, which also featured Bun E. Carlos (Cheap Trick) , Rick Rizzo (Eleventh Dream Day) and Nick Tremulis. Pete Romano, drummer for Irwin's backing band the Hayburners, had arranged for them to open the show, but when Irwin and company arrived they discovered another opening band was already setting up. "Those guys were ready to rumble over it but I told 'em we'd just set up in front and play early. Which turned out great because John heard us when he was walking in, otherwise he probably would have missed us completely."
Stirratt was suitably impressed with what he heard and kept in touch with Irwin over the next several years. "We sent him some music and he liked it and it stuck with him," Irwin said. The two eventually agreed to work together on what would become All That Love, which was recorded at the since-closed Wall to Wall recording studio, owned and operated in downtown Chicago by Springfield expat Dan Dietrich. Stirratt handpicked the songs from Irwin's long and winding catalog of compositions, and some were recorded with the Hayburners while others were done in collaboration with Stirratt and some of his higher-profile musical acquaintances, notably Greg "G. Wiz" Wieczorek (drummer for Norah Jones) and multi-instrumentalist Scott Ligon (a recent addition to venerable rock band NRBQ), all of which notably expanded the recording's sonic palette in comparison to Irwin's earlier releases.
"Being in the studio with John made a big difference," Irwin said. "He helped with some chord arrangements – he didn't change any of the lyrics or song structures but he did add a few arrangement ideas, things to make it sound good." Extremely pleased with the resulting album, it seemed to both Irwin and Stirratt that there should have been little difficulty getting All That Love released by a suitable national record label – especially given the latter's standing in the music industry. This turned out not to be the case.
"We shopped it to a lot of record labels," recalled Irwin. "We were sure Bloodshot would pick it up because John walked it over there and dropped it off himself but they didn't call him back." Stirratt eventually concluded that the times and the industry had changed to the point where things were almost unrecognizable from when Wilco was starting out. "He said that if it had been 10 years earlier there would've been no problem."
After a year passed with no takers, Irwin decided to put the album out himself. "We didn't want to wait any longer and have it disappear," he said. A successful Kickstarter campaign netted $9,500 which allowed Irwin to press a vinyl version of the album and hire a rep from a national publicity firm to drum up some airplay and reviews. But even with professional assistance there have been challenges. The Wall Street Journal seemed amenable at one point but it turned out their reviewer wouldn't even look at any artist without at least 1,000 likes on their Facebook page. "I had 820 at the time but within about three hours after that we had 1,200 just by blastin' it out there," said Irwin. "We still didn't get the review."
Positive notices from midsize outlets No Depression and thedailycountry.com, among others, have begun to expand Irwin's horizons and Stirratt has not given up, having voiced plans to help book a promotional tour of major cities in early 2018, possibly including a stop at Austin's gigantic South By Southwest festival. In the meantime, Irwin is keeping himself busy, playing a gig with the Hayburners at George Ranks this Friday, Sept. 22; an album celebration concert the next day at Schlafly Bottleworks in St. Louis; and a slot on the BookStock concert at the Jacksonville public library on Sunday. A 10-day tour ranging from St. Louis through Texas is planned for later this month.
"I'm already worn out but excited to be getting in the mix after decades of supporting myself in the region," Irwin said. "It's really special to play these songs live for folks who've never heard of me before."
Scott Faingold can be reached at sfaingold@illinoistimes.com