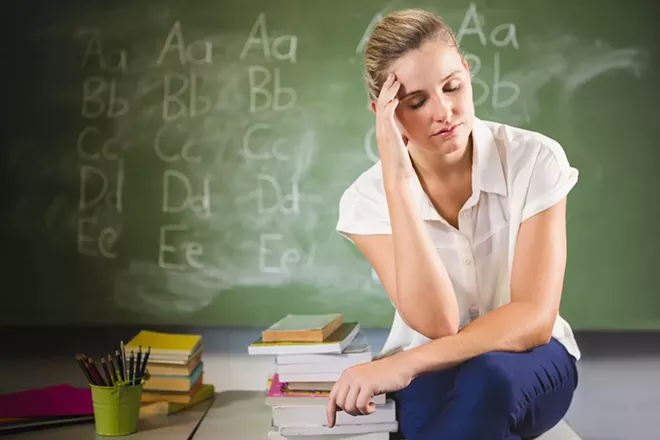 One-third of teachers throughout the state have considered leaving the profession this year, according to a survey done by one of the state's largest unions for school staff, the Illinois Education Association (IEA).
The scientific survey polled more than 1,300 union members from across Illinois during the week of Oct. 19. Among other questions, members were asked: "Thinking about this year and everything that has come along with it, how has this experience affected your plans to be an educator or teacher?" Of the respondents, 35% indicated they either didn't want to teach anymore, were considering a new career or were considering early retirement. Other common concerns included a lack of the additional planning time needed and lack of clear communication from districts about safety protocol.
IEA President Kathi Griffin said teachers are working harder than ever – 10- to 12-hour days are common. "Some of them are afraid to put their lives or the lives of those that they love at risk," she said. Pam Kramer said she is one such teacher. During a Nov. 11 press conference, Kramer talked about her experience teaching in Lake County, north of Chicago.
"I'm at an age where if I were to contract COVID, the complications could be really serious. And it can be serious for young or old. But I also have a heart condition, which puts me into the high-risk category," said Kramer. Even though she taught virtually under a hybrid model, she said the district had her report to the school to teach classes from the building. "This caused me an incredible amount of stress." Then, due to a climb in cases, the school shifted entirely to remote learning, which meant she could teach from home, she said.
"It's very ironic and pretty horrible that I dread the time when numbers get better, because that means that my district is going to require that I go back to the classroom," said Kramer. If that happens, "I will have to retire early," she said.
Jennifer Gill, Superintendent of District 186 in Springfield, told staff via a Nov. 13 email that school will remain remote through at least December. She said those working from classrooms who can work from home should do so to help limit activity in the buildings, due to the uptick in confirmed COVID-19 cases. The District 186 school board has followed metrics from the Illinois Department of Public Health to help determine when school will reopen for those who choose a hybrid option. The option has not yet been offered this year, though about half of students registered for it.
On Nov. 16, The Illinois Federation of Teachers (IFT), another large statewide teacher's union, called for the statewide closure of school buildings due to the surge in COVID-19 cases. In a statement, IFT president Dan Montgomery asked the governor and Illinois Department of Public Health "to establish and enforce clear metrics for schools to guide them for any future closures, so that individual districts and school boards can ensure safety within their communities and create plans for executing remote learning or in-person instruction based on science and positivity rate data." So far, local districts have been making the call on whether to offer in-person classes.
"We are not against in-person learning. We are against unsafe learning," Griffin said during the press conference about the survey. She had also said it would be helpful for the state to provide clear rules for when in-person instruction is safe. "In some places, the local health departments aren't following the Illinois Department of Public Health's guidance, or boards of education are ignoring school leaders' advice."
Griffin said IEA now relies on the American Academy of Pediatrics to review school plans and alert local health departments about the gaps. If health departments don't respond accordingly? "We will determine our own steps, including health and safety strikes, if necessary," said Griffin.
Contact Rachel Otwell at rotwell@illinoistimes.com.