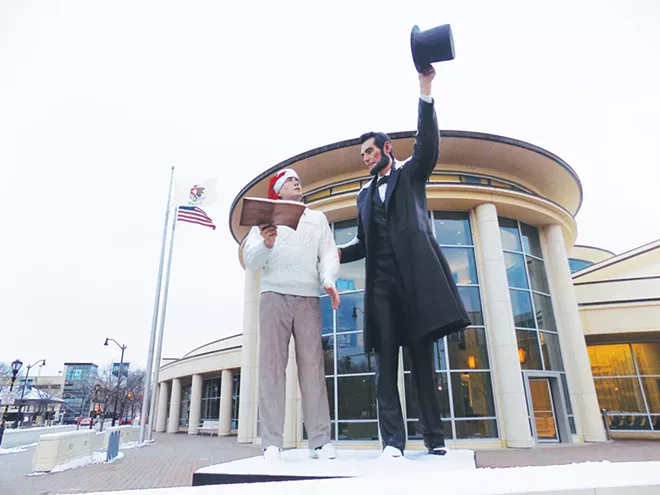 We're almost down to the last minute, and so if you haven't finished your shopping, here are some ideas for presents that are sure to bring big smiles and heartfelt "thank you's" on Christmas morning.
MAYOR JIM LANGFELDER: A copy of the city charter so he can remember what a strong mayor form of government means.
MAYOR JIM ZERKLE: City stationery with his name on top, in the interest of accuracy.
THE HOMELESS: Better civic leadership so they might, finally, have a better place to sleep and find comfort.
THE EAST SIDE: A magic wand that makes dilapidated flour mills disappear.
DOWNTOWN SPRINGFIELD: A law school and undergraduate campus that can co-exist with what's already cool.
HOUSE SPEAKER MICHAEL MADIGAN: The grace to step down – 34 years calling shots is long enough for anyone.
COMMONWEALTH EDISON: Mass layoffs in the U.S. attorney's office.
THE ABRAHAM LINCOLN PRESIDENTIAL LIBRARY AND MUSEUM: A big truck to haul off those ugly statues out front.
THE STATE FAIRGROUNDS: Those ugly statues – they'd look kitschy and cool welcoming Route 66 tourists.
THE GETTYSBURG ADDRESS: A vault that can't be opened by ALPLM brass.
ADAM LOPEZ: A solid trial date. This has gone on long enough.
GOV. J.B. PRITZKER: Another legislative session that delivers everything he wants.
SPRINGFIELD SCHOOL DISTRICT 186: Higher test scores.
THE SPRINGFIELD CITY COUNCIL: Wisdom and political courage to shut down expensive, dirty power plants we don't need.
CITY WATER, LIGHT AND POWER: Better overseers than Springfield aldermen.
LAND OF LINCOLN GOODWILL INDUSTRIES: A CEO who can spell "charity."
SHADY PUBLIC OFFICIALS: A job in California for WCIA television reporter Mark Maxwell.
THE STATE JOURNAL-REGISTER: A new owner.
PROPONENTS OF A NEW DOWNTOWN HOTEL: Good luck.
HEARINGS ON ETHICS IN THE GENERAL ASSEMBLY: A laugh track.
MACARTHUR BOULEVARD: A makeover.
NORTH GRAND AVENUE: A makeover.
PEORIA ROAD: A makeover.
KOKE MILL ROAD: Nothing.
TOKERS: Enough weed to go around come Jan. 1.
POT SHOP OWNERS: Sacks bigger than Santa's to hold all the money they're going to make.
TERESA HALEY: No more haters.
THE CHICAGO CHAPTER OF THE SATANIC TEMPLE: A trophy for most artistic holiday display in the Capitol – theology aside, it looks pretty cool.
HUNTER LAKE: A reckoning.
THE STRATTON BUILDING: A little appreciation, please.
THE STATE ARMORY: All the love $122 million in the state capital bill can bring.
THE STATE CAPITAL BILL: More details and less pork.
ILLINOIS TIMES READERS: Many thanks from all of us for reading each week.
Contact Bruce Rushton at