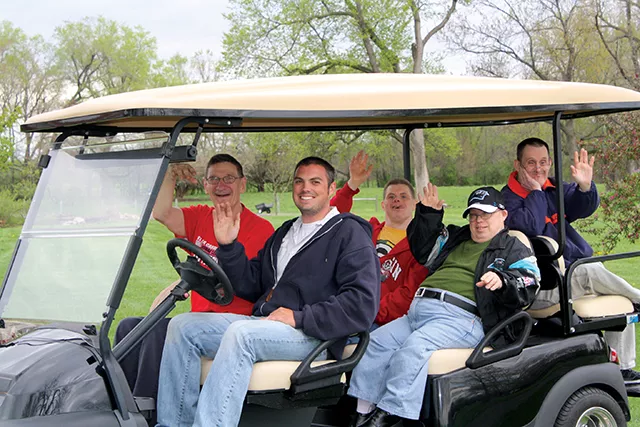 When Phil and Imogene Rebbe opened Rebbe's Restaurant and Tavern in Petersburg in 1975, they didn't know their first fundraising benefit for Brother James Court, a housing facility in Springfield for developmentally disabled men, would turn into an annual event.

Janet Connor, one of the Rebbes' nine children, estimates the family has raised more than $350,000 altogether for Brother James Court, but she said the family didn't really care how much it made; they enjoyed the experience. "One time we had karaoke, and the guys were all singing," Connor said. "It was just so fun."
Paul, one of the Rebbe children, was stricken with meningitis at the age of two. He moved into the Weber House, affiliated with Brother James Court, after his father's death. He later resided at Brother James Court after he began having medical complications and lived there until his death in 2014.

Connor said the money raised usually went to necessities, but there had been talk about building a pavilion for the nearly 100 men who live at Brother James Court.

"They've talked about doing it for years, but sometimes they needed new beds or other things," Connor said. "However they used the money was OK with us."

Then, Sean Moser, Brother James Court's new development director, called to tell her that the pavilion was his top priority.

Moser said the men love to go outside, but most of the residents can only spend limited time outdoors because they either don't have skin that's conditioned for long sun exposure or they're on medications that limit the amount of time they can be outside. A pavilion to shade them would change that.

"Having this pavilion will allow them to go outside and enjoy the air, just like everyone else does," he explained. Moser said he hopes to have the project underway by the end of May so it can be finished by Sept. 8 when Brother James Court holds its annual family picnic.
"Paul would probably be whooping and hollering and singing," Connor said. "Paul would probably be excited about it."