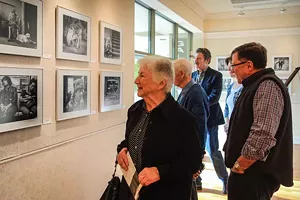 "Translations," the first new group exhibit featuring members of the Springfield Art Association since its merger with the Prairie Art Alliance early this year, is currently on display at the newly rechristened SAA Collective in the H.D. Smith Gallery at the Hoogland Center for the Arts. It proves an auspicious new beginning, featuring strong work from three very different artists whose work nonetheless harmonizes visually and conceptually.
Corrin Smithson McWhirter's work is the most boldly conceptual of the three. The highly textural pieces, seemingly abstract at first glance, are intriguing on their own but take on a certain poignancy when placed in context.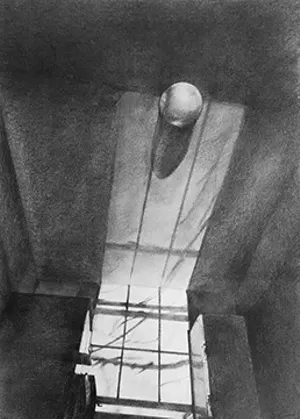 "It evolved out of a thing that happened to me when I became a mother, particularly a nursing mother," McWhirter said during a presentation at the exhibit's opening reception on April 30. "When you get tied down to spaces for extended periods of time, those long hours can sometimes put a negative spin on spaces, like nurseries, where you want to be positive." Her work consists of graphite rubbings taken from a surface texture, such as a wall, and used to create what she calls "texture maps," which are then digitized, manipulated and redrawn. McWhirter's physical inquiry into her sometimes constricting daily environments allows the viewer to draw connections with the unexamined spaces and enclosures which can often bind our own lives.
Where McWhirter's work here consists of abstractions made from within a concrete narrative, David Brodsky's photography is nothing if not straightforward – many of his black and white images seem to tell whole stories, often dryly humorous, occasionally melancholy, but always evocative. His work – which is often captured spontaneously, in public and featuring subjects who have no idea of his presence – has some common ground with street photography. However, while most street photography is intended as documentary, Brodsky is interested in capturing the emotion which a happened-upon image stirs up. "If I can make the viewer feel the same thing I felt, the picture is a success," he said.
The sculptural work of Jed Leber comes off as almost decorative within the layout of "Translations," placed around the room like occasional pauses between the two-dimensional works of McWhirter and Brodsky. A closer look at the pieces, primarily consisting of wood and metal, reveals objects of questionable practical utility but great expressiveness. Leber's work in "Translations" is drawn from two distinct periods of productivity for the artist. "Originally, I was letting the wood speak to me and decide what it wanted to do," he explained. "In my garage, the radio was playing a lot of old rock and roll, and that inspired the later stuff. The first half is wood-inspired, the second half is music-inspired."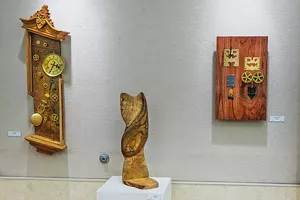 "Translations" will remain on display through June 16. Call 217-544-2787 or visit www.prairieart.org for further information.
Contact Scott Faingold at sfaingold@illinoistimes.com.