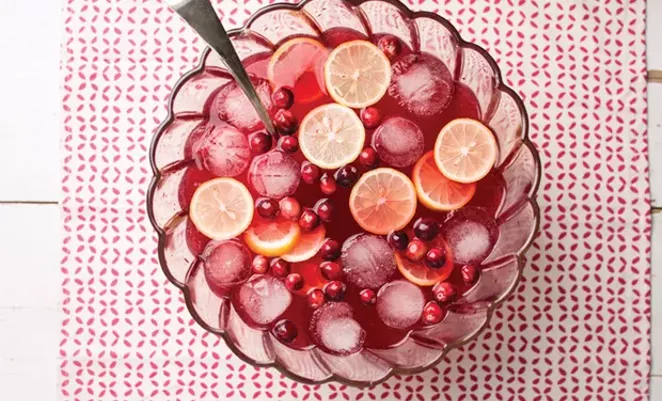 No dinner party or celebration is complete without a seasonal beverage. A unique mixed drink allows hosts to put their personal stamp on the affair without having to stock a full bar, which also helps control cost and mess. It also eliminates the need for a host to spend the night playing bartender.
Whether serving one or an entire party, these show-stopping cocktails are infused with the rich flavors of the holidays – think cinnamon, ginger, citrus – and will turn even the most casual, simple gathering into an unforgettable festivity. All recipes are courtesy Cocktails for the Holidays by the editors of Imbibe magazine, photographs by Lara Ferroni (Chronicle Books, 2014).

Ebenezer Scrooge
Serves: 1
Tools: cocktail shaker, strainer
Glass: flute
Garnish: freshly grated nutmeg

Feeling the bah-humbug blues? This cocktail from Seattle barman Kenaniah Bystrom turns one of the most bitter bar mixers, Cynar, into a supple holiday sipper. "At Essex we often use bitter liqueurs as the foundation for our drinks," Bystrom says. "So I started with Cynar for depth and balanced it out with ginger and brown sugar for spicy sweet­ness, lemon for brightness and sparkling wine for a dry fizz."

1 1⁄2 ounces Cynar (see Tip)
3⁄4 ounce ginger liqueur (Bystrom uses Domaine de Canton)
1⁄2 ounce fresh lemon juice
1 teaspoon brown sugar
Dash of Angostura bitters
Ice cubes
2 ounces cold sparkling wine
Combine the Cynar, ginger liqueur, lemon juice, brown sugar and bitters in a cocktail shaker. Add ice and shake well. Strain into a chilled flute, top with the sparkling wine and garnish with a dusting of nutmeg.

Tip: Cynar (pronounced chee-nar) is an amaro, which is a bitter Italian liqueur. It's made from more than a dozen plants and botanicals, artichoke being the most predominant. But before you wrinkle your nose, know that it doesn't actually taste like the leafy thistle. Instead, Cynar is earthy and root-y with underlying chocolaty notes, which really come out when mixed with citrus. Aside from its Italian homeland, Cynar is especially popular in Switzerland, where locals mix it with orange juice.

Vixen
Serves: 12 to 16
Tools: large pitcher, punch bowl
Glass: rocks
Garnish: fresh cranberries and lemon wheels

Necessity is indeed the mother of invention. When asked what sparked the invention of this vibrantly colored punch, Ryan Goodspeed responded instantly, "Mediocre, watery cranberry juice." During the holiday season, poor-quality cranberry juice too often ruins an otherwise excellent cocktail, so Goodspeed set out to make his own. It's a breeze to put together, dazzles with tartness and entices with a wintery perfume of fresh rosemary. Bitter Aperol and a touch of simple syrup and lemon tie the satin bow on this festive recipe.

3 cups vodka
12 ounces Rosemary-Infused Cranberry Juice (recipe follows)
8 ounces Aperol (see Tip)
4 ounces Simple Syrup (recipe follows)
2 ounces fresh lemon juice
Ice cubes
2 cups soda water (optional)
Combine the vodka, cranberry juice, Aperol, simple syrup and lemon juice in a large pitcher and refrigerate until well chilled. Pour over ice cubes into a punch bowl and stir. Add the soda water, if desired. Float fresh cranberries and lemon wheels as garnishes.

Tip: Aperol – a bittersweet Italian aperitif flavored with orange, rhubarb, gentian and cinchona bark – is closely related to another jewel-toned mixer, Campari. And though the two share similarities in color and ingredients, Aperol is a tad sweeter and comes in at about half the alcohol content.

Rosemary-infused cranberry juice
Makes about 8 cups

4 (12-ounce) bags frozen cranberries
8 cups water
10 sprigs fresh rosemary
Combine the cranberries with 4 cups of the water in a large pot. Cook over medium-high heat, stirring frequently so as not to burn the fruit. When the cranberries soften and become mushy, add the remaining 4 cups water and the rosemary. Bring the mixture to a boil, remove from the heat and let cool for 15 minutes. Strain the juice into a clean glass bottle, discarding the berries and rosemary. Cover and refriger­ate for up to 2 weeks.

You'll shoot your eye out
Serves: 1
Tools: mixing glass, barspoon, strainer
Glass: coupe or rocks
Garnish: orange twist

Bold and bright, this lighthearted cocktail boasts a double dose of cinna­mon, thanks to a spiced syrup and the cinnamon-forward Czech liqueur Becherovka – both complementing the deep richness of a generous pour of aged rum and the soft herbal notes of Bénédictine. "It's perfect for a cold winter night spent cozied up on the couch, watching a holiday flick," says San Francisco bartender Mathias Simonis, "which is what I pictured when I named the drink after the famous scene in A Christmas Story."

2 ounces aged rum
1⁄2 ounce Becherovka
1⁄2 ounce Bénédictine
1⁄4 ounce Toasted Cinnamon Syrup (recipe follows)
3 dashes of Angostura orange bitters
Ice cubes
1 large ice cube (if using a rocks glass)
Combine the rum, Becherovka, Bénédictine, cinnamon syrup and bitters in a mixing glass. Add ice and stir until chilled. Strain into a coupe glass or over the large ice cube in a rocks glass. Garnish with the orange twist.


Toasted cinnamon syrup
Makes 1 ½ cups

1 1⁄2 cups Simple Syrup (recipe follows)
5 cinnamon sticks
In a small saucepan, warm the simple syrup over low heat. In a small skillet, toast the cinnamon sticks over medium heat until you smell their aroma, 3 to 5 minutes. Remove the cinnamon sticks from the heat and add to the simple syrup. Bring the syrup and cinnamon to a boil, then remove from the heat and set aside to cool. Strain into a clean glass bottle, cover and refrigerate for up to two weeks.

Tip: If you don't feel like making your own cinnamon syrup, you can find many bottled versions, such as the one from B.G. Reynolds, which will work just as well.

Simple syrup
Makes about 1 ½ cups

1 cup water
1 cup granulated sugar
Combine the water and sugar in a small saucepan and bring to a boil over medium-high heat, stirring constantly. Turn the heat to medium-low and simmer, stirring slowly, until the sugar is dissolved, 2 to 3 minutes. Remove from the heat and let cool to room temperature. Transfer to a clean glass bottle, cover and refrigerate for up to 2 weeks.
Simmer, stirring slowly, until the sugar is dissolved, 2 to 3 minutes. Remove from the heat and let cool to room temperature. Transfer to a clean glass bottle, cover and refrigerate for up to 2 weeks.