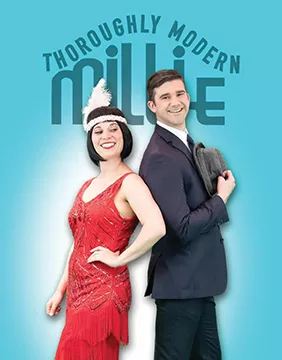 Thoroughly Modern Millie is The Muni at its best, filling the stage with spectacle and the night with song and laughter. It's (mostly) a charming and hilarious story of misguided lovers struggling to find themselves and each other in the big city.
Directors and choreographers Morgan Kaplan and Andrew Maynerich lead a talented cast and the show features one of the best-staged dance numbers you are likely to see. Musically, it's all first-rate with Doug Hahn at the baton over a swinging orchestra, staffed with some great local players.
Even after a scorching day, The Muni is comfortable and welcoming. It's a classic, family-friendly and affordable way to spend a summer evening.
Serious or silly, musical theater is a unique creation of American culture, with a rich and varied canon dating back to the middle of the 20th century – and enduring appeal. But much has changed since Oklahoma! began it all in 1943. In a diverse country and in light of the #MeToo movement, there are challenges in staging theatrical works with storylines that date back decades, before the term "politically correct." How to approach these works today?
This has become the big question in musical theater production, both commercially in New York City and at institutions like The Muni. And Thoroughly Modern Millie, as adapted for the stage from the 1967 movie musical starring Julie Andrews, with book by Richard Morris and Dick Scanlan (also lyrics) and music by Jeanine Tesori, despite its considerable charms, is a work of some controversy.
First, the charms: Manhattan in the 1920s witnessed a cultural earthquake, with tremblers fed by flappers, bobbed hair, short skirts, bathtub gin, big money and loose morals. Small town girl Millie Dillmount (flawlessly played and sung by Anna Maisenbacher) moves to the big city to find romance, defined by Millie as relentlessly, joyfully "modern." It's not about true love – she wants to marry a wealthy man. But New York being New York, moments after her arrival she is robbed, and then meets the man who will ultimately win her heart, the apparently down-on-his-luck Jimmy Smith, played by Jacob Deters. She finds refuge in the sketchy Hotel Priscilla, a home for young actresses run by the seriously creepy Mrs. Meers (played by Drew Stroud in drag).
There she is befriended by Miss Dorothy, a "poor" actress winningly played by Grace Conlon. In truth, Jimmy and Miss Dorothy are siblings and rich, and put off their upper class airs to find true love.
Millie embarks on a one-sided marital siege of her new boss, the insurance executive Trevor Graydon (the excellent Zaxxson Nation), while the loyal Jimmy doggedly pursues her heart.
While the show focuses on Millie, Jimmy, Dorothy and Trevor, we are in near-perfect musical theatre territory, inventively staged and choreographed with performances that are everything anyone could ask for. Karen Gerdes offers the audience a lesson in comic timing as the office manager. Suzanne Moss is imperious and commanding as the Diva Muzzy Van Hossmere.
But then there is the other side of the story, and this is where Millie's problems lie. Here again, The Muni excels with a great cast and some bold choices.
Mrs. Meers' business is not hospitality but human trafficking, selling unsuspecting young women into sexual slavery in Hong Kong. The script describes her as a failed actress taking revenge, while disguised as an "Asian." At The Muni, male actor Drew Stroud is cast as a man pretending to be a woman who is preying on young women. The moment when he removes his disguise is chilling. We are beyond satire and looking at evil laid bare.
Meers is aided by two reluctant brothers with the pseudo-Chinese names of Bun Foo (Kevin Hart) and Ching Ho (Peyton Knowski). The interplay between the brothers, speaking a theatricalized Cantonese, is (by the 2002 standards) a brilliant send-up of stereotyped Asian characters in popular culture – from Charlie Chan to Mickey Rooney in Breakfast at Tiffany's. Hart and Knowski are terrific. This was the stuff of high satire in the 1960s and snappy comedic irony when the show opened on Broadway in 2002. Unfortunately, it has not aged well.
In the last few minutes of the show the brothers become heroes, rescuing Dorothy from a fate worse than death. But what of the others gone before?
As to Meers, what is the character's motivation, or perhaps psychosis? In the original she acts out of homicidal professional jealousy and reverse ageism. With a male actor playing a male character pretending to be a woman, what are we left with? Homicidal misogyny?
It is this conflation of Asians with human trafficking, along with the stereotypical depictions of the brothers, that has gotten Millie into trouble over the years. Headlines scream "Thoroughly racist Millie." School productions have attracted protests. The work has been banned.
How big of a problem is this for Millie? Isn't this all just a PC tempest in a teapot? Musical theater is a business. Works of art are "properties." Post-Broadway, a show can make real money through the sale of performance rights to community theaters and high schools. And so, the owners of Thoroughly Modern Millie have announced that they are making significant changes to the script of Millie, with playwright Lauren Yee acting as creative consultant. This new "modern" version will be presented in a staged reading in 2020 as part of New York City Center Encores. The goal is to end the controversy and keep Millie making money for years to come.
Next up at The Muni is The Wizard of Oz. It promises controversy-free family fun, unless you are a witch – or a Munchkin.
Dennis Thread is a freelance writer/filmmaker/creative director with experience on Broadway, television, opera, documentaries, and in corporate and institutional communications. He is a recently returned Springfield native.