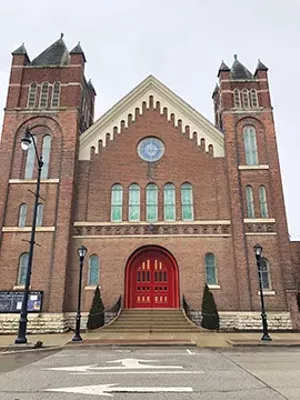 Early Illinois settlers established sites of worship, first holding services in someone's home and later building a church. Each year across Illinois these early churches reach a milestone, their 150th year, and the Illinois State Historical Society (ISHS) holds a luncheon to honor them every three years. This year 28 churches will be honored in Springfield on March 10. Two in Springfield and several in central Illinois have reached this milestone.
Large red front doors distinguish the First Presbyterian Church at the corner of Capitol and Seventh streets, Springfield. The church is often visited by tourists wanting to see the pew where Abraham Lincoln sat. Actually, the Lincolns never worshipped in this building. Instead, they would have attended church at Third and Washington Streets, in a building which was used from 1843-1872 and is now gone. After Lincoln's son Eddie died in 1850, James Smith, the minister of First Presbyterian, conducted the funeral service. The Lincolns started attending the church in 1851. Mary became a member in 1852; son Tad was baptized there in 1855, but Abraham Lincoln never joined the church. The current church building on Seventh Street was purchased in 1872 from the Third Presbyterian Church.
The Lincolns had rented a pew – number 20 – in the church on Third Street. It was special to Mary Todd Lincoln. Today, the red upholstered pew stands in the current church's sanctuary. Number 20 is visible under the left armrest.
Temple B'rith Sholom was established in 1858 by Jewish settlers. Its first president was Lincoln's friend, Julius Hammerslough, and the congregation met in the various homes of 25 families. A temple was built in 1876 on Fifth Street, and the current synagogue at 1004 S. Fourth was built in 1915-1917. It has been the site of worship for over 100 years.
Other central Illinois churches that will be honored:
The Holy Trinity Roman Catholic Church in Bloomington was established in 1853, primarily by Irish immigrants. The church had to be rebuilt two times – once after a tornado in 1869 and again after a massive fire in 1932. Today's structure is known for its Art Deco style.
St. Mary's Roman Catholic Church, founded by German immigrants, was built in 1886. It has gone through remodeling but the original structure remains.
Wayman African Methodist Episcopal Church in Bloomington was organized in 1843 with 20 members. The members later purchased the Congregational Church and moved it to their lot. This church stood for over 100 years but moved to a new building in 1993.
The First Presbyterian Church in Lincoln celebrated its 160th year in 2017.
The New Lebanon Baptist Church in Kilbourne has been expanded, but the original sanctuary of the 1869 church is still used.
The first minister of the Rock Creek Presbyterian Church of Tallula, established in 1822, was Rev. John Berry, whose son later ran a grocery store in New Salem and knew Abraham Lincoln.
In 1909, on the day of the dedication of the new Mackinaw Christian Church, near Peoria, a sleet storm made trains unable to run. Sixteen-year-old Mabel Broyhill (this writer's grandmother) was to sing at the service so she and her father made the long slippery trek from Allentown by walking down the railroad tracks. The church is still in use.
The luncheon honoring sesquicentennial churches begins 11:30 a.m. Saturday, March 10 at Westminster Presbyterian Church. Tickets are $40 at www.historyillinois.org. The program includes a recital by Dr. Paula Pugh Romanaux, concernt organist and liturgical music historian, playing selections written 150 or more years ago.
About the Illinois State Historical Society
The Illinois State Historical Society, founded in 1899, promotes the study of Illinois history. In addition to honoring churches, the society places markers on historical sites. To date there are over 400 across Illinois.
ISHS is involved in many historical events throughout the year, publishes a magazine and a quarterly journal that highlights Illinois history, and sponsors several awards and contests for high school students, graduate students, professional writers, and teachers. Information can be found on the website www.historyillinois.org.
Cinda Ackerman Klickna's parents were married in the Mackinaw Christian Church 69 years ago. She is a member of the ISHS board.