House Speaker Emanuel "Chris" Welch is claiming that he neither hit a woman nor was arrested in a 2002 incident.
The speaker's claims are contradicted by police reports and by a 2012 opinion from the state attorney general's office, which ruled that Welch had been arrested and so police reports must be released.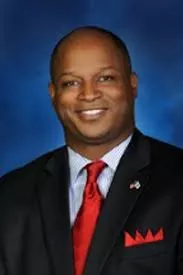 According to Hillside Village police reports, Welch bashed a woman's head into a countertop, then blocked her from leaving his home and also tried stopping her when she attempted to call police. Four days later, she showed police an arm bruise four inches in circumference that she said was a result of Welch grabbing her.
"I didn't hit a woman,"
Welch told WCIA television reporter Mark Maxwell
in an interview scheduled for broadcast this weekend. "There was no arrest, there were no charges. … I was asked to come down to the station and answer questions. A couple hours later they said 'Mr. Welch, you're free to go.'"
Welch's claim of not being arrested is at odds both with what a responding officer wrote in 2002 and what the attorney general determined a decade later, when the future speaker was seeking election to the Illinois House of Representatives.
"I asked the victim if that was in fact the offender and was told yes," wrote a police officer who went to Welch's home the day of the incident. "I immediately advised the male black subject (Welch) to turn around and that he was being placed under arrest. After being taken into custody, Officers Abner and Duffek arrived and at that time Officer Abner transported the arrestee to the police department. The subject was advised of his Miranda rights verbally by Officer Duffek and Abner."
With Welch in a tight race for the state House in 2012,
Hillside police refused to release the report
to William Dwyer, then a reporter for
Forest Leaves
, a River Forest newspaper. Police then claimed that Welch hadn't been arrested and so the report couldn't be released on privacy grounds. The state attorney general's office, which is charged with enforcing the state Freedom of Information Act,
rejected that notion
after reviewing police reports,
Black's Law Dictionary
and case law.
"Based upon this office's review of the records, we conclude that Mr. Welch was, as a matter of law, arrested in connection with the underlying incident," the office concluded in a ruling signed by Michael Luke, then counsel to then Attorney General Lisa Madigan.
The opinion was issued the Friday before Election Day, too late to affect the course of the election that put the future speaker in the Illinois House of Representatives. Dwyer had asked the attorney general for help more than a month earlier. Police, he says, turned the report over the day before the election, after presses had started rolling. Welch, who had lost a 2006 bid for House, won by 36 votes.
During a Friday press conference, Gov. JB Pritzker did not answer directly when asked whether he was worried about "blowback" Democrats might face if Republicans bring up the 2002 incident.
"We have elected the first Black speaker of the House in Illinois," the governor responded. "I mean, that is – it's truly exciting. And I have congratulated him personally on the phone, I congratulated him in a public statement and I just want to say again, here, congratulations to him and to everyone involved in that election. Let me also say that Speaker Welch answered questions repeatedly from the caucus."
Pritzker also asserted that Welch has support from women.
"(W)omen's groups have really rallied behind him, but with a focus on restorative justice," the governor said. "And I think that's the right reaction to this. And I think that, as Speaker Welch has addressed this publicly, he's been asked publicly about it, he's been asked privately about it, and (he) has earned the support of many women and women's groups, and so I think that's important to point out in the context of the questions that he's been asked."
After the 2002 incident, Welch twice was sued by women who claimed sexual harassment or discrimination while he was board president for Proviso Township High School District 209. In a 2010 lawsuit, a former district employee said that she was terminated after a romantic relationship with Welch ended. In 2011, another district employee sued, saying that she faced retaliation after Welch asked for a hug and she declined. Both lawsuits were dropped by plaintiffs before resolution in court.
In a written statement issued Wednesday, the Chicago Alliance Against Sexual Exploitation and The Network Advocating Against Domestic Violence said the controversy "allows all of us, particularly our elected officials, to seek collaboration and understanding, and identify ways to stand with and support survivors." The groups also said that questions about Welch's treatment of women "creates an important opportunity to engage in critical dialogue and collaboration." The groups praised Welch for supporting restorative justice bills and the Reproductive Health Act, which was signed by Pritzker in 2019 and establishes abortion as a woman's right.
"While we do not work directly with the specific survivors in the identified cases, we believe them," the groups said. "We hold our belief in their veracity alongside our belief that Speaker Welch can restore trust and be an accountable and effective leader."
Rep. Kelly Cassidy, D-Chicago, broke ranks with Democrats in Welch's ascension to the speaker's post, voting "present." She's called for a review of his past dealings with women. The Illinois chapter of the National Organization for Women also backs an investigation.
"(W)e believe that serious allegations of this nature must be fully investigated, no matter who the allegations are against," the chapter said in a written statement. "We stand in solidarity with Representative Cassidy."
In his interview with Maxwell, Welch said that he could have handled things differently in 2002.
"Obviously, I didn't handle the situation to the point where someone (got so) upset that they went and made a police report," the speaker said. "I can say in that incident, I cooperated fully, answered all questions. And that's all there was, was a police report."
In a written statement issued the day before he was chosen as House speaker, Welch said that he had reconciled with the victim, whose name was redacted from reports and whose identity remains unknown.
"In fact, after our dispute we sought out the authorities ourselves," Welch said. "Their family lives in my district and are proud supporters of my public service and work."
Contact Bruce Rushton at brushton@illinoistimes.com
.
HILLSIDE POLICE REPORTS ON CHRIS WELCH
In 2002, Hillside Village police went to the home of Chris Welch, future House speaker, to investigate a domestic incident. He was taken to the police station, questioned and released after the woman who complained spoke with Welch's stepmother. Four days after the incident, the woman showed police a bruise when she was re-interviewed about the incident. Following are the contents of police reports on the incident as reported by
West Cook News
in 2016.
"On January 12, 2002, at 2:09 p.m. Officers Abner, Duffek, Sgt. Kosevich and I responded to (address redacted) for a call of a domestic problem.

Upon my arrival, I observed a white female in the driveway on the cell phone, and crying. She identified herself as (name redacted) and I then asked her what happened. (Several word redaction) related that during a verbal altercation (name redacted) grabbed her hair with both hands while in the kitchen and proceeded to slam her head backwards several times on the counter top.

I asked her if she wanted medical attention and she declined. I then asked her if she wanted to sign complaints for domestic battery, which she did.

Immediately after this a male black subject exited the home. I asked the victim if that was in fact the offender, and was told yes. I immediately advised the male black subject to turn around and that he was being placed under arrest.

After being taken into custody, Officers Abner and Duffek arrived and at that time Officer Abner transported the arrestee to the police department.

The subject was advised of his Miranda rights verbally by Officer Duffek and Abner. I then went into the home with the victim and tried to gain further information.

Sgt. Kosevich arrived and victim (name redacted) went on to say that it all started as a verbal argument. (Name redacted) related that she is no longer in a relationship with the home owner Emanuel C. Welch, (black male (redacted)) and was here to retrieve some of her belongings in his presence.

During this verbal argument (name redacted) admitted telling Welch he was a "loser." At that point Welch became enraged and grabbed her hair with both hands and slammed her head backwards on the counter top numerous times. Afterwards, he let her hair go and backed away.

(Name redacted) tried to stay calm and then attempted to leave the residence through the front door and then the rear door but was blocked by Welch with his body. Not knowing what else to do, she attempted to use the phone to call police. Welch then prevented her from doing that also.

Now being extremely scared because of his actions, she ran again to the back door and began screaming for help. Running around the home (name redacted) then was able to grab a phone and run out the front door to call police.

(Name redacted) was unsure how she obtained the phone while running around the home but only remembers getting outside and having the phone in her hand.

(Name redacted) related that Welch did not grab her again after slamming her head on the counter. He only blocked her with his body so she could not exit.

I explained to (name redacted) once again what would be done now that Welch was in custody and she again reiterated that she wanted Welch charged with both counts of domestic battery and unlawful restraint. Sgt. Kosevich then transported (name redacted) to the police department. While talking in the lobby (name redacted) was still quite upset and unsure of what she wanted to do and asked if there was anyone she could talk to about her feelings. I suggested out social worker Mr. Rich Arons and she agreed.

We had Mr. Arons paged and (name redacted) continued to talk to the stepmother of the offender who she had a good relationship with. (Name redacted) advised Sgt. Kosevich and I that she (felt) comfortable with the stepmother and would like to be given a while to talk to her alone.

During this time, the stepmother requested to speak to Welch in the presence of Sgt. Kosevich. (Name redacted) then indicated to the stepmother that she (had) decided not to pursue complaints and just want(ed) to leave and get her belongings from (name redacted).

A declination of prosecution was signed by (name redacted) and she went on her way back to the residence to retrieve her vehicle. Welch was released without charges after refusing to sign the department release form.

See both forms.

Supplemental report filed Jan. 12

Additional information to Officer Pederson's original report.

Before leaving the station I gave the alleged victim (name redacted) a copy of the Illinois Domestic Violence Act. It should be noted that there were no visible signs of injury to (name redacted).

I also interviewed the alleged offender at the station on the day of the incident. I asked subject Welch as to what happened. Welch related that (name redacted) had come over to his house to retrieve some personal property as they were breaking up.

Welch began putting some of her belongings out of his house and near her car when (name redacted) began pulling at Welch's arm. (name redacted) began crying over their breakup and shortly after called the police. Welch denied ever grabbing (name redacted) by the hair and striking her head.

Supplemental report filed Jan. 16

On the evening of Jan. 16, 2002 I met with Ms. (name redacted) at the station. I had requested that Ms. (name redacted) (come) to the station so that I (could) speak with her in reference to the incident involving Mr. Welch and her on Saturday Jan. 12, 2002.

I informed her that I was conducting an internal investigation of the incident on a complaint from (name redacted).

She said that before we begin she wanted to add a supplement to the domestic report she had filed. She said that after the domestic with Mr. Welch she went home and that on that evening she noticed a bruise on her right arm just above the elbow.

She then rolled up her sleeve for me and I saw a purple and yellow bruise about 4-inches in circumference on her right arm above the elbow. She further reported that the bruise was the result of being grabbed by Mr. Welch during the domestic at his house on Jan. 12, 2002. She said that she had debated reporting the bruise to the police and that when I called her she decided to report it to me.

At this time she again decided not to sign a complaint.