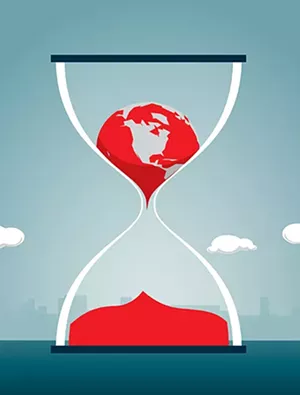 Illinois is seeing rapid changes in weather, which are already starting to impact the state. Long-term effects of climate change in Illinois include increased heat and precipitation. Both have disastrous implications for crops and other ways of life.
That's according to research by dozens of climate experts from various universities across the state who have worked with The Nature Conservancy of Illinois. Those advocating for the environment say urgent action is needed to mitigate the harms associated with climate change.
Researchers working on the project have identified how climate change has affected human health, agriculture, water supply and ecosystems. Michelle Carr directs The Nature Conservancy of Illinois. Concerns are rising for climate change experts, particularly in Illinois, Carr said during an April 20 news conference.
"Summer temperatures are rising and this will mean longer, more severe droughts," said Carr. Flooding is expected to become more common, and researchers predict "heat and water stress will likely reduce farming crop yield and also affect livestock," Carr said. The climate crisis in Illinois "is critical, but decisive action and policies can still prevent the state from forever being altered," she said.
Donald Wuebbles is an atmospheric science professor with University of Illinois at Urbana-Champaign and former White House expert on climate science. Along with retired state climatologist Jim Angel, Wuebbles recruited more than 45 scientists to help create a new "climate portfolio" for Illinois. The new Nature Conservancy report is a way to forecast climate change problems specific to the state. "Illinois had only been included in a grouping of numerous states in either the national climate assessments or specialized assessments," said Wuebbles during the news conference. The new report assesses the last 120 years of climate change in Illinois, covers potential implications and gives policymakers suggestions on where additional research and funding is needed.
Flooding
The analysis covers the length and frequency of cold and hot days, extreme rainfall and flooding. It focuses on how climate change is already negatively affecting Illinois, and how it could change the future. The goal is to provide policy leaders with clarity about how climate change can affect urban and rural communities in Illinois. The report shows nearly 15% of Illinois is prone to flooding. Heavy rainfall can overwhelm sewer and water systems, which can then cause flooding. Illinois also has an extensive river system that can easily flood in the spring and summer months, depending on rainfall.
More intense and drawn-out rainfalls could "increase flood risks to agriculture, property and people in Illinois," according to the report's researchers. Illinois recorded its fifth wettest year on record in 2019 and researchers predict 1.2 million acres of corn and soybeans went unplanted in the state that year because of rain and widespread flooding.
Agriculture
Illinois, like many Midwestern states, has an economy based on agriculture. "Illinois' fertile soils, level to gently sloping land, and favorable climate makes it uniquely situated to be a major agricultural producer," the report reads. Higher temperatures and flood risks could lead to reduced corn production. Increased temperatures would likely be coupled with the increased presence of weeds, pests and diseases. And within the next 100 years, researchers expect warming temperatures to shift planting zones northward. If that happens, farmers in Illinois could struggle to cultivate the variety of fruits, vegetables and nuts currently grown in Illinois.
Angel, who helped organize and produce the new analysis, said the agricultural industry is an economic pillar for Illinois and that farmers are very aware of the effects of climate change. Angel said state and national governments should do more to help ease economic risks to farmers by investing in sustainable agriculture practices.
The warming of Illinois, research suggests, will continue to be a symptom of "increased greenhouse gas emissions and extensive land use changes," as well as human activity, according to the report. The report also predicts warming temperatures could increase the presence of pests, weeds and diseases – which would negatively impact the health of plants, animals and humans. "Social science research is needed on the vulnerability of rural communities," said Angel. There also needs to be implementation of sustainable practices in agriculture and water maintenance, he said. The Nature Conservancy of Illinois has finalized the report, which is expected to be published in May.
Contact Madison Angell at mangell@Illinoistimes.com.