In the 1980s and 90s, when state government coffers appeared to be overflowing and the political parties worked together, the Statehouse press corps numbered in the 40s. Its size made "Illinois State Government one of the most comprehensively reported in the nation," according to the 1991/1992 Illinois Blue Book.

Today, the coffers are broke, the parties just bicker and we're in the middle of an unprecedented 19-month-long budget stalemate with the possibility of a state employee union strike. There's more news to cover than ever, but the full-time Statehouse press corps has been slashed to about one fourth of what it was in 1991/1992, according to a list from Rick Millard, assistant Statehouse press room secretary.
It's happening around the country. In 2014 the Pew Research Center did a study on full-time Statehouse reporters in every state and found that between 2003 and 2014, 35 percent had been cut. That percentage is likely higher now since cuts have continued. "I think they have generally been a part of larger reductions in staff that the industry has gone through," says Angie Muhs, executive editor of the State Journal-Register, based on what she's seen serving on the board of the Associated Press Media Editors national group.
Journalism has taken a lot of hits in the last couple decades. The internet, smartphones, and the Great Recession have increased competition and decreased audiences. As media companies' subscriptions and ad revenues fell, they decreased their staff. For many papers and broadcast outlets that meant cutting reporters who covered state government.
Some media decision-makers may think readers care more about their local government, says Charles Wheeler. He was a Statehouse reporter for the Chicago Sun-Times from 1970 until 1993 when he became head of the University of Illinois Springfield's Public Affairs Reporting master's program, which trains journalists to cover state government. "But anything a local government can do, with the exception of home rule units, depends on what the state allows it to do."
What happens when there aren't many watchdogs watching the henhouse?
"It makes government less accountable," says Mike Lawrence, a Statehouse press room veteran of 11 years, former press secretary for Governor Jim Edgar, and former director of Southern Illinois University's Paul Simon Public Policy Institute. "There's a feeling they can get away with ignoring the media, in some cases, and giving non-answers when they do engage with the media."
Reduced Statehouse coverage may be partly to blame for the current budget impasse, says Randy Eccles, general manager of local public radio station WUIS and publisher of online magazine Illinois Issues, which are located at the University of Illinois Springfield and specialize in covering state government. "I think one of the reasons (the impasse) is lasting longer is there's less information out there for citizens to know what the impact of this is." Eccles' organizations are trying to increase their Statehouse coverage to help fill the need. He says long-term goals include adding another reporter at the Capitol and training undergraduates at the University of Illinois Springfield to help cover state government.
Explaining how the state affects citizens in a way that engages and informs them takes time and creativity, which are luxuries for today's reporters, Lawrence says. In the 1980s and 1990s, metro papers like the Chicago Sun-Times would have two to four reporters covering state government full time, with specialized reporters coming occasionally. They had the time and staff to cover day-to-day developments, tailor it for their audience, and do investigative pieces that looked into waste or wrongdoing. "Some reporters were able to develop an expertise in a subject," Lawrence says.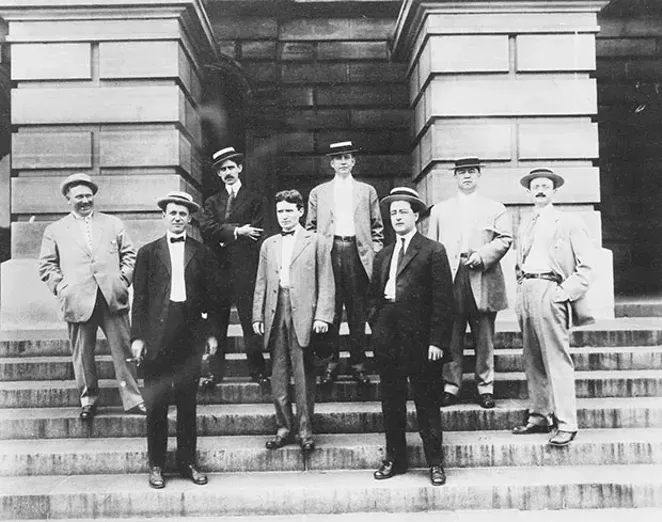 "The joke used to be, 'If you work for a wire service (like the Associated Press), you have a deadline every minute,'" says Wheeler. "Now, all reporters have a deadline every minute because they're expected to Tweet, keep a blog and put stuff online." As a result, it's hard to cover more than the basics and it's easier to write about "which politician is criticizing which politician today," Lawrence says.
Instead of having a full-time Statehouse reporter, some print media are relying on Associated Press (AP) stories about government. Wheeler says "that's a disservice to the readers because, while the AP covers issues, does the AP provide the kind of in-depth coverage that's important to a particular part of the state?" Besides, the AP has cut its Statehouse staff, too. In 2008, it had three full-time reporters. As of this writing it has one.
Other media compensate by sending reporters to the Capitol only for big news events, like the governor's budget address. But Lawrence and Wheeler say they're at a disadvantage. Being at the Capitol gives reporters time to develop sources and makes them "familiar with state government's operations, terms and who the players are," says Wheeler.
"I think it takes people who are there every day to know the difference between legislation that is really moving and what's an attempt to show that lawmakers are trying to do something," says Eccles. He gives the example of so-called "shell bills," bare-bones legislation lawmakers file about a topic that they'll flesh out later via amendments. Unless a reporter is familiar with Statehouse operations, he or she might not understand their significance.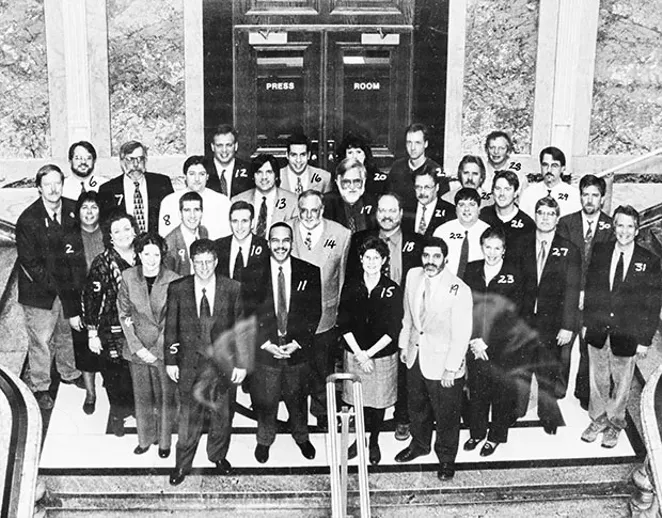 As mainstream coverage of government has decreased, new media have risen to fill the void. According to the Pew's 2014 study, there was a boom across the nation in "ideological" organizations covering state government after the Great Recession. That includes outlets funded by politicians or partisan groups which can be designed to look like mainstream media. A couple examples are the Illinois Policy Institute and Local Government Information Services, which have links to the Republican Party. Currently, there are no known media outlets covering Illinois government that have ties to other parties.
In 2015, the Illinois Policy Institute, which already ran Illinois News Network, purchased Illinois Radio Network. It covers state government, among other topics. In 2013 and 2014, the Institute's Illinois News Network tried to get press credentials from the Illinois House of Representatives and the Illinois Senate, but was denied because of its relationship to a partisan, lobbying group – the Institute. The Institute sued and took its case all of the way to the U.S. Supreme Court, but lost.
State Journal-Register reporter Bernard Schoenburg has written several columns about Republican ties to the Institute and Local Government Information Services, including donations Governor Bruce Rauner made to both groups, totaling at least $3 million. Local Government Information Services has online websites with articles about communities around the state. One called the Sangamon Sun covers the Springfield area. On Feb. 13, its headline was: "State Comptroller Mendoza added to BossMadigan.com," referring to an Illinois Republican Party site. Some ideological media, like the Illinois News Network, make their audio and articles available for free. In an Oct. 7, 2015, column, Schoenburg wrote: "Any of those papers or stations using that content and not clearly identifying the source as the Illinois Policy Institute are doing a disservice to their readers and listeners."
Free content is very attractive to small radio stations or newspapers with limited staff and budgets, Wheeler says. "Having fewer Statehouse reporters and fewer independent, unbiased sources of news committed to the consistent practices of journalism will make it easier for the folks who are peddling the slant to have their stuff accepted and used."
In a democracy, media have an important task, Wheeler adds, especially at a time when the federal government is making many decisions that could affect the responsibilities of state governments. "The First Amendment wasn't created with the idea that we have to help people who are going to be running newspapers to make a lot of money."
As one Statehouse reporter I talked to put it: "Somebody has to cover the news!"
Tara McClellan McAndrew worked in the Statehouse press room in 1985 for what is now WUIS/Illinois Public Radio. She is a graduate of the University of Illinois Springfield's Public Affairs Reporting program and has worked in print and broadcast media for 30 years.