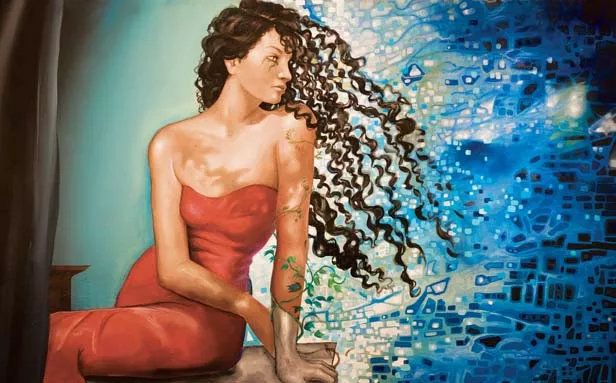 Paris, Florence, Berlin, Rome, New York, Athens – when famed art-related cities of the world come up in conversation, Springfield, Ill., is not generally on the list. That's not likely to change soon, but recently a fresh movement in the local art scene awakened a dormant spirit of cooperation and inspiration for area visual artists at all levels of ability, age and ambition. Introducing a new troupe of creative talent to the community, the truly organic movement allows artists to offer art for public viewing without the permission of juries or venues, freeing the artist to reach an audience directly, rather than using an established gallery or presenter.

This loosely knit group of area artists, intertwined in a monthly showing of visual art known as the Third Thursday Art Show, vary in ability and experience, but come together with a concerted desire to present their creative works to the world. Based on a similar event staged in Kansas City and introduced to Springfield by the ubiquitous and itinerant area artist Michael Mayosky, the consistent monthly shows nurtured a hesitant, yet prolific and budding, art scene bubbling beneath the surface of Springfield's average artistic presentations.

Mayosky, well known about town for his large murals at Penny Lane, Augie's Front Burner and outside at the Maya restaurant on Second and Jefferson, has a life pictured by many as the idealistic, romantic vision of an artist on the brink, living day by day for his art. This lifestyle as an edgy entity in the area art world encourages others to present art in a free and easy way, without the normal limitations of gallery and jury. He used his reputation to encourage attendance for the original show, and challenged his fellow artists to bring their work.


"I brought an audience and they delivered the art," says Mayosky, speaking of the first Third Thursday event held in the fall of 2009 and the initial artists involved. "I stalked some people to get them to show and kept after these younger artists who just needed to get stuff out there to gain confidence in their work."

The shows were and are open to any artist who shows up with art objects and a desire to display them. As simple as it sounds, artists can call ahead and arrange for space or, as often happens, just be there the day of the show, find a spot to hang or otherwise display the art objects of choice, set a price for their art and become a part of Third Thursdays. Felicia Olin is likely the participating artist with the most outside shows, including an exhibit at the UIS Visual Arts gallery last year, featured artist at Prairie Art Alliance last spring, a just-finished show in Chicago in May and currently a display at the Illini Union Art Gallery in UIUC through Aug. 26. She could not emphasize enough the impact of Third Thursdays for a new presenting artist.

"You see a bigger picture of where you are as an artist by being part of a show like this," she explains. "When finding out it's not so hard as it seems to show art, you learn the basics: Get your stuff ready to hang, put a tag on it and show it. It's a good starting point."

From the very first shows at Bar None, a downtown club and live music venue, Mayosky's Third Thursday concept always included a moving gallery of sorts, so as the event grew, locations changed. After a one-time stop at another location, last summer the group found a home in the building housing the venerable Norb Andy's Tabarin on Capitol Street.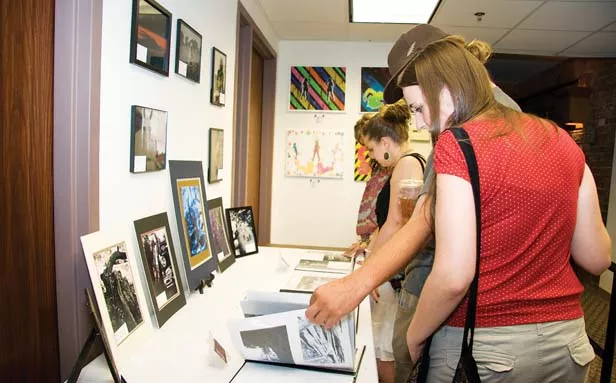 "Jeremy, I don't remember his last name, (Thomas, then manager) at Norb's is a pivotal part of getting this going," says Mayosky. "The venue there was a brilliant place to gain validity in the audience's eyes and then the thing took off."

Despite the city closing the block of Capitol Street directly in front of Norb's for months to renovate the street and sidewalks, Third Thursdays flourished at the new venue. Hickox House, the building space above the bar, proved an ideal location for hosting a free-for-all art show. Like some fantasy dreamland, musicians played inside Norb's as artists displayed upstairs, while patrons wandered between the spaces and discovered a creative pulse gaining strength in their normally artistically foggy hometown. Seemingly becoming some free form, far-flung artist colony supported by the closeness of blocked-off streets and energized by the creative forces present in the participants, Third Thursdays gained a personality. In doing so they became marketable and sustainable.

"I left on the Third Thursday show in August to do a 10,000-square-foot mural in Grand Rapids for ArtPrize – a blast, but another story," says Mayosky. "I was gone for six months. Others like Becky Van Dyke, Ted Keylon, Mandy Magill, Adam Pursch and Ryan Sponslor took the reins then. Barney (Barnabas Helmy, creative director of FIRM, Inc.) asked us to move the shows to Andiamo's and Norb's by then had new owners. It was a perfect match."

Starting at the downtown Café Andiamo! bar, restaurant and coffeehouse in October of 2010, Third Thursday became a viable venture, featuring several rooms of art on two levels with the number of artists presenting ranging from 50 to 60 on any given night. With several music acts scheduled and many more requesting to play, free snack food, plus meals and drinks for sale, the shows took on a circus-like atmosphere, not normally felt at your average gallery art exhibit. Past shows have included face painting, performance art, scavenger hunts, fashion shows, simultaneous music acts in different rooms and art created to music performance, all adding to the free-wheeling atmosphere encouraged by the spirited artists.


Still conducted with no official group in charge to decide who could show or when they should show up or where they would display, the event underwent growing pains, as toes got stepped on and egos bruised in the process. Through passionate exchanges on social network sites and many reply-to-all emails discussing directions the group should go, all participants who wanted to could weigh in on issues facing the burgeoning project.

"The design and timing of the shows made it possible for lots of people to do a part. I really wanted a true anarchy – a loaded word, I know – but it is working. I am honored," says Mayosky. "But it in no way happened overnight. The original artists who mattered most in the beginning were Mary Tumulty, Joe Kozak, Samantha K. Allen, and me. The first year was the hardest, but we made it through."

During the time others stepped up to help with organizing while Mayosky was away in Michigan, a soft hierarchy formed within the intended anarchy. As agreements were reached about formally setting up the shows and basically how to manage the entire fledgling organization without destroying it, Third Thursdays marched on. Gently guided by the disparate idea of controlled chaos, artist collaborators worked hard at working together, intent on keeping intact the original concepts of freedom of expression and showing art without permission, all while keeping many diverse artists happy and content. The answer came through simply caring and believing in the good nature of the shows, along with an intense desire to sustain the founding principles of sharing art with artists and an audience.

"Energy – that's the word that keeps coming up. People say it feels good at a show," says Mandy Magill, currently the unofficial go-to person of Third Thursdays, along with Ryan Sponslor, who handles much of the promotion details. "It's built on love and utter devotion. It's like watching a growing child and we get to watch it grow every month."


Ted Keylon, local artiste about town and Third Thursdays music organizer, webmaster and art presenter since early on, says, "We all help with the pieces, but Mandy's the glue," in explaining her role in keeping the ball rolling and the art coming.

She gives Keylon full credit for drawing her into the group and encouraging her to carefully and prudently organize and nurture the all-important anarchy-like feel to the shows. A librarian by trade and the mother of two young children, when her library job was eliminated last year she became a full-time, stay-at-home mom. While praising that work as important, Magill recognized a need in herself to work with the public and be a part of something else, fulfilling a heartfelt personal desire while being a parental role model through giving back and working within her community.

"You have to care about and need to be involved in the place you live in. I'm not from here and now have an instant, just-add-water family of wonderfully weird little artists. I love them," she says. "This is like a huge life raft that's lifting us all up. I've never seen anything like this anywhere else."

On the most recent Third Thursday, July 21, around 5 p.m. as Café Andiamo! began filling up with artists and art objects, Mandy was not there to direct traffic and lead the artistically talented but organizationally challenged group. She left earlier in the week for a brief visit with her husband's family in Georgia, and things functioned fairly fine without her, further proof of the group's ability to continue happening as a unit working with itself, not struggling to find a leader to control it.


"I love the freedom of Third Thursdays, but sometimes it freaks people out to not have charters and written rules," she says. "But it's working and if change needs to happen it will organically."

As the group expanded and reached out to the community, other art organizations felt Third Thursday's impact on the area art scene. Magill formerly participated in the Prairie Art Alliance and the Springfield Art Association, but though finding them beneficial to her artwork, had difficulty keeping up with the fees and methods included with the larger and older organizations. She's not alone in her thinking. Differing artistic principles somewhat formed along generational ideas and artists' ages, but also encompassing economic views, separate the newcomers from the established groups. The average age of Third Thursday participants compared to the SAA or PAA would no doubt be much lower and the average fees associated with participation in the older associations would certainly be higher than the zero amount needed to show at a Third Thursday. Differences aside, a significant intertwining relationship between the groups has already begun.

On July 15 the Springfield Art Association opened a gallery exhibit featuring Third Thursday artists. As a summer gallery plan fell through at the nearly century-old arts organization, executive director Betsy Dollar contacted the Third Thursday group and instigated a gallery show. She gave the artists a theme of music for inspiration and called the gallery show ArtBeats to coincide with the SAA's upcoming Jazz Canvas event on Aug. 19. Quite suddenly the oldest arts group in town hosted the youngest, and both organizations improved each other's credibility while introducing art to different audiences and artists to a different world.


"The artists I wanted were the younger undiscovered ones in the area that we could develop relationships with. In the future we can do more elaborate exhibitions with extra time to plan," Dollar stated. "It coincides with our plans to truly be a community art center as an anchor for the arts community. And it's nice to see work that is multi-media and experimental and to bring in something different."

Considering that the last gallery exhibit consisted of works by the Illinois Prairie Pastel Society and the next one is of students and faculty of the SAA, the Third Thursdays collection could well be the most avant-garde-leaning show of 2011. The dissimilar designs of the various members of the loosely formed union make for a stunning show on the walls of the often less-than-provocative hall. An exclamation made by one viewer while taking in the ArtsBeats exhibit – "Do these artists all live here, in Springfield?!" – could very well be a slogan for Third Thursday members as they continue to present heartfelt art in an uncommon way.

"It's so unique to have a show that has no jury and no fees, plus everyone who volunteers their time makes it special," added Felicia Olin. "Michael has really started a great thing for us. It's the kind of thing we all talk about doing but it never gets there. This got there."

As with any new, expanding organization, growing pains continue, but without a doubt, the movement from thought to action took an amazing and rewarding path. By allowing new and undiscovered artists the opportunity to show creative works to a wider audience through involvement in the process, Third Thursdays changed the practice of presenting art in Springfield, ushering in a new era of art appreciation while exposing a fresh group of artists to the public scene.

Contact Tom Irwin at tirwin@illinoistimes.com.