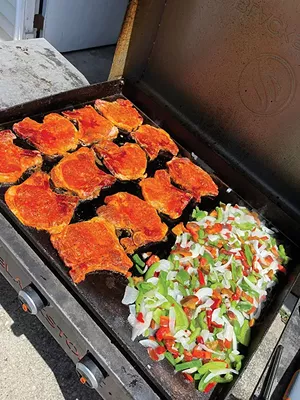 On June 19, 1865, General Gordon Granger arrived with federal troops at the far reaches of what was then the settled boundary of freshly united United States of America. The reading of General Order No. 3, that all enslaved persons were now free, sparked the great jubilee tradition we now know as Juneteenth. As Springfield historian Kathryn Harris put it, "What could be more of a cause of celebration than freedom?"
The reason it took so long for the news to reach Texas is often debated. "When General Order No. 3 was read in Galveston, the Emancipation Proclamation had been in effect for almost two years," Harris pointed out. "Some say the messenger was killed, but I've also heard stories that the reason the news took so long to reach Texas was because folks wanted to get in one more harvest before their free labor was gone."
This time of new-found freedom was a dangerous one for the formerly enslaved, according to the article, "What is Juneteenth?" by Henry Louis Gates, Jr. As one might imagine, not everyone in Galveston was pleased about the order, and that first anniversary, on June 19, 1866, as a day of jubilation was a powerful act of grassroots defiance.
In the generations since, Juneteenth has evolved into a deliciously food-centric holiday. In her book, Rituals and Celebrations, the late caterer and model Barbara Smith wrote that "Juneteenth feasting has traditionally centered around the barbecue. The idea is to soak up the same flavors and aromas that the freed slaves would have experienced during their first celebrations."
In addition to barbecue, red food and drink became important holiday traditions. "Red is one of the colors on the African American flag, symbolizing the blood shed for our freedom," Harris explained, "so things like strawberry pop and red velvet cake are big on Juneteenth. B. Smith's red velvet cake recipe is the one I make most often. It's really good. "
An official state holiday in Texas since 1980, Juneteenth celebrations have been making their way northward for decades. Springfield has hosted its Juneteenth celebration in Comer Cox Park for over 20 years. The event has expanded over the years, growing from a two-day event at the park to a four-day festival this year, with happenings all across downtown. "I've been trying to tell people that since this is the home of Lincoln, then this needs to be the home of Juneteenth," said Cherena Douglass, one of the organizers of this year's event. "Galveston is the birthplace of Juneteenth and Kentucky is the birthplace of Lincoln, but Springfield is home to both of them."
This year's celebration kicks off on Thursday, June 16, with a Levitt AMP series concert on the Y-block in front of the Governor's Mansion, with an art exhibit and block party at the Illinois State Museum on the following day. Sunday features fitness in the park and an outdoor revival. The heart of the celebration happens on Saturday, with a parade in the morning, music, games, activities for kids, and yes, delicious food.
Ebony Pilgrim runs Tick's BBQ with her husband, Maurice, and is returning to the event after a successful run last year. "Last year's event went so well we sold out of food!" she said. "We specialize in barbecue, primarily ribs, wings, Polish – that kind of thing, and my husband makes his own homemade barbecue sauce. We're excited to come back and keep on feeding the people!" This year the event will feature over 10 food vendors and well as free food giveaways. In addition to barbecue and other soul food classics, items like jerk tacos, vegan nachos and a variety of desserts will be on offer.
Delicious food is a cornerstone of any Juneteenth celebration, and with good reason. "Food is one of the greatest unifiers of all," Douglass pointed out. "When you sit down to a good meal, Thanksgiving for example, how does that even happen? Because of food! Most meetings are well attended when you serve food. Food is vital, not just for sustenance, but for community," she emphasized. "This is a freedom celebration for all, not just Black people. I feel like this is a really good time, especially with what's happening across the water in Ukraine, to show the understanding of freedom for all, and what that looks like."