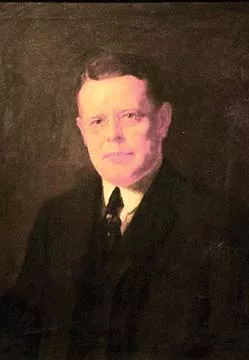 The Springfield Art Association has an interesting new exhibit planned to open Friday, Jan. 4, that includes images and stories of local people. The Stories Behind the Faces, features a combination of local and international guest artists with some of the SAA permanent collection portraits, all with accompanying stories about the person and the artist.
Pictures paint a thousand words. Portraitures try to do just that. Portraitures are more than a representation of how someone looks or looked. You get a glimpse into the personality of people of all sorts because artists strive to take the essential character of the person they are painting and bring that to the canvas. This is true whether the sitter is someone who lived centuries ago, someone who lives in another country or is someone who is a local community member.
That's what is so appealing about this new exhibit. The portraitures' paint or medium used is supplemented with written biographies of the artists and their sitters. You can read and learn even more about many of the people whose faces you are gazing upon as you stroll the exhibit. Even more engaging is the fact that many of the faces in the display will be folks who live or lived in Springfield. They may be people you know.
Modern contributors to the exhibition include Wendy Allen, Felicia Olin, Bill Crook, Michael Baier, Paul Jurgens, Kari Rajkumar, Erin Svendsen, Joe Caccico and Boris Guessel working in acrylic on canvas, oil on canvas, graphite, pastels, mixed media and photography. Examples of artwork from the SAA's collection include portraits of Lillie Judd, Ninian W. Edwards, and Elizabeth Edwards by George P.A. Healy; a portrait of Vachel Lindsay by Arthur Johnson, a portrait of George T. Palmer by Henry Salem Hubbell, and a portrait of Chief Justice William Farmer by Robert Marshall Root.
The public is invited to the opening reception on Saturday, Jan. 5, from 5:30 to 7:30 p.m. The exhibit and reception are both free. The exhibition will be on view in the Gallery of Art from Jan. 4 to Jan. 25.
The Springfield Art Association is at 700 N. Fourth St. and is open Monday through Friday from 10 a.m. to 5 p.m. and Saturday from 10 a.m. to 3 p.m. If you have any questions, phone 523-2631.
Contact Anita Stienstra at astienstra@illinoistimes.com.