Some people think there's a lot of crud in the Statehouse. For more than 50 years, there was.

From at least 1917 to 1970, the Illinois Department of Public Health's (DPH) main diagnostic lab was housed there. Its staff examined saliva, blood and bodily excretions for contagious diseases.

Today, it's hard to believe that such a lab would be located in a building frequented by the public, not to mention top state officials. It's comical to think that as governors and lawmakers examined weighty issues of the day, bacteriologists just a floor or two above them examined spit and, well, poop.

"It may not always be fair to judge the past by today's standards," says DPH spokeswoman Melaney Arnold. "It is probably safe to assume that the lab employees treated specimens with considerable respect since they understood what they were working with. However, today we would isolate a lab for safety reasons from the general public. While a lab often shares a public building (such as a university or office space), there are procedural and engineering controls to reduce the threat of exposures."

The state didn't create a diagnostic lab until 1904, after scientists learned that bacteria caused certain diseases, according to The Rise and Fall of Disease in Illinois, Vol. I (State Department of Public Health, 1927). They discovered this during the last half of the 19th century, a time when the general public thought mysterious, noxious vapors called "miasmas" caused disease.

People's ignorance thwarted the state's efforts to help them. "The public still clung to its traditional idea about disease(s)," said The Rise and Fall of Disease in Illinois (RFDI). "Those who heard about the new scientific procedures were skeptical. Otherwise funds for…applying preventive measures would have flown more quickly and more freely from the appropriating agencies."

In the summer of 1904, Dr. James A. Egan, the head of the State Board of Health (which preceded DPH), saw such an urgent need for a state laboratory that he created one despite not having money to do so. He borrowed funds from another project.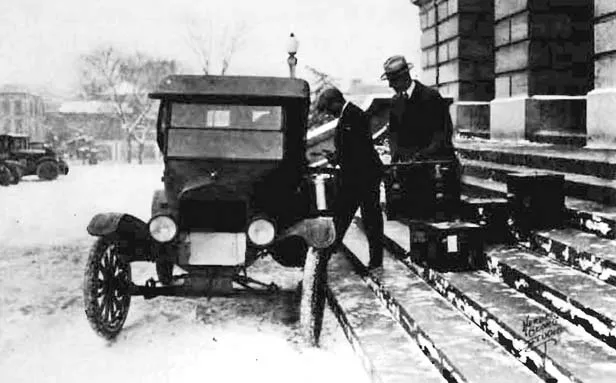 The lab was first located in Springfield's Odd Fellows Building, a few blocks from the Statehouse. At some point (the exact year is unknown), the lab moved to the Statehouse. By 1917 it was on the north wing of the sixth floor, according to the January 1918, Illinois Health News. The lab tested for tuberculosis, typhoid, malaria, venereal disease, diphtheria, meningitis and rabies.

Until 1915, this was DPH's only diagnostic lab. Another one was established elsewhere in the state, but it could only help nearby towns. Communities located far from these labs needed their services during disease outbreaks and after natural disasters. The answer was traveling labs, what DPH called "field labs."

"A chest was built combining the minimum necessities for making diphtheria, typhoid and meningitis cultures. Several trips each year were made with this equipment…," according to RFDI. Staff helped small towns around Illinois combat typhoid, diphtheria, and meningitis epidemics, diagnose glanders (an infectious disease in animals) and venereal diseases, and test milk.

Over the years DPH set up more "branch labs" around the state, but field labs were still needed.

"An interesting trip was made in 1923 to Rock Island," RFDI says. "A few days before Christmas, a telephone call requested urgent help in controlling a diphtheria outbreak. While the branch lab was available at Moline, supplies for several thousand cultures were not at hand nor could they be shipped by train because of the tremendous congestion of Christmas packages in both post office and express office. In but a few hours, culture media…was ready and loaded into the lab car. By driving all night, two bacteriologists with necessary supplies and equipment were on the scene the next morning."

As new diagnostic tests for diseases were developed, the lab added them to its repertoire. But on Aug. 24, 1965, a fire erupted in the Statehouse DPH lab and shut it down for several months.

Five years later, the lab permanently moved out of the Capitol and into its current Springfield home on the campus of Southern Illinois University School of Medicine. DPH also has labs in Carbondale and Chicago.

The Springfield lab has 37 employees who still test for diseases in humans and animals, but also test our environment for safety purposes. They examine water, dairy products and food, and can test for "threat agents during a suspected bioterrorism event," says Arnold.

Contact Tara McAndrew at tmcand22@aol.com.