One of Springfield's most consistently exciting and innovative music venues doesn't even publish its physical address.

For the past five years, the Radon Lounge has been hosting an impressive variety of local and touring bands, averaging one show per month. However, like a post-millennial speakeasy, anyone wanting to attend a concert at Radon is obliged to contact the venue via email or social media, simply to discover where it's located. Venue founder Jeff Black, who also books all the talent, explains that this is a matter of neighborly consideration rather than mystique. The reason is simple enough: The Radon Lounge is in fact the basement of his home, located in the heart of a Springfield residential neighborhood.
Black, 35, was raised in the small Illinois town of Casey (pronounced by residents as kay-zee), near Charleston. While now well known as the home of such oversize novelty items as the World's Largest Wind Chime and the World's Largest Rocking Chair, this wasn't the case (kaze?) when Black was growing up there. "It was just another small town," he said. Black eventually earned his bachelor's degree at nearby Eastern Illinois University before seeking his master's in computer science at UIS. "There wasn't anything that particularly attracted me to Springfield, it was just that UIS had a very practical computer science program."
Black met his wife, Catherine, while attending UIS. "We didn't know anybody from Springfield when we were settling in. Pretty much all of our friends were other UIS grads who also decided to stay here."
Black bought the house that would eventually become the Radon Lounge in 2007, with the intention of hosting parties there, continuing his ad hoc role as social director and party planner among his college friends. "I'd been familiar with the idea of hosting music shows in your home and I knew it was something that originally came out of the punk scene," he remembered, "but I never thought I would actually put on a house concert."
A friend had become acquainted with a singer-songwriter from Kansas City named Sarah Swenson and suggested she play a show in Black's living room. "We did a living room show with Sarah in 2011," Black said. "She brought her own p.a. system and was self-sufficient, which made it super-easy." Promoting the show via social media drew about 30 people to the Swenson concert. "It was fun and Sarah wanted to do it again so we had her back about six months later."
Those two initial living room shows whetted Black's appetite for more, which led him to start working on his basement. "Downstairs there was less to worry about – like people damaging the floor and things like that. So I just started working on the unfinished basement. It's a big concrete space that can't be damaged easily." That basement soon became the Radon Lounge, which debuted under that name in December 2011 with a holiday-themed concert. (Catherine Black does all of the graphics for Radon, including all posters. She also designed the website.) In 2012 they booked their first out-of-town bands and things developed from there.
A typical Radon show will be attended by between 40 and 60 people, according to Black. "If you add in all the artists and volunteers, we might have about 60 or 80 people down there." After five years, the procedure for shows is pretty well solidified. "We just run on autopilot at this point – which is nice, it lets me focus on the parts I enjoy about the shows." By the time show-day rolls around, there are some essential steps Black must take to turn his basement (where, incidentally, actual radon has been reported at safe levels) into a presentable performance space. "It is is an actual, regular basement – we do laundry down there, there's a kitty litter box," Black says. "So I remove all of the domestic vibe from the basement, clean the floor, wipe things down, make sure it smells nice. There's a lot of mopping and cleaning and rearranging things so it looks like a venue again."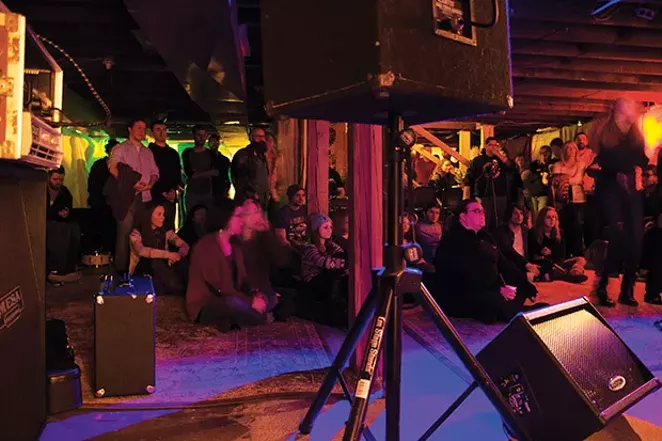 Volunteers are recruited to collect money at the door and run the soundboard and artists will usually start arriving around 5:30 to load-in their equipment, according to Black. The Radon Lounge always makes a point of providing a lovingly prepared dinner for all artists and volunteers, courtesy of chef Apryl Kay Mays. Black makes a point of asking the musicians ahead of time about any eating restrictions, from allergies to vegetarianism, and Mays then creates a menu to accommodate these issues. "The idea is to make the artists feel good before the show, which of course makes for a better performance," Black explained, "but we also like to have time to get to know all the people who are coming through. We've never had an artist act like, 'Leave me alone, don't talk to me, I'm a rock 'n' roller,' or anything like that. They've all enjoyed their time staying with us."
Most traveling bands will spend the night at the house after performing, which saves on hotel costs and allows them to partake of further hospitality in the form of a home-cooked breakfast before getting back on the road. "We have bedrooms in our upstairs area with beds and mattresses and clean sheets and blankets and towels – so it's like a bed and breakfast for musicians." Black has found that he enjoys socializing with the artists as much as watching them perform. "Just getting to talk to and make friends with these creative people coming to town is great," he said.
One of the more well-known acts to play the Radon was Lucius from Brooklyn, NewYork, who stopped for a Radon show in 2013 when on their way to playing the gigantic Bonnaroo Festival in Tennessee. "It was crazy," Black recalled. "At the end of their set they went out into the audience and played acoustically and mentioned that they were going to be doing the same song with Paul McCartney at Bonnaroo. It was one of the best performances I've ever seen – and it was happening in my basement!"
The Radon Lounge show this Saturday, April 15, is its second this month. "We are breaking our one-show-per-month rule because I wanted to get in the record release party for the band Young Eyes on April 1, but I wanted to do this upcoming show too." Black is planning to have one fewer shows in 2017 to make up for this. "After May, I don't have any more shows planned until September," he said. This weekend's concert features the Indianapolis-based Bonesetters, who describe themselves as surf-pop while Black simply calls them "phenomenal." "I still have them on my Spotify playlist and am still listening to their album." Also on Saturday's bill is Springfield electronic-pop solo artist Eric Marvel and local original rockers Blind Social. Recently published Springfield poet Ian Winterbauer will also be reading his work.
"This year I'm excited about collaborating with other, nonmusical creative projects in town," Black enthused. "We are now featuring visual artists more regularly. There is a little corner of the basement that has worked out well for a small art gallery space." Saturday, Springfield visual artist Jen Santarelli (a/k/a "Arty Farty Slumber Party") will have work on display and for sale.
Black has been employed by Horace Mann since graduating with his master's in 2007. He started as a software developer and currently works in the capacities of both a project and personnel manager. "I feel like having Horace Mann behind me enables me to do stuff like Radon," he says. "This Radon Lounge thing is not a moneymaker." Black says he doesn't host shows for profit. "In fact, I intentionally do not take a cut for myself from any shows or anything like that," he said. "If anything, I'm putting a lot of my own money into it, to make it happen."
There are challenges inherent in using one's home as a music venue. "I don't want to overexpose myself," Black said, explaining his fear that attracting large, random crowds of people could risk creating a disturbance with his neighbors. "I don't post my real address when I'm promoting shows. It's not on posters. A casual person is never going to get to the point where they discover where we are. It is only people who are actively pursuing a live music show who go the distance to figure out where to go." While the extra hurdles involved in locating the Radon Lounge helps guarantee smaller, more docile audiences, Black says he does dream of someday being able to open a "real" space in a very public, visible location. "Of course, then there would be so much overhead that I would have to put in even more of my own money," he said "I do wish everybody could come out and enjoy it. I don't want to be an exclusive, members-only club or anything like that."
Black says there are elements of the specific neighborhood that allow him to get away with doing the Radon Lounge. "The area I live in is quite a bit noisier than a lot of other parts of town," he said. "There is a lot of ambient noise anyway, with traffic, trains and other stuff, so people are not as put off by loud noise – but also, I have an old house that is basically double-walled with brick and that keeps the sound in. It's not super loud outside the house like you might think. You could walk by the house and not even know there's a show going on – and we have loud bands, too."
Black says his neighbors have been very tolerant. "I talked to them when I first started, told them what we were going to be doing, I didn't want them to be surprised." Some of the neighbors have even attended Radon shows, while he suspects that others are less fond of having a music venue on their block. "But I've explained to them that there's no alcohol or drugs allowed and there's nothing illegal going on."
Even after five years, Black is acutely aware of the fragility of his venue's existence – one neighbor's complaint might be enough to shut the Radon down entirely. "I'm mentally prepared. Each show, someone could decide that enough is enough and I'll be out of a passion project," he smiles. "The chances are, though, if that does happen, I'll just start looking for the next opportunity to do this in some other form or fashion."
Contact Scott Faingold at sfaingold@illinoistimes.com .