Had the pleasure of heading out this weekend on an adventure and attending a Slow Food Springfield luncheon at Prairie Fruits Farm in Champaign. The wind (well, really wheels) carried us east from Springfield to Urbana and kept us cool under the June sun.
It was a gorgeous day to see to the goats, pigs, the farm's garden, meet some new people, and enjoy a five course dinner prepared with fresh, organically grown and locally produced foods.
I love beets and the arugula salad was tasty with roasted beets, feta, grapefruit, sherry and tarragon.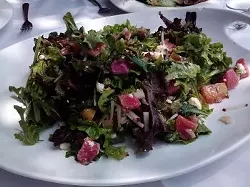 I love cheese and PFF served angel food cheese with cajeta and toasted pecans. Yum!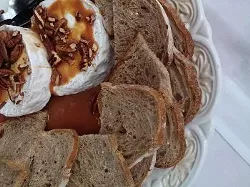 My kids balk at me to stop making sounds of joy when I eat delicious food – they say it sounds too sensual in nature – but some morsels just deserve vocal applause. And these did. Trust me. Or don't trust me, go find out for yourself. Do it! PFF owners Wes Jarrell and Leslie Cooperband seem like really good eggs. Enjoyed hearing about their travel to Italy to train in the fine art of gelato making. PFF has on farm sales on Wednesdays selling their cheese, gelato and more. The day was like well crafted poetry to me. LoveIt! Thank you gods.