Years ago, opposing nuclear power was cool.
A partial meltdown at Three Mile Island lit a nationwide fire in 1979, when an estimated 200,000 anti-nuke protesters flocked to New York for a demonstration six months after what remains the nation's closest brush with nuclear energy catastrophe. Tens of thousands marched elsewhere.
"If they can open one on an earthquake fault, they can put one anywhere," musician Jackson Browne told the Associated Press in 1981, when he and nearly 2,000 other demonstrators were arrested for attempting to blockade a plant under construction in California, where the governor two years earlier had been among more than 60,000 anti-nuke protestors who marched on Washington. "We believe all of us against nuclear energy have to think of ourselves as Paul Reveres and Pauline Reveres, going through our country town by town, city by city warning the people about the dangers," Jane Fonda told The New York Times in 1979. Bruce Springsteen wrote a song about a family fleeing nuclear disaster:
We left the toys out in the yard,
I took my wife and kids and left my home unguarded,
We packed what we could into the car.
"The strength of opposition increased in those already opposed, and the number of people who are concerned about nuclear power increased," wrote John F. Ahearne in 1983, when he departed the Nuclear Regulatory Commission after a five-year term. "I believe that this change will be permanent."
Nearly three decades later, sentiment has changed. Actor Leonardo DiCaprio has posted an article on his charity's website arguing that nuclear energy is dangerous and expensive, but few A-list celebrities these days seem much interested in opposing nukes. Musicians United for Safe Energy, which organized five sold-out Madison Square Garden concerts in 1979, hasn't posted anything on its website since 2011, when a benefit was held after meltdowns and explosions at the Fukushima plant in Japan forced more than 150,000 people to evacuate.
No one died at Fukushima, where 1.25 million tons of wastewater, treated but still radioactive after being flushed through overheated reactors, will be dumped into the Pacific Ocean, the Japanese government announced last month; scientists say it's safe. One hundred people died when Chernobyl melted down in 1986, forcing more than 300,000 people to evacuate in what remains the world's worst nuclear accident.
Thirty-five years later, President Joe Biden has endorsed nuclear power, calling for new reactors while on the campaign trail and now, according to media reports, moving toward subsidies for existing ones that otherwise might close: It's cheaper to generate electricity with natural gas or coal. Environmentalists acknowledge that nuclear energy is expensive, and mishaps can be dangerous, but nukes don't generate earth-warming carbon. The risk, the thinking goes, is worth it: People already are dying from fossil-fuel pollution.
David Kraft, director of Nuclear Energy Information Service, remains a hard-liner 40 years after the Chicago-based nonprofit was founded in hopes of shutting down nuclear plants. Under no circumstances, Kraft says, should nuclear energy be countenanced. He acknowledges feeling a bit like a dinosaur in a fossil-fuel age.
"Quite frankly, we are outliers, even within the environmental community – we're not well-received among our brethren, our town folk," he says.
Illinois, also, is an outlier, one of two blue states with legislatures and governor's mansions controlled by Democrats – there are 15 – that hasn't passed legislation aimed at establishing power generation that is fully renewable. While Biden has established a goal of making electrical generation in America carbon-free by 2035, Gov. JB Pritzker is pushing to do the same by 2050. In the private sector, companies ranging from Volvo to Starbucks to Amazon have vowed to end carbon emissions.
Setting destinations can be easier than reaching them. In Seattle, which six years ago established a goal of more than halving carbon emissions by 2030, the city's Office of Sustainability and Environment in 2019 reported that the city wasn't on pace. Despite the plan, emissions had decreased by just five percent since 2008, in part due to population growth.
Corruption and hardball
Pritzker's plan to make Illinois power generation carbon-free within three decades is predicated on replacing coal and natural gas plants with wind and solar projects. Nuclear, also, is a piece of Pritzker's power puzzle, one fraught with politics and past corruption.
Michael Madigan, who resigned from the legislature in February, might still be House speaker but for dalliances with ComEd, which last year agreed to pay a $200 million fine as punishment for paying bribes – Illinois has more nuclear plants than any other state, and Exelon, parent company to ComEd, owns all six plants, which collectively operate 11 reactors. Four former lobbyists and ComEd executives are facing charges, and defense lawyers during a recent hearing in the case hinted that there may soon be more charges, and possibly more defendants. "We all know they're still investigating," Michael Monico, attorney for former lobbyist John Monico, said during the May 5 hearing.
Outside Illinois, federal prosecutors last summer charged John Householder, then speaker of the Ohio House of Representatives, in an alleged $60 million bribery scheme hatched to pry a $1 billion public subsidy for the state's two nuclear power plants owned by FirstEnergy. The Ohio legislature this year repealed the law granting subsidies. Householder's colleagues removed him as speaker, but he was reelected to his House seat last fall. He remains a legislator while preparing for trial in what is believed to be the largest corruption case in Buckeye State history.
The nation's nuclear fleet has shrunk in recent years from 104 reactors in 2012 to 98 reactors today. The newest plant, in Tennessee, began generating power in 2016; a new plant is expected to open soon in Georgia. A plant in Zion, Illinois, closed in 1998, shattering the local economy.
Threatening to close power plants and eliminate jobs unless lawmakers grant subsidies has become a familiar game of chicken for the nuclear industry nationwide. After Exelon threatened closures in Clinton and the Quad Cities, legislators in 2016 delivered more than $2 billion in subsidies to keep the plants open through 2026. Now, the company, absent more subsidies, is threatening to close two other plants. Without the plants, northern Illinois would lose 30 percent of its electricity generating power, Exelon CEO Christopher Crane warned in a December opinion piece published by the Chicago Sun-Times. There was no excuse for past behavior that prompted the $200 million fine, Crane wrote, but the past is the past: Without nuclear power, Illinois can't go carbon-free. Exelon, Crane vowed, would cooperate with legislators. "As lawmakers consider a path forward, Exelon will continue to be fully transparent, including opening our financial records to any policymaker who wants to better understand the challenges facing our nuclear plants," he wrote.
Four months later, the governor released a redacted audit of Exelon's finances performed by a state-hired consultant who, given access to company books, concluded that the two plants facing closure likely would be profitable with a $355 million subsidy given over five years. Revenue, expenses, profits and employment at each of Exelon's plants was excised from the audit report on grounds that numbers were proprietary. That such basic information was missing from the report was "absolutely horrible," Sen. Michael Hastings, D-Frankfort, complained during an April 22 hearing of the Senate Energy and Public Utilities Committee, which Hastings chairs.
"This industry as a whole has been clouded by a dark cloud of greedy people that will be held accountable," Hastings said. "The information in those redactions is essential for me and other members of the General Assembly to make a public policy decision on what we do moving forward here. ... I expect more of our government in terms of a report, and I find it just very troubling." Sen. Bill Cunningham, D-Chicago, also called for more disclosure. "We certainly believe that the public is entitled to know what's in that report."
Deputy governor Christian Mitchell got the message.
"I've got a number for a senior VP with Exelon right here on my phone, I can text it to any one of you to make a call to her right now, and I will walk upstairs to my office, take the confidential copy of the report that I have, run off copies and bring them to people down here," Mitchell told the committee. "The governor fully supports releasing this report unredacted to the public and of this committee, as soon as right now."
Not everyone is convinced an or-else company known for paying bribes and threatening to close plants needs the money. Both plants Exelon has threatened to close likely would be profitable over 10 years without a subsidy, Joe Bowring, president of Monitoring Analytics, a company that analyzes power trends to fulfill a federal requirement that independent monitors track electrical generation, told the committee. Last summer, Monitoring Analytics, which prepares quarterly reports, released a forecast showing that the two Exelon plants would lose money in 2020 but would more than recover those losses in 2021. The forecast was rosier in a March report, when Monitoring Analytics predicted the plants this year would bring in $185 million more than operating costs, fuel and capital investment put together.
When Exelon last summer announced that the two plants would close absent subsidies, Senate President Don Harmon, D-Oak Park, citing conclusions of independent monitors such as Monitoring Analytics, said in a written statement that he would consider requiring that the plants be offered for sale before they could be closed.
Monitoring Analytics based its conclusions on publicly available data and did not include such costs as property taxes and administrative overhead in determining that the plants could be profitable. Morgan Stanley has said that closing the two plants would boost Exelon's earnings by $260 million in 2022, according to a February story in Forbes magazine. Exelon is steadfast: If lawmakers don't provide a bailout, and soon, the company will shut down plants, and both power and jobs will disappear.
"A bill needs to pass before the end of the regular session, and it needs to provide adequate support for continuing to invest in the Illinois fleet," Crane told analysts during a May 5 earnings call. "(W)e're almost out of time, and we'll...retire these assets in the fall if the policy reforms are not passed in this session."
Let's make a deal
With the legislative session set to end on May 31, Pritzker's energy package unveiled April 29 promises something for almost everyone who loves prosperity, the planet and good government.
Backing a goal of carbon-free power generation by 2050, there's a tax on carbon emissions designed to sink coal-fired plants by 2030 and natural gas-fed generators by 2045. There are financial incentives to create charging stations for electric vehicles and $4,000 rebates for people who buy electric cars. There are provisions encouraging, if not requiring, wind and solar construction projects to use union labor, and programs for folks who lose jobs when fossil-fuel plants close.
Permitting processes for wind and solar projects would be simplified and streamlined. Ethics? Spouses and other relatives of legislators and lobbyists employed by utilities would have to file statements of economic interest to the state disclosing the extent of financial ties. Low-income folks would get breaks on utility bills, and poor communities with health issues caused in part by pollution from dirty power plants would get money. Weatherization programs would gain. There is even a prohibition on fees charged by utilities when ratepayers pay online instead of in person or by mail.
Also, there would be $71 million a year for five years in subsidies to Exelon so that the two nuclear plants the company has threatened to close will remain open. Along with subsidies would come annual audits to ensure Exelon isn't taking advantage of ratepayers as well as a requirement that all subsidies be returned if plants are closed without good-faith efforts to sell them.
For anti-nuke hardliners like Kraft, subsidies to sustain nuclear power are deal-killers, much as other parts of Pritzker's plan might tempt. The view is more nuanced from other environmentalists.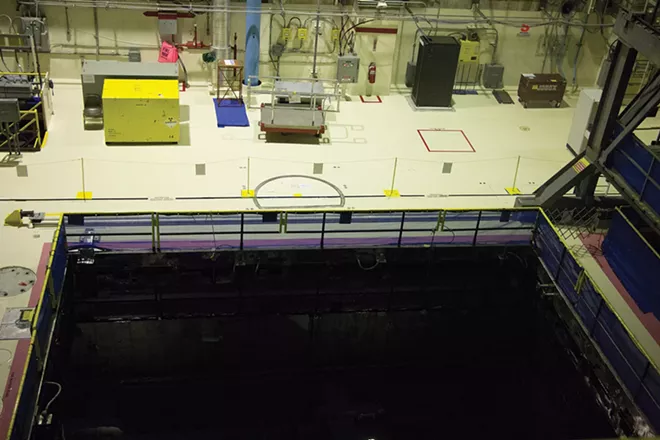 "The Sierra Club remains unequivocally opposed to nuclear energy," one of the nation's largest environmental groups says on its website. "Nuclear is no solution to climate change and every dollar spent on nuclear is one less dollar spent on truly safe, affordable energy sources. Help us work to phase out nuclear as quickly as possible."
Then again, the Illinois chapter of the Sierra Club has welcomed Pritzker's plan that includes subsidies for nuclear plants. "Crisis cannot be averted with half measures, and for the first time in Illinois history, Gov. Pritzker has put forward a proposal to confront the climate crisis with the ambition it demands by reducing emissions, creating clean energy jobs, and holding utilities accountable," Jack Darin, director of the Illinois Sierra Club, declared in a written statement issued the day after the governor unveiled his proposal that included nuke subsidies. "It is refreshing to see state leaders commit to a vision of 100 percent clean energy that strives to put the needs of Illinoisans over those of corporate utilities."
What about being unequivocally opposed to nuclear energy? What about nuclear energy not being a solution to climate change?
"We've not taken any formal position on the bill itself," Darin explains in an interview. Then again...
"At the moment, we in northern Illinois are very reliant on nuclear energy," Darin says. "We do need to replace them (nuclear plants) with renewable energy, but that isn't going to happen overnight. It isn't going to happen for decades. ... We do not consider nuclear to be clean energy. But it's here. There's no ignoring that fact. If it did go away immediately, it would be replaced by fossil fuels, and that's not a good outcome. It's a risk we're already living with. It's not a risk we would choose to create – it's here, and it's something we need to be mindful about. They (nuclear plants) can be very dangerous. But they will be gone one day."
Jen Walling, executive director of the Illinois Environmental Council, sees nuclear energy as less evil than coal-fired and gas-fired power plants that would proliferate to fill the void if nuclear plants closed. "The Illinois Environmental Council does not think that nuclear power is a clean source of energy," she says. "Eventually, nuclear power plants will reach the end of their lives. ... I think we all agree that the nuclear plants should close and close safely at some point."
Exelon's bribery scandals, Walling says, have complicated efforts to promote renewable energy and help consumers. Now that the company's sins have been exposed, Illinois has a chance to make up for past wrongs, she says.
"This definitely has caused issues in terms of being able to move forward energy legislation," she said. "I really strongly believe the reason we have climate change and pollution is because we have corruption. ... It has both helped and hindered energy legislation. I think we would have gotten to this point sooner if not for ComEd and Exelon. We have a real shot at getting utility accountability legislation done."
Walling is optimistic that an energy bill will pass. "If you would have asked me three weeks ago, I would have said, 'I don't know,'" she said. "There are groups meeting in Springfield on a fairly frequent basis at this point. I think labor, solar and environmental groups are really the winning combination."
Kraft agrees that an energy bill seems on a fast track, but the Nuclear Energy Information Service's stance hasn't changed in 40 years. "We do not support any of the bills that are out there – anything that has nuclear in it, we cannot support that," Kraft says.
Beyond the risk of meltdowns, there is the reality of radioactive waste, which now is being stored at reactor sites until a permanent solution is found. Ahearne, the former member of the Nuclear Regulatory Commission, was wrong in 1983 when he predicted that there would be a major accident at a U.S. reactor by 2000, but he was right about waste when he wrote that no permanent repository would be in operation by the end of the millennium. He was overly optimistic in writing that he believed construction of a waste disposal facility would be underway more than 20 years ago. The solution, scientists have long said, is storing waste deep underground, but finding a state willing to accept nuclear waste has proven problematic. A plan to put waste beneath Nevada has languished for 34 years, with funding cut in 2011 under the Obama administration.
No one, Kraft says, is looking at one of the biggest upsides of shutting down nuclear plants: a cessation of waste production. With more than 10,000 metric tons, Illinois has more nuclear waste than any other state, and the stockpile keeps growing.
"It's kind of a numbness, a kind of acquiescence," Kraft says.
Kraft says he never thought that the Nuclear Energy Information Service would last for 40 years. By now, he says, he had thought that events would convince policymakers and their constituents to shun nuclear energy.
"We thought Fukushima would have been that, we thought Chernobyl would have been that," he says. "Our business goal is to put ourselves out of business."

Note: A previous version of this story incorrectly stated that nuclear plants in Ohio are owned by an Exelon subsidiary. The plants are owned by a different company.
Contact Bruce Rushton at brushton@illinoistimes.com.