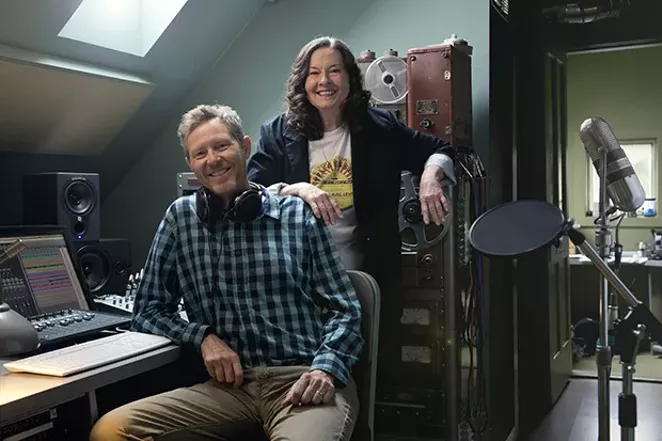 Just as the changing leaves of the season provide a broad spectrum of colors to delight the eye, so do the sonic offerings available to local music fans range all over the palette of pleasing sounds this autumn – indeed, from country to punk to symphonic grandeur, there's no shortage of variety to the sounds gracing central Illinois music venues in the coming months.

Bar None (245 S. Fifth St.), which has recently become home to a wide variety of roots-music concerts, will welcome the unlikely but awesome duo of folk maestro Robbie Fulks and vocalist Linda Gail Lewis (sister of the legendary Jerry Lee) on Oct. 21, followed by Edward David Anderson (ex-Backyard Tire Fire) on Oct. 27, the western-swinging Quebe Sisters on Nov. 5 and American legends The Bottle Rockets on Dec. 8.
Over at the Hoogland Center for the Arts (420 S. Sixth St.), "A Night On Broadway" on Sept. 15 is the HCFTA's annual gala fundraiser featuring Broadway star Andrea McArdle, Broadway's original Annie. Later that month, Sound Celebration Chorus will take the stage for its annual concert, "Harmony on the Air" (Sept. 29). Find more info at www.hcfta.org.
At Sangamon Auditorium on the UIS campus, folk rock legend Gordon Lightfoot better perform "The Wreck of the Edmund Fitzgerald" or there are going to be some disappointed fans come Sept. 29. Then jazz vocalist extraordinaire Diana Krall will be making Springfield a stop on her world tour on Oct. 19, followed by nationally renowned a capella group Straight No Chaser on Oct. 28. See www.sangamonauditorium.org for more details.
Also at Sangamon Auditorium this fall, musical director Ken Lam begins his second season leading the Illinois Symphony Orchestra on Oct. 20 with "Bicentennial Celebration," which will open with Joan Tower's "First Fanfare for the Uncommon Woman," Aaron Copland's "Lincoln Portrait" and the "Ode to Joy" portion of Beethoven's Ninth Symphony. Next up for the ISO will be "Simply Strings" on Nov. 10, a program featuring "Simple Symphony" by Britton, Tchaikovsky's "Serenade for Strings" and Shostakovich's First Piano. Find more information at ilsymphony.org.
Award winning concert venue Boondocks (2909 N. Dirksen Pkwy.) will continue its reliable roster of marquee modern country acts with Randy Rogers ("One More Sad Song") on Sept. 14; Cody Jinks ("I'm Not the Devil") on Sept. 19; Corey Smith ("Twenty-One") on Oct. 6; Whiskey Myers ("Mud") on Nov. 10; and a triple bill of Tyler Daniel, Jobe Shores and Roger Smith & the Infirmary on Nov. 24. Complete listings can be found at www.boondockspub.com.
Over at the Legacy Theatre, get ready for an autumn show tune showcase nonpareil with "Get Happy," featuring well-known belter Angela Ingersoll doing high-energy, emotionally engaging renditions of songs made famous by the late, great Judy Garland.
Up the road apiece, Bloomington's Castle Theatre will host a show by long-time area legends The Something Brothers (Sept. 7) and the final performance of local rockers Flaccid on Sept. 22. Then Sept. 23 will be your chance to see Blues Traveler harmonica god John Popper; Oct. 5 will bring the indie folk mood swings of Iron & Wine; ska legends Reel Big Fish will skank it up on Oct. 5; emo standard bearers The Get Up Kids do their thing Nov. 14. If death metal is more your cup of grog, Cannibal Corpse will take the stage the very next day (Nov. 15). Check out www.castletheatre.com for details.
Of course, this is only a sliver of the many upcoming area shows. Keep an eye on www.events.illinoistimes.com for further developments.
Scott Faingold can be reached at sfaingold@illinoistimes.com