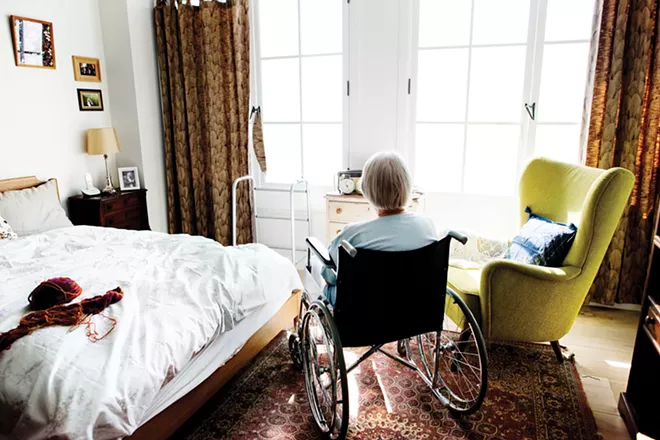 "I was very sad," said Susan Hovey, a geriatric researcher at University of Illinois Chicago, when she heard the annoucements of the closing of St. Joseph's Home of Springfield and Heritage Health of Springfield.
Hovey, who also serves as the associate director of the Department of Biobehavioral Nursing Science, said she took students to observe and learn from the staff at Heritage Health, a for-profit long-term care facility. She was also very familiar with St. Joseph's Home, a nonprofit nursing home, since her mother resided there until her death.
The October annoucements of the two nursing home closures cited staffing woes as one of the major reasons. Heritage stated that staff shortages led to an "explosion of wage expenses" that did not make it practical to continue to keep their doors open, according to several news reports. St. Joseph's pointed to "a severe staffing shortage, not only at St. Joseph's but throughout the health care industry."
SEIU Healthcare nursing home division vice-president and director, Shabatayah Andrich, said the staffing issues faced by the nursing home industry are not new. The union represents 12,000 nursing home employees across the Midwest.
"A lot of the things that the industry has been doing wrong for many years, all came to a head during the pandemic," Andrich said. Legislation like the Nursing Home Care Act, signed in 2010 by Gov. Pat Quinn, proved to be hollow, he said, because provisions to improve staffing ratios and requirements for time given to bedside care were never enforced.
Andrich said because of the pandemic, members comment that "it's no longer just a hard job, it's become a dangerous job too."
High workload, which leads to injury, and staf turnover rates at nursing homes have long been an issue prior to the pandemic. According to a study published in March 2021 in Health Affairs, a health policy journal, median annual nursing home staff turnover rates in Illinois ranged from 98% to 118% in 2017-2018.
Francine Rico, a certified nursing assistant in Chicago for over 23 years and executive board member for the union, said working at the height of the pandemic "was scary and frustrating" as the number of residents and staff dying from COVID-19 went up. Rico said without transparency and support from administrators, staff took it upon themselves to "keep the patients out of harm's way and watch out for each other" the best way they knew how. Their sole focus was "trying to stay alive," she said.
Union members organized actions to pressure owners to provide personal protective equipment and wage increases promised under the American Rescue Plan Act, Rico said.
Hovey said there are a lot of costs associated with running a nursing home that administrators must budget for "and unfortunately where you can make the most money is to cut down on staff or reduce the money for staff."
Hovey examines staffing issues at long-term facilities as part of a research collaboration amongst central Illinois academics called the Gero Group. They are in the process of writing an executive summary legislative proposal to present to legislators in Washington, D.C.
"The federal government needs to start looking at this," she said. "The system is broken and there has to be a way to fix it."
Matt Pickering, Health Care Council of Illinois executive director, said the long-term care industry is in a crisis. Heritage Health is a member of HCCI, an industry association representing for-profit nursing homes.
HCCI is in discussions with the Illinois Department of Healthcare and Family Services to "find the right balance between the needed funding in the system for Medicaid but also to complement that with incentives," Pickering said.
Andrich of SEIU Healthcare said money is not the sole issue. "The state has thrown money at this problem for the last decade and we haven't seen any improvement in staffing and in quality outcomes at all in these homes." He said the ways nursing homes operate and make their money is not transparent and unless there is a view into their finances, there is no way to say conclusively that more money will solve the problem.
He said part of the challenge to retain workers is the low pay, with starting hourly rates for certified nursing assistants around $16, "but it's also disrespect – just the culture of treating primarily women as if they are expendable."
When Illinois Times asked Rico what motivates her to continue to be a CNA, she said, "Passion."
I think my calling was to take care of people," she said. She said she strives to provide the best care for residents spending the last days of their lives in a nursing home.
Nursing staff advocates and researchers both expressed concern about the effects staffing shortages have on patients. Hovey said patients at Heritage Health and St. Joseph's face a traumatic event in their displacement – "losing their home, relationships and the bond and trust they've developed with their caregivers," she said.
For patients with Alzheimer's or another form of dementia, "displacing them and putting them in an unfamiliar surrounding with unfamiliar people will result in a decline."
The closures also affect families and caretakers tasked with figuring out alternative living arrangements for their loved ones by December. Hovey said it's difficult because there are limited facilities available locally, especially those accepting Medicaid patients. Those facilities are usually full, and most likely people may be left "waiting for a bed."