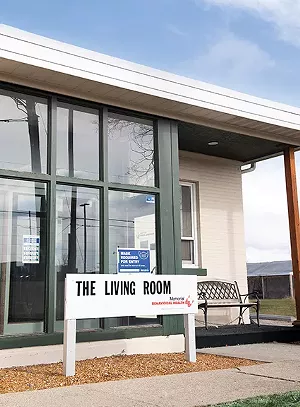 Mental health care should not be a luxury. And those in crisis don't always need to be hospitalized. That's part of the philosophy behind a state-funded program that brings free crisis care to people regardless of whether they have medical insurance.
The pandemic has increased the need for mental health care. According to the Kaiser Family Foundation, the rate of U.S. adults who reported symptoms of depression and anxiety rose from 10% to about 40% from 2019 to 2020. Sleep disorders and substance abuse were more prevalent in 2020 than prior years as well, according to research from the nonprofit that conducts health policy analysis. Isolation and job loss has exacerbated mental health problems.
Springfield hosts one of the 20 or so "Living Rooms" across the state. The program aims to provide a cozy, non-threatening space for people who need crisis care. It aims to intervene with services and supports to address individual challenges and "break the cycle of psychiatric hospitalization," according to the Illinois Department of Human Services, which oversees the program. No appointments are needed, and those who walk in meet with "peer recovery specialists" who have lived through mental health crises of their own.
In Springfield, a Living Room is run by Memorial Behavioral Health at 710 N. Eighth St. where it operates from noon to 8 p.m. weekdays. People can walk in or make referrals for friends and family in crisis. Whitney Devine is a peer recovery specialist there. She is open about having struggled with her own mental health issues and benefited from treatment. "A few years ago my depression got so bad that I wanted to take my own life," she told Illinois Times.
Devine was hospitalized and underwent treatment, including counseling. She also is in recovery for alcoholism. She said those experiences help inform her approach to speaking with others who struggle. "The beauty of it is, we're peer driven, we provide support from our personal experiences – it's not your traditional clinical or counseling environment."
Each person who enters the Living Room is screened for COVID symptoms and asked questions to determine whether they need emergency care. If the Living Room is deemed the right fit, the person proceeds to speak with someone like Devine, who can listen and help recommend resources for a variety of issues. Devine said there have been about 450 people who used the Living Room since it opened its doors in November, with several people coming through each day.
One person who got help at the Living Room had just been released from prison, said Devine. He was able to use a computer at the Living Room and get assistance in applying for jobs. "He actually got offered a job while he was here. He got the call while he was here so that was really cool." She said others come in crying and despondent and leave with "higher hopes and clarity over their current situation." Devine said the amount of foot traffic appears to be increasing.
Across the state, mental health providers are seeing an increase in requests for help and in the volume of calls made to crisis lines, said Diana Knaebe, president of Memorial Behavioral Health in Springfield. "Some of the speculation is that the next 'wave' is going to be the mental health pandemic." Knaebe said that's likely because of the length of the pandemic crisis and its complex nature. Many people are grieving loss – either loved ones who have died of COVID, or other causes, but who couldn't be properly mourned due to mitigation efforts keeping people apart. Some people are dealing with their own illnesses. In addition, ongoing tensions over systemic racism and police brutality add to the mental health burden for many, said Knaebe.
Though vaccines and increased reopenings provide hope, people are emotionally fatigued as they balance work, home, school and family. But they should know there is help available, and there is no shame in needing it. Knaebe points to resources in addition to the Living Room, such as the Memorial emotional health hotline, at 217-588-5509, and the National Suicide Prevention hotline at 1-800-273-8255. More crisis resources can be found at tinyurl.com/c7xmf67s.
Contact Rachel Otwell at rotwell@illinoistimes.com.