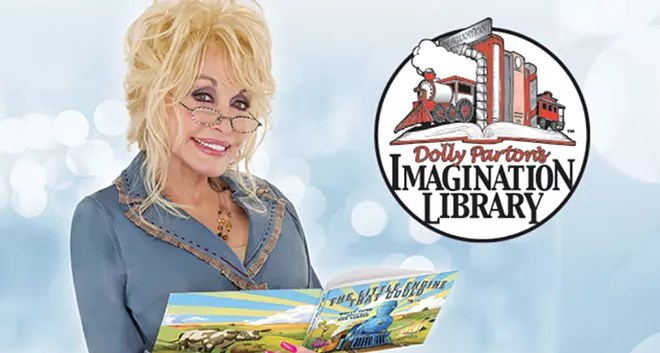 For several years there has been a waiting list in Sangamon County for children to receive free books through Dolly Parton's Imagination Library (DPIL), a program that helps get children ready for kindergarten, beginning at birth. This week United Way, which administers the program, announces that an anonymous donor has come forward with a donation of $70,000 to pay for the current waiting list of 781 children and add a cushion for new enrollees.
A committee is now working to help get the program sustained so that no child needs to be put on another waiting list. Reading is the key to learning, and if every child could be exposed to books and reading from birth, success in kindergarten and beyond will be more likely.
The DPIL was the dream of Dolly Parton to help foster a love of reading. Parton has always acknowledged she grew up poor. She launched the program in 1995, in Sevier County, Tennessee, her home area. On the DPIL website, her statement reads, "I started this as a tribute to my Daddy. He was the smartest man I have ever known, but I know in my heart his inability to read probably kept him from fulfilling all of his dreams. Inspiring kids to read became my mission."
The program provides a book a month free to children from birth to age five. It is open to all children, no matter the economic status of their family.
In 2000 a national effort began to spread the program beyond one county in Tennessee. By 2004 the state of Tennessee had pledged statewide coverage for all children ages birth to five, and the program expanded to other countries in following years: Canada (2006), United Kingdom (2007), Australia (2013) and Ireland (2019). There are now books available in audio and Braille.
Over 1.6 million children worldwide receive books every month from birth to age five.
Some people have a mistaken view that the program is only open to children in need. Although child care centers and organizations that serve the most at-risk children are targeted, no child is turned away. The view that more affluent families should not enroll since they can afford to buy books misses the point that the program promotes literacy, which is needed for all children.
Memphis, Tennessee, serves as an example. There, the program is viewed as an equalizer; every child born is enrolled. When they enter kindergarten, they have been exposed to the same books, characters and themes. This gives them a shared experience and puts them on a more even playing field. This benefits teachers, also, as they can build upon an already general understanding and help students develop their reading. Students may come from very different economic backgrounds, but through books, they find common ground.
The first book always given is The Little Engine That Could, and the month a child turns five, the book received is Look Out Kindergarten, Here I Come. Each book throughout the five years is carefully selected to fit a child's age and development. Included are activities for the caregiver or parent to use with children. This is another way that the program helps; parents and caregivers, too, have a common understanding of books.
If funds are sufficient, books will begin appearing soon after the enrollment is completed. If funds are not sufficient, children are put on a waiting list and will receive books when funds become available. That has sometimes meant that a child might be 3, 4 or even close to 5 before receiving a book.
In Sangamon County, the program began in 2011, administered through United Way. More than 6,800 children have been served. Currently, more than 1,500 children are enrolled. But that does not begin to reach all eligible children, as around 2,500 children are born in the county each year, according to Memorial and St. John's Hospitals. It is estimated that there are over 11,000 children aged 5 and under in the county.
Work is now underway to increase the funding, expand the number of students enrolled and build sustainability. It only costs $130 to sponsor one child for a book each month from birth to age 5 – that is $10 a month.
Businesses, organizations, foundations and individuals can help, through a one-time or an ongoing donation on the United Way website http://springfieldunitedway.org/dpil. Click on donate and indicate your donation goes to the Dolly Parton's Library. Checks can be mailed to United Way of Central Illinois, 1999 Wabash Ave, Suite 107, Springfield, Illinois 62704.
Cinda Ackerman Klickna of Rochester, a former teacher, learned about Dolly Parton's Imagination Library a few years ago and hopes more children can be enrolled. She knows that reading to children, starting at birth, translates into success in kindergarten and beyond.