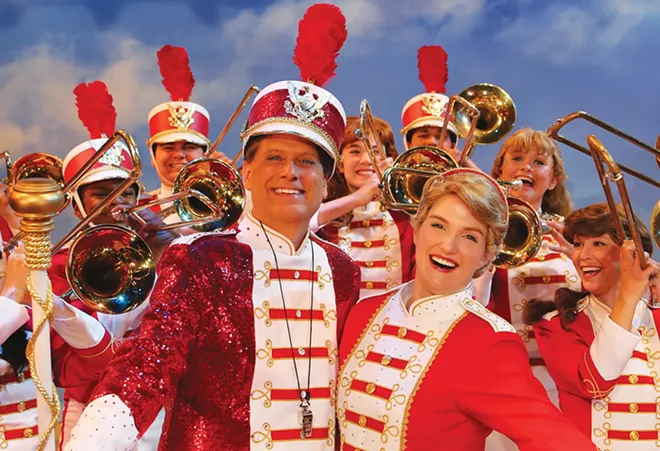 Unabashedly nostalgic to the point of corniness yet at the same time emotionally complex, Meredith Willson's The Music Man is a masterpiece. This wonderful new production at The Legacy Theatre (through Aug. 1) will sweep you away. It is exactly what we need right now, a rebirth of community through theater.
Director Scott Richardson and his team deliver the goods. It's grand and intimate, brash and human, with a great cast, beautiful sets, stunning costumes and a full-bodied orchestra. There may not be "Seventy-six Trombones," but there is plenty of brass.
Every great story is a redemption story. Meredith Willson set his fairy tale in River City, Iowa, 1912, which really does have "Trouble." "All of the characters are somehow broken," Richardson says, "and the whole town is self-centered and isolated." Local politicians are at each other's throats. The pompous mayor and his wife lord it over the townspeople, a community full of priggish, censorious busybodies. The bookish Marian and her shy brother Winthrop are unhappy, despite their mother's love and wisdom.
Along comes Professor Harold Hill (Rich Beans) who turns the town inside out with pie-in-the-sky dreams of an imaginary boys' band. It's a scam Hill has run time and again, collecting cash for instruments and uniforms from duped locals and leaving them empty-handed. But this time Hill gets his foot caught in the door when he falls for Marian, the town librarian.
When The Music Man opened in 1957, The New York Times theater critic Brooks Atkinson wrote, "If Mark Twain could have collaborated with Vachel Lindsay, they might have devised a rhythmic lark like this marvelous show." Writer, composer, lyricist Willson was a one-hit-wonder, but his The Music Man is an unmatched example of popular art. It resonates in unexpected ways on many levels, probing the soul of small-town America while delivering the big brass band, and a "Wells Fargo Wagon" full of fun.
Rich Beans as Harold Hill is all bluff and bluster, but Beans shows us the seams holding this charmer together. He has the snake-oil aspects down pat, but we glimpse the character's essential neediness. There is a hint of wistfulness, even envy, when he meets his old partner in crime, now happily settled down in River City with the boss's daughter.
His pursuit of Marian becomes more than just a con artist's come on. He doesn't know it yet, but he's looking for salvation, which he will find in the people of River City, in the heartbroken Winthrop and especially in the unconditional love of Marian.
Diane Dietz, magnificent of voice, plays Marian the Librarian as an outsider in her hometown, the subject of cruel and jealous rumor about her sex life and her advocacy for what the locals consider "dirty books" like Chaucer and Balzac. Ms. Dietz's voice compares favorably to the legendary Barbara Cook, the original Broadway Marian, and her acting to Shirley Jones in the 1962 film version. She makes Marian's gawkiness adorable and her pursuit of beauty and love noble. Pat Pennington plays her mother as an Irish fount of wisdom of hope.
Marian's little brother Winthrop, played with honesty and clarity by Charlie Holzmacher, is a charmer – his "Gary, Indiana" stops the show. When we meet him he is withdrawn and mistrusting. Still mourning the loss of his real father, Winthrop recognizes Harold Hill as a potential father figure, even when he realizes he is a con man.
But is the "music man" ready for that role? Hill seems to know all along that he cannot be a lover or father to anyone. In fact, he has been no kind of man at all, only a fake and a con. It's a hiding-in-plain-sight theme common in Golden Age musicals: in that 1950s post-war, nuclear-threatened, age of anxiety, how is American manhood defined? Harold's crisis isn't far removed from that of Billy Bigelow in Rodgers & Hammerstein's Carousel, caught between love and allegiance to the hyper-masculine tribe. It's a conflict we're still struggling with.
There's a moment of turmoil and tenderness between Marian, Winthrop and Harold that is both heartbreaking and life-affirming. The hurting Winthrop hurls the facts and consequences of Hill's scam in his face: "There will never be a band." Hill replies, quietly, "I always believe there's a band." We believe him.
Marian learns about the importance of dreams from Harold, and he learns about the importance of responsibility from her. When Harold realizes Marian can love him in spite of his past, for the first time he's able to move on from the image of himself as a thief and a liar.
And, because this is a musical, we trust they will live happily ever after.
The community is the heart of this Music Man. The ensemble work throughout was impressive, organic and expressive. It is rare to have an ensemble work so closely and well together as a whole, while remaining individual characters. Susan Collier's choreography is smart and sophisticated, playing to the individual performers' strengths. "The Kids" were all terrific.
Mark Wheeler as Harold's friend Marcellus, was a delight throughout. The novelty number "Shipoopi" usually feels tossed off. As led by Wheeler, assisted by the hilarious Missy Cartwright and the entire company, it becomes a celebration of life, and symbol of the town's rebirth.
Keith Wilson
'
s Mayor Shin is perfectly pompous and Kinsey Potter as his wife is imperious, self-centered, but full of heart. And those bickering pols, the men who have hated each other for years? Harold Hill introduces them to music and harmony, and they become the perfect Barbershop Quartet – Mark Anderson, Evan Rumler and Greg Runyard, with vocal director Matt Woodson substituting for Dennis Darling in the reviewed performance.
The "Pickalittle" ladies – Anna Benoit, Betsy Butell, Missy Cartwright, Rachel Larson, Aryanna Logan and Alison Means – deserve individual and group praise. They were comedy perfection.
All the principles deserve mention. Rich Falzone plays the spoilsport anvil salesman, the only character in the entire show who isn't redeemed at the end. Gabe Woodruff is a young man haunted by a bad reputation and Campbell Coker his gal, the mayor's daughter.
The orchestra with its big sound and subtle playing is under the baton of Melissa Blankestyn. The scenery, designed by director Richardson is clever and a visual pleasure. He's cleverly staged the show in an old-fashioned musical comedy way historically known as "in one" with transitional scenes played downstage in front of a charming ad curtain, a common feature of theaters in the era before "talkies." During these interludes, scenery was shifted upstage behind the curtain. The "one" refers to a method of dividing the playing space into zones, Zone One being closest to the audience.
The costumes are fantastic in design and execution. Mary McDonald and Betty Ring deserve praise. Apparently there are over 300 costumes on stage for 38 performers. I lost count.
The Legacy Theater has given us a gift we all need. Give yourself the gift of community and of hope. Go see The Music Man.
Dennis Thread is a freelance writer and director. He recently created the digital theater production Wicked Waltz! The Boston Dip & 1871 Springfield as a benefit for the historic Edwards Place/The Springfield Art Association.