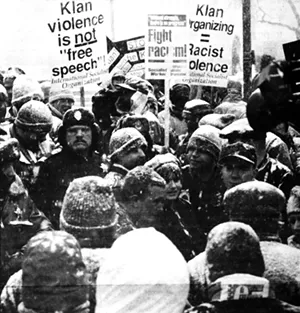 In the days before President Joe Biden's inauguration, Springfield braced for potential violence. The insurrection attempt by a mostly white mob in Washington, D.C., on Jan. 6 resulted in multiple deaths. The actions were publicized in plain sight by groups driven by extremist, nationalist ideologies.
Afterward, the FBI warned that members of the same groups could be headed to capital cities in all 50 states for armed actions. The governor sent 250 Illinois National Guard members to Springfield. Workers boarded up windows at the Statehouse on behalf of the Illinois secretary of state police. Cop cars and military vehicles lined streets. And then, Jan. 20 – Inauguration Day – came and went. Any protesters who did show up to support Trump and conspiracy theories about the election were easily ignored.
But 27 years ago, by no means ancient history, white supremacists were not so easily ignored in the capital city. They organized a rally on Jan. 16, 1994, to take place near Martin Luther King Jr. Day, a day they wanted to no longer be federally designated a holiday.
None other than the Klu Klux Klan planned the rally – permit and all – to take place on the steps of the Capitol, meters away from the towering statue of Abraham Lincoln, the Great Emancipator. They waved Confederate flags and gave Nazi salutes.
George Ryan, then secretary of state, had said he granted the hate group its first-ever Capitol permit reluctantly, after it was decided that a denial would not withstand a court challenge. The day of the rally, it snowed, perhaps dampening the anticipated magnitude of the event. Members of the media, outnumbering Klan members, chased after the white supremacists, desperate for a soundbite.
Civic leaders and community organizers in Springfield had debated how to respond. The hate rhetoric should just be ignored, some said. A Springfield couple organized a fundraiser based on the amount of time the Klan's rally took – 65 minutes. Proceeds went to a chapter of the Anti-Defamation League, the local NAACP and the Southern Poverty Law Center.
Robert Moore of Springfield was initially among those who believed the Klan should not be addressed directly. "I changed my mind ... we had to oppose them," he said. The former U.S. Marshal has long been active in groups such as the NAACP and Springfield Frontiers International, which organizes an annual breakfast in honor of Dr. King. In 1992, the group successfully lobbied Ryan to move a statue of Dr. King to a more prominent location. Moore participated in a march on the day of the KKK rally, starting at a church and ending at the Capitol.
Two other groups, in addition to the KKK, got permits to demonstrate that day – the Partisan Defense Committee and Movement for a People's Assembly. Among counter-protesters was the brother of Fred Hampton, the young Black Panther leader killed by police as he laid in bed near his pregnant wife in their Chicago apartment in 1969. "We see them," Bill Hampton said of the Klan. "We will deny this, we will continue to fight this," he said – and pointed out the juxtaposition of the Klan being allowed a public platform in the "Land of Lincoln."
Chants from counter-protesters drowned out KKK speakers. The KKK rallied in other major cities that day and promised to hold annual rallies in Springfield. The anti-MLK Day rallies did not come to pass.
There were scuffles among attendees. Batteries and snowballs were thrown. More than 260 police in riot gear were on hand. There were 55 or so Klan members and about 350 counter-protesters. Ultimately, there were 10 arrests, and no serious injuries.
While many people in Springfield that day were from out-of-town, racism was evidenced to be harbored among locals. The Springfield area was home to neo-Nazi skinheads and lifelong racists, indoctrinated from an early age that integration was evil. In the early-aughts, Illinois Times reported on a number of complaints and lawsuits against the Springfield Police Department and city regarding discrimination and racism.
Members of groups still driven by white supremacy and nationalism remain full of conviction, as the events in D.C. on Jan. 6 made clear. Right-wing terrorist cells are a growing threat, according to officials. "The U.S. response to the globalization of the far-right threat has been slow, scattered and politicized, U.S. and European counterterrorism veterans and experts say. Whistleblowers and other critics have accused DHS (Department of Homeland Security) leaders of downplaying the threat of white supremacy and slashing a unit dedicated to fighting domestic extremism. DHS has denied those accusations," according to a Jan. 22 report by ProPublica.
On Jan. 27, under the Biden administration, DHS issued a
national terrorism advisory bulletin
effective through April. It states that DHS believes there is a heightened threat based on information that suggests some violent extremists who oppose the presidential transition, as all as other grievances "fueled by false narratives, could continue to mobilize to incite or commit violence." DHS asks the public to report suspicious behavior and threats, including on the internet, to law enforcement. "Choose non-violent ways to make your voice heard and support friends and family in doing the same," the bulletin reads.
Much like was ultimately acknowledged 27 years ago in Springfield, racism can't be ignored away. And most often, it does not wear a hood or name itself. To root it out from the systems and institutions this country was founded on will take accountability, vigilance and action.
Research for this story included several interviews with those who participated in and witnessed the demonstrations on Jan. 16, 1994. Archival video on mediaburn.org and articles from The State Journal-Register and Illinois Times served as reference. Contact Rachel Otwell at rotwell@illinoistimes.com.

This story was updated with a development regarding DHS.