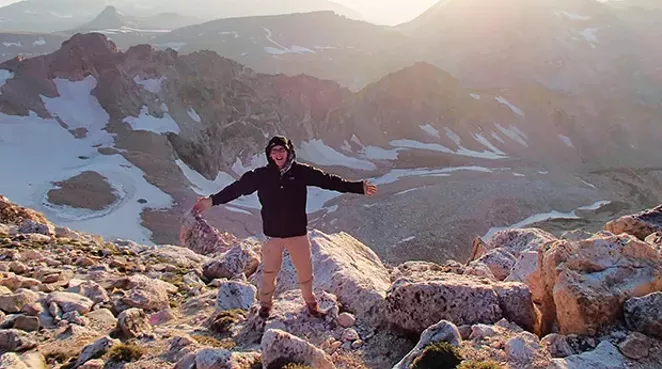 "It was sooooo much fun. I met so many amazing, grit-filled and passionate people." Most of us can't imagine that reaction to running more than 24 hours to cover 100 miles, with the temperature as low as 17 degrees. But, that was Joe Miller's reaction a day after he completed the 100-mile Potawatomi Trail Run at John T. McNaughton Park in Pekin April 7-8. Joe Miller placed third overall with a time of 24:18:21, which equates to 14:35/mile. Seventeen completed the 100-mile race, and 30 others who started didn't finish.
Clearly, Joe Miller is no ordinary guy.
Joe Miller is an ultramarathoner from Springfield. Ultramarathons are anything over the marathon distance of 26.2 miles. Miller ran his first ultra in 2013, a 50-miler along the Chicago lakefront. He ran that race, the Chicago marathon and Springfield marathon over a three-week period. In 2014 he ran a 34-mile solo loop circumnavigating the Tetons, with 16,000 feet of elevation change. That experience of being out in the wild for a long time solidified his love for longer runs. Last October he won the Springfield Marathon in 3 hours 7 minutes and in December last year completed the Lookout Mountain 50-miler. It was after running the Chill Billy 8-hour run in Chillicothe, Illinois, in January 2018 that he decided to run his first 100-miler just a few months later.
Miller knows that many people think he's crazy. But he believes that ultra-running "builds mental resiliency." He says, "Life isn't easy. Personally, I think it's important for people to go outside what is considered comfortable or normal and push themselves a little farther than they thought they could. People say that you run the first 50 miles with your feet and the second 50 miles with your mind. I think these types of events build a resiliency in the individuals who participate, and it changes you physically and also mentally. I like to think that it alters your perspective and builds a mental toughness that is absolutely applicable to other aspects of your life."

Miller credits his family with supporting him in all of his races. He says their values of hard work and discipline are represented in long-distance racing. Miller lost his father to lung cancer in 2016, and his father has had a big impact on him. His father stressed the importance of commitment and going all in with "110 percent effort, 1,000 percent of the time." Miller exemplifies this. His aunt, Patty Shafer, is also a strong supporter. She is a triathlete Ironman competitor, who is well known in the local running community.
Training for an ultramarathon boggles the minds of most people. Miller ran every day since Jan. 31 leading up to the 100-miler. For five straight weeks he ran 80-102 miles and 13-16 hours per week. He often ran 30 miles on Saturday followed by another 20 miles on Sunday. He also incorporated hills and stair climbing into his training regimen. Oak Ridge Cemetery, New Salem and Pere Marquette State Park were some of his favorite places to train. A fact many Lincoln buffs may not know is that running up and down the stairs at Lincoln's Tomb 60 times equates to a vertical mile. Sometimes Miller ran a vertical mile of stairs a day after or before running 30 or 40 miles. He put four or five one-gallon jugs of water in a backpack and did step-ups onto a box for several hours at a time.

Miller is 29 and has always been active. He ran track and played soccer in high school. He was in the Army Reserves, where he discovered he wasn't good at marching in rhythm, but he had a knack for physical fitness. After returning from the reserves he got involved in rock climbing and ran to keep weight off for climbing. It was his first climbing trip to the Tetons where he learned the importance of aerobic endurance. Since then he's been hiking and climbing in the Tetons at least five times. Climbing and being outdoors are important aspects of his long-distance training. He has a 15-foot climbing wall in his backyard.
There's a lot of science behind his training regimen. He cites Steve House's book, Training for the New Alpinism: The Climber as an Athlete, as a foundation for his training. Most of his runs are based off of heart rate zone, determined by performing a max heart rate test to establish the five zones. Then he designs his weekly runs to keep his heart rate in these various zones. Shoes are an important element of his running, and he is devoted to the brand, Hoka One One.

Miller says he is in the "flow state" when running long distances, where neurotransmitters release serotonin, creating a psychological state with clear thinking and good judgment. Shannon Thompson is a "mental performance consultant" who published an article, "The Flow State: The Science of Running in 'The Zone.'" She says, "Flow State, a concept initially identified and developed by Mihalyi Csziksentmihalyi, is known as one of life's optimal experiences. Simply, flow is complete immersion in the task at hand. Some great thinkers claim that this experience is happiness defined. Commonly known in popular culture as 'the zone,' flow is believed to be the ideal performance state. Countless incredible performances have been credited to flow, driving achievers in every domain to pursue its prized and elusive graces."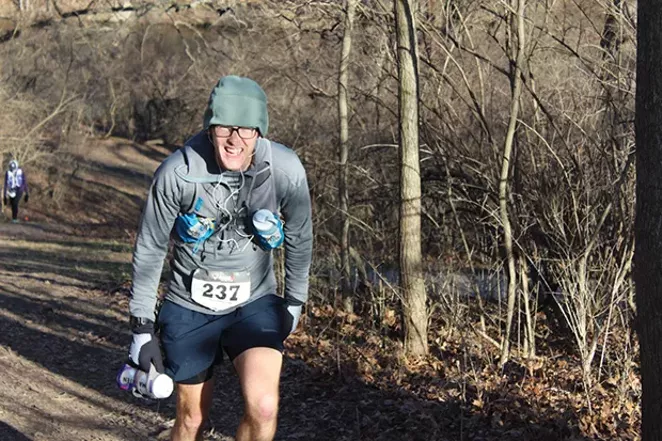 Food consumption is also important to the training. Miller does at least two "fasted" runs each week, where he doesn't eat anything for 18 hours and then runs. This forces his body to learn to burn fat for fuel more efficiently. He says, "Many of the longer runs are done without enough fuel in order to induce a 'bonk,' which means that you hit a wall or deplete all of your glycogen stores within your body."

Many days Miller will eat only a banana or avocado and then dinner. His diet is primarily a high-fat, low-carb diet. Although he will sometimes eat ice cream because he wants to, he doesn't treat food as something he "deserves" just because he runs so much. He knows when he is eating "empty calories" and doesn't do that very often during his training. During his races he needs to take in 300-500 calories per hour, and he eats peanut butter, bananas, a high-carb juice (Good Belly), cookie dough, Gatorade, Voke tabs (organic Guarana berry and green tea caffeine chews), Maurten calorie-dense powder, Nutella, protein bars, ginger snacks, chia seeds mixed with water and "whatever else sounds good."

So what does he think about during those training miles? He listens to NPR Music Tiny Desk Concerts and also listens to audio books. One of his favorites is Obstacle is the Way – The Timeless Art of Turning Trials into Triumph by Ryan Holiday.
Miller is not a full-time athlete. He is a research analyst for the House Democratic Staff at the Statehouse where he is involved with labor and pension issues. He also enjoys volunteering for political campaigns. When the legislature is in session, he may work until 8 or 9 p.m. and run after he finishes work.

Miller's friends and family help him achieve his goals, cheering from the sidelines, pacing him during a race and giving him moral support. Many people will go the extra mile for a friend. For Miller this could be many extra miles. He's still figuring out his next steps but is considering running the 50-mile Cry Me a River Trail Run in Peoria in July and then volunteer all night to support the 100-milers. A friend of his is planning to run a 238-mile race in Moab, Utah, in October. Depending on his schedule, he may help pace him for the first 100 miles – more or less.

He is engaged to Valerie Moore. She shares his love of the outdoors and is no stranger to challenges, having worked as a counselor with Outward Bound. She says, "I've admired Joe for a number of reasons since I met him. His relentless optimism drew me initially. Under the surface of that optimism is a person who believes in himself. I can't tell you how many people say "he's crazy" for attempting whatever it is. I don't see it that way. I don't think he does either. His commitment to his attempts is what sets him apart. He has failed, just like everyone; he knows failure or struggle is necessary. This encourages him to attempt things that seem inconceivable to those of us who are scared to believe in ourselves and shy away from failure."

Karen Ackerman Witter is retired from the State of Illinois and a part-time freelance writer who enjoys writing about interesting and inspiring people. She ran two marathons and is awed and inspired by the determination and dedication of ultramarathoners like Joe Miller.
Joe Miller's account of his 100-mile race day

The Potawatomi Trail Run, April 5-8, John T. McNaughton Park in Pekin.
Distances: 200 miles, 150 miles, 100 miles, 50 miles, 30 miles, 10-mile night run. Course: 10-mile loop consisting mostly of single-track dirt, some prairies, several creek crossings and endless rolling hills. Elevation gain: 1,600-feet per 10-mile loop. Headlamp required for all races.
"It was a cool 17 degrees when the race started in the dark at 6 a.m. The ground was frozen, which made the course feel faster. My initial plan to keep it conservative sort of went out the window when the race started, and I finished the first three 10-mile loops much faster than I thought I would. At the time I felt fine, or at least I was telling myself that.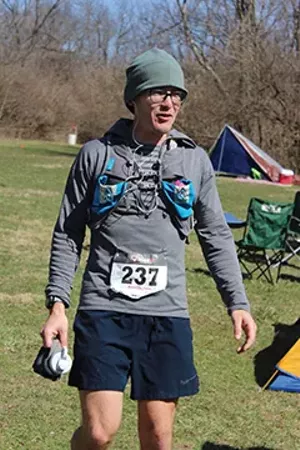 "Once the sun came out around 9 a.m., the course started to become pretty muddy, which made the whole thing a little more interesting. I think I changed my socks twice in the first four laps. I would get my feet completely submerged at the first creek crossing on every loop, which led to problems later on. My fiancée, Valerie, was on top of the aid station detail. My Mom, a couple of my aunts and my best friend, Ben Lazare, and his family also showed up at mile 50. It was great seeing everyone, and I really appreciated them coming to cheer me on.

"I think I came through 50 miles in around nine hours and still felt great. I started to have some stomach problems around mile 65 but it wasn't too bad. Ben was there to pace me at mile 70, and he joined me for what would turn out to be quite the experience. Around mile 75, the race turned into a run/hike/walk. Since I hadn't changed my socks for a couple of laps, blisters had developed on my toes and the bottoms of my feet. This made going downhill somewhat uncomfortable.

"We started loop nine around 11 p.m. or midnight and the temperature had dropped to 21. The last two loops or 20 miles took me about six hours to hike with snippets of running dispersed infrequently. Valerie and my Aunt Patty were there the entire time. Loop 10 was the most difficult thing I have done. It was mentally difficult but also at that point my feet were swollen and didn't really want to move any more but somehow I just kept moving. Those last 10 miles felt like an eternity. I was so grateful to be done, and it was sort of nice to end as the sun came up.

"I achieved my goal of finishing. I am happy with my effort and even though I went out faster than I perhaps should have, I still finished. The last 25 miles were the hardest 25 miles I have ever done. I have learned so much from this race. I've read countless articles and seen so many films about 100s and thought I knew what it was going to be like, but you just can't understand it until you do it."

Seventeen people completed the 100-miler. Five who were registered for the race did not start, and 30 who started did not finish 100 miles. Miller finished third with a time of 24 hours, 18 minutes and 21 seconds. Times for the finishers ranged from 19:49:05 to 57:30.