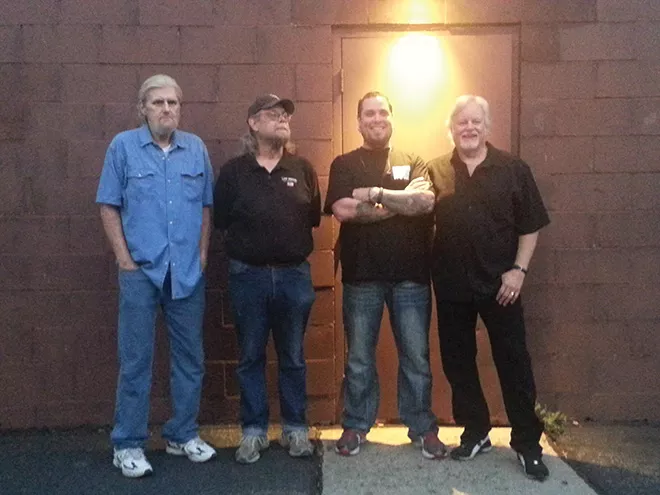 Here we are marching along through mid-November, with a first, fleeting snow behind us announcing the awakening of winter. The music is heating up, though, and that's a warming thought to thaw your chilled tootsies.
Springfield, say howdy to the Fabulous Hoedads, a band performing this Saturday at the Capital City Bar and Grill from 6 to 10 p.m. The newly formed quartet hails from Decatur and includes some of the best all around musicians in central Illinois that you likely already know.
Members include the incredible guitarist, arranger, singer, teacher, etc., John "Catfish" Evans. A familiar face on the Springfield scene for years playing with Chris Miller and Joe Dawkins, as well as with Pork and the Havana Ducks back in the day, and with his own group Catfish and the Sharks, Catfish is the best. Bruce Horn reigns supreme on the bass guitar riding a professional career that begin in 1969 and is still going strong some 6000 (really!) gigs later. His storied career includes stints with Timothy P. and the Rural Route Three, Firefall and B.W. Stevenson.
Now top that with keyboard/vocalist Ron Stockert, a central Illinois native, as well as a "gold" record holder, Grammy-award winner, Hollywood producer and session player, adding his talents to the group. Ron played with Three Dog Night, Etta James, Rufus with Chaka Khan and Ike and Tina Turner, just to let you know the good work this musician has accomplished. On drums and vocals (and as the band's promo sheet says "young drummers are good to have"), Larz Cothern is the newbie to the scene. He plays the drums like a champ and sings harmony too, plus likes to stay awake and drive, so he's appreciated as an invaluable member of the band.
Expect to hear plenty of songs you've heard before, with a twist of talented personality altering each one to the taste and caliber of the performing musicians. Or as they put it, "It's about the song and what it says to us." Amen to that brothers. Bring it on.
There's a wonderful celebration at Black Sheep Cafe on Friday when the locals gather to herald 25 years of Skank Skates. The venerable denizen of indoor skateboarding created a long term, generational community, helping many youngsters define themselves by building a safe place to hang, be cool and skate without fear of wrongful incrimination. Holding steady at the corner of Eleventh and South Grand, well grounded by owner and operator George Sinclair, Skank's is indeed a local treasure worthy of celebrating. The Timmys, along with co-conspirators the Haddonfields, the Rackatees and Guy Morgan play at 7 for an all ages show at the Black Sheep, then they move the show to the Tin Can Pub to recreate the scene with the same bands starting at 10 p.m. Wow, now that's rock-n-rollin' it for sure.
Zach and the Backseat Drivers cruise into Crows Mill Pub with the young and utterly incredible Zach Fedor fronting a band of veterans including Carl Akers on lead guitar and vocals, Jeff Young on bass and vocals, Braxton Clark on keys and vocals and Jeff Bechtel on drums. They've been rocking the small town circuit regularly, but show up Saturday at Crows Mill for a special Springfield appearance.
The Grascals, a superb, top-shelf bluegrass group, complete with a couple of Grammy nominations and several awards from the International Bluegrass Music Association, drop into Donnie's Homespun on Saturday night. Accompanied by solo acoustic, singer-songwriter Chicago Farmer and the Blue Gs, a recent winner in our Best of Springfield, Americana/Folk group category, this should be a terrific night of acoustic music.
Hot times in the cool city tonight!
Contact Tom Irwin at tirwin@illinoistimes.com.