click to enlarge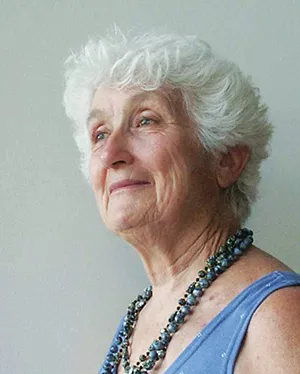 The Round Barn: Volume Three. Beloit City Press, 475 pp. $24.95

Upon finishing volume three of The Round Barn, a Biography of an American Farm, I am envious. I want to become a time traveler – setting the machine for 1930s Wisconsin and relive my childhood on this magical farm. Then I realize that thanks to the vivid voice of author Jacqueline Dougan Jackson, I have no need. I can open any page in the book and, like stepping into C.S. Lewis' famous wardrobe, be transported to a place full of people who love each other and from that love build lives of purpose and wonder.
At the center of these lives stands the Round Barn. On its silo, Jackie's grandfather, W.S. Dougan, has painted "The Aims of the Farm." 1. Good Crops 2. Proper Storage 3. Profitable Live Stock. 4. A Stable Market 5. Life as well as a living. The first four tenets are accomplished by intelligence and hard work. The fifth, a life as well as a living, becomes the theme that shines behind each story.
Jackie, her brother and sisters live at Chez Nous, "Our Home," just down the road from her grandfather's property. They move there when their family grows too large for the "Little House" at the back of Grama and Grampa's place. The crops at Chez Nous thrive in fertile soil and the children thrive under parents who know when to reign them in and when to let them run.
The kind of freedom Jackie and her sibs enjoy is, sadly, a gift most children no longer receive. Riding your pony alone on a winter night to skate on a moonlit pond gives rise to the kind of imagination its author has shared with readers, not only in the Round Barn series (there will be four volumes in all), but also in the many children's books she has written.
Volume Three spans the life of the farm, its people, and the agricultural developments from about 1900 to 1973 when Jackie's father retires. It is told through the eyes of its author who assumes the persona of both child and adult. The use of the third person in telling her own story is very effective, making the reader feel more of an insider. In addition to its people, we meet the farm's cows, horses, rabbits, a dog named Lassie and a goat called Butter. Readers will mourn the calf born dead on a night when it is 20 degrees below zero. Not every story has a happy ending.
In addition to the neighs and brays, we hear the kids practicing their instruments. Mother is a talented musician and insists her children learn to play as well. Violins, (one broken when Jackie's sister leaves it on the couch and Daddy sits on it) and in Jackie's case, a cello, make up the Dougan kids' orchestra. In an age before vaccines and antibiotics they have their share of childhood illnesses. Their confinements allow them slow time when cities rise from construction paper and one of their passions can be pursued – books and more books.
Beyond the farm Jackie draws sketches of nearby Beloit and its attractions. Town means pageants, school and city friends. The children were not isolated in a time of automobiles and buses. Neighboring farms widen their world as Daddy works with area farmers to improve livestock breeding and ventures into hybridizing corn. Times were changing rapidly.
Time, in its inevitable way, did change. Children grow up and older loved ones die. Small farms like the Dougans' are no longer a common part of our landscape. Jackie Jackson has fashioned a quilt of words, sewn from hers and others' memories, aided by voluminous primary sources and photographs ("No one ever threw anything away!"). I highly recommend wrapping yourself in this many-colored coverlet that spreads itself out like the fields we see from airplane windows – the harvest of a lifetime.
Corrine Frisch, retired from Lincoln Library, is an occasional freelance writer and poet.