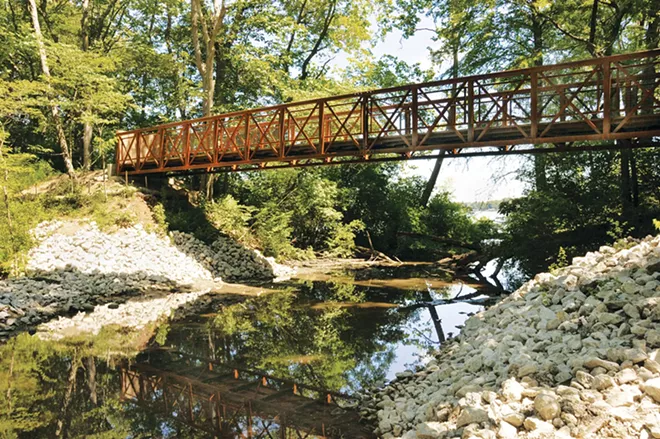 Fall is a lovely time of year to be outside, moving our bodies and settling our minds. Immersing ourselves in nature is like a balm to the soul. Time spent in the great outdoors can disconnect us from the hurried and harried pace of life, giving us time to reflect on our status as biological beings. As naturalist John Muir once wrote, "Of all the paths you take in life, make sure a few of them are dirt."
Here are a few spots you can connect with nature, both in the city and a short trip away.
Adams Wildlife Sanctuary, on Springfield's northeast side, is an urban oasis for nature lovers and bird watchers. Trails wind throughout 40 acres of prairie, wetland and woods.
Carpenter Park has nearly 12 miles of trails on 434 acres bordering the Sangamon River. This park is a favorite of bird watchers, nature lovers, dog owners and families. Some trails are more rugged than others, and muddy in times of abundant rains. On Springfield's north side, the park contains the only virgin woodlands within city limits.
Across a railroad right of way from Carpenter Park is Gurgens Park, a 270-acre addition, which features rugged hiking trails that are inaccessible in times of high water as the park also functions as a flood plain.
Riverside Park has 470 acres and is located on the opposite side of the Sangamon River from Gurgens and Carpenter Park. Together Riverside, Gurgens and Carpenter Parks contain 1,174 acres of mostly forested land along the Sangamon River and all three parks are popular with mountain bikers.
Not far from Riverside Park is Riverside Stables, which offers trail rides as well as canoe and kayak rentals along the Sangamon River.
The Springfield Park District maintains five bike trails throughout the city and the area surrounding it: Bunn to Lost Bridge Trail, Interurban, Lost Bridge, Wabash and Sangamon Valley Trails. All trails are open to walkers and bikers, are paved and well-maintained and closed to motorized traffic. Most of the trails have scenic vistas with creeks, woods and prairie.
Lewis Memorial Acres is a hidden gem of Springfield, located adjacent to Lewis Memorial Christian Village on Springfield's west side. The 40 acres of woods contains many scenic trails for hiking, running and biking, with bridges over the creeks flowing through it.
Lincoln Memorial Garden, located just outside Springfield, has six interconnected trails (over five miles in length) that wind through 100 acres of restored prairies, woods and wetlands, with vistas of Lake Springfield. While most trails are wood chipped or grass, there is a paved sidewalk from the parking lot to the nature center with a new accessible trail loop. Discover the sleeping troll made by local high school students near Council Ring 1, or immerse yourself in a good book through the Story Walk installation.
Lick Creek Wildlife Preserve, located on the western end of Lake Springfield, contains 340 acres of wooded hills and marshy lowlands, with a nearly five-mile out and back hiking and biking trail that intersects the Interurban Trail.
The Jim Edgar Panther Creek State Fish and Wildlife Area is a 26-square-mile tract of rolling hills near Chandlerville. There are several trails for hiking, biking and horseback riding, some with a lot of elevation changes. Some trails are more maintained than others, but ticks seem common in season, so dress appropriately. Enjoy the lakes, prairies (including a rare hill prairie), woods, creeks and hills, as well as farm fields. The area is attractive to those into bird watching, fishing, hunting, boating, picnics and archery. The blossoming sunflower fields (in season) as well as other picturesque settings make it wonderful for nature-themed photography shoots. This is also a dark sky area of central Illinois, perfect for amateur astronomers and meteor watchers.
Rock Springs Conservation Area near Decatur features nine miles of hiking and biking trails through 1,300 acres of prairie and mature forest along the Sangamon River. Nature exploration kits and fishing gear are available to borrow for free from the Nature Center, while cross-country skis and snowshoes are available for a small rental fee (in season). Bring your own canoe to float in the river, and deeply inhale the cool breeze in the five-acre pine forest. This conservation area is very kid- and dog-friendly.
A short drive southeast of Springfield is Sangchris Lake State Park, featuring archery, boating, fishing, hiking, metal detecting and both hiking and equestrian trails on 3,022 acres, with Lake Sangchris being the main attraction.
Along Salt Creek near Lincoln, the Edward R. Madigan State Fish and Wildlife Area is 974 acres of prairie and forest, containing the largest sycamore tree in the state of Illinois. Seven miles of biking/hiking trails, along with fishing and cross-country skiing are the biggest attractions of this quiet piece of nature.
No matter what type of outdoor activities you enjoy, there are plenty of places nearby to explore.
Carey Smith revels in the grace of the natural world.