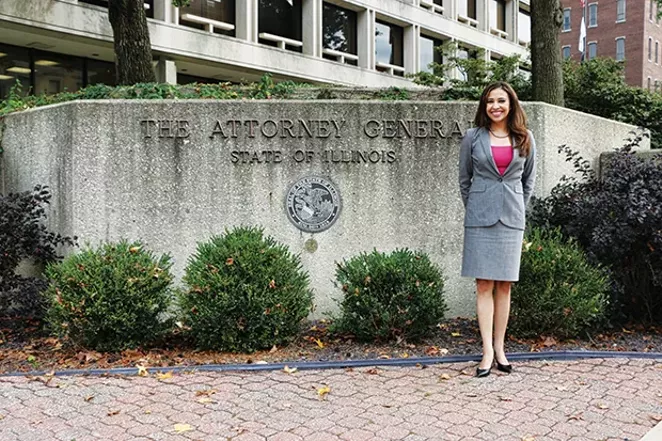 It's not unusual for Illinois politicians to end up in prison, but usually it happens after they are elected, not before.

For Erika Harold, the only Republican running for Illinois attorney general, prison is a place she visits often as part of her ministry with Prison Fellowship.

With last month's surprise announcement by Attorney General Lisa Madigan that she will not seek re-election, more attention is being paid to Harold, the only declared Republican candidate.
For the past decade, the former Miss America and Harvard-educated lawyer has visited prisons across the nation and counseled inmates.

"She prays with them and talks to them about their future. She gives them advice about their future. Sometimes when we visit a death row, prisoners will know they really don't have a future. But she will stop and listen and answer their questions. They can tell she is sincere and cares about them," said Heidi Huizenga of Oak Park, who serves with Harold on the national board of Prison Fellowship.

Prison Fellowship was founded in 1976 by Chuck Colson, a former aide to Richard Nixon, who had served seven months in prison for a Watergate-related crime. The ministry now serves prisoners throughout the United States and is an advocate for criminal justice reform.

"If you look at Illinois, we have high recidivism rates, we spend a lot of money incarcerating people," Harold said. "But it's a system that doesn't really yield positive outcomes for the person, the community or even those whom they perpetrated the crime against.

"I think the attorney general should be a leader in this area. With the budget challenges Illinois is facing, we can't afford to keep spending money on a system that is failing all of us. It gives us a unique opportunity to address issues like bail-bond reform, civil asset forfeiture and looking at how we can change the probation system so that it's geared toward helping people find jobs after they are released."

Traditionally, Illinois attorney general candidates have run on law-and-order platforms, noted Mike Lawrence, a longtime Statehouse observer and former senior adviser to Gov. Jim Edgar.

"We are moving past the days of candidates running on a platform of 'lock 'em up and throw away the key,'" he said. "Liberals look at this situation as a need to help those convicted. Conservatives see a waste of taxpayer money to incarcerate these individuals. This is an issue where both sides of the political spectrum can find common ground," Lawrence said.

As a law student, Harold interned with Prison Fellowship and worked on Capitol Hill to get Congress to pass the Prison Rape Elimination Act.

"There were five or six people who had experienced sexual violence within prison and they testified about the importance of this act and their experiences in prison," she said. "It was so eye-opening in terms of what people suffer. … So often people make jokes about violence within prison. We can't be cavalier about what people experience in prison."
Growing up in Urbana
A native of Urbana, Harold, 37, grew up in a biracial home. Her father is white and her mother is black. Harold identifies as African-American.

"They met when they were athletes at the University of Illinois. My father was the star pitcher for the baseball team and my mother ran track."

After their marriage, they settled in Urbana and had four children.

Harold describes her parents as "civic-minded" but not political. Church was a central part of the family's life. And today, evangelical Christians form a key constituency in her campaign.

"Erika and I are both people of faith," said Connie Beard, a McLean County Republican volunteering for Harold's campaign. "When you meet her you can tell she is sincere and more about serving others than about herself. And frankly both of those things are unusual in politicians. Social conservatives don't have a lot of statewide candidates on the ballot to be excited about next year, but I think Erika will bring many people out to vote who otherwise wouldn't."

Harold's sister, Alexandria Domercant, said Erika has always been a leader.
"Erika was always trying to organize us. I remember once she organized a play on her own and we all acted out Little Women at the public library."

But she added that her sister, the oldest of the Harold children, is void of athletic talent.
"She always used to joke that her one contribution to sports was the basket she made in seventh-grade basketball – for the other team." Alexandria noted that everyone in their family – except Erika – played a sport on a collegiate level.

Harold has found herself an outsider in other ways. During her freshman year at University High School she found herself the object of repeated sexual and racial harassment by other students.

According to a 2002 Washington Times article, Harold said that in the middle of the night someone hurled a carton of eggs through her bedroom window and smeared the window with butter and cheese.

"Another time, the power in my house was short-circuited by the bullies. And so my entire family was forced to live under siege because we had no notice when these attacks were going to come," she told the newspaper.

According to the article, in a class a teacher watched and did nothing as a student sang "a horribly degrading song with words that I am not going to repeat today. The students retaliated in a very frightening way," Harold told Washington Times. She said they discussed plans "to pool their lunch money together to buy a rifle to kill me. And when I went to tell the principal this, his only remark to me was, 'If you'd only be more submissive like the other girls, this wouldn't happen to you.'"

Harold transferred to Urbana High School but now looks back on her time at University High as a formative experience. "The most important job of the attorney general is to advocate for the powerless. I think having had this experience, has given me empathy and a passion for the position," Harold said.

Racial identity

Harold said she has faced racial discrimination both as a child growing up in Urbana and as an adult.
Three years ago, in her unsuccessful bid for the GOP nomination for the congressional seat now held by Rodney Davis, she was subjected to a racist attack.

In a letter to a Republican website, Jim Allen, then the GOP chairman in Montgomery County called her a "love child" of the Democratic Party, a "street walker" whose "pimps" are party leaders, and suggested that after the election, she will be "working for some law firm that needs to meet their quota for minority hires." After the letter received statewide attention, Allen resigned.

Her racial identity has been called into question by some in the black community.

In August, she appeared on the African-American radio station WVON of Chicago, and was questioned about her ties to the black community. She told WVON growing up in a predominately African-American church gave her strong insight.

Harold grew up attending Salem Baptist Church in Champaign, and now attends Meadowbrook Community Church in Champaign, which is a multiracial fellowship that is part of the Assemblies of God.
In a subsequent interview with Illinois Times, WVON host Maze Jackson said, "When she came here, people were asking is, 'Is she a sister?'"

Jackson added that Harold's diction further complicates the matter. "Let's put it this way, when you listen to her, it's obvious she has spent a lot of time around white people."

But he added he believes she can perform better in the African-American community than past Republican statewide candidates.

"I'm not saying she could get 20 percent [of the black vote] but I think she could tickle it. She needs to spend time campaigning in the black community. She needs to spend time here. And she has an advantage in that she doesn't have a Republican challenger in the primary. So, she can spend more time here."

Jim Nowlan, a retired University of Illinois political science researcher, said he recently met Harold at a Henry County GOP gathering.

"When I met her, I wouldn't have guessed that she was from a mixed racial background. I thought she was East Indian. … I don't think her race will be an issue among Republican voters."

Miss America

Here is how Harold's campaign website describes how she considered entering the Miss America competition:

"When she was blessed with the opportunity to attend Harvard Law School, she was thrown a curveball. She couldn't afford the tuition. But Erika didn't give up. Lacking the funds to pay for school, she got creative. She decided to compete in the Miss America organization to attempt to earn the scholarship money necessary to pay for law school. She won."

While the statement is true, it is also incomplete. Entering the pageant was not a spur-of-the-moment decision sparked by her admission to Harvard. In fact, she had competed two previous years in the Miss Illinois pageant.

Her past title has given her greater visibility, but also defines her for some people.
For example, state Sen. Kwame Raoul publicly stated, "I think Lisa [Madigan] would have acquitted herself well against Miss America. I don't know what's behind the attorney general's decision ... but I doubt seriously it was any fear of Erika Harold."

State Rep. Jeanne Ives, R-Wheaton, called Raoul's remark "blatant and belittling sexism." Raoul, who is seeking the Democratic nomination for attorney general, has since apologized.
For her part, Harold said her past title opens doors for her with some voters.

"I'm very proud of having been Miss America because it was a very important part of my life. If that is the first way people are introduced to me, I'm OK with that as long as they learn more about the rest of my background."

She described the competition as a "scholarship pageant" rather than a "beauty" pageant. But when pressed if she believed a "homely" person had ever prevailed in the competition, she conceded "of course not."
But she said the year she spent as Miss America prepared her well for future endeavors.

"It was an incredible year. I traveled 20,000 miles each month. So, you are going from city to city back to back and you are probably flying at least four days a week. But you have the opportunity to experience so many aspects of this country in this surreal way. You have an opportunity to engage with people on so many issues and be a role model to so many young people. "

During her reign as Miss America her platform included sexual abstinence until marriage and preventing youth bullying. Harold is single.
Politics and electability

Following Attorney General Lisa Madigan's announcement that she will not seek re-election, at least five people have said they will seek the Democratic nomination.

Among the Democrats seeking the nomination are: Raoul; State Rep. Scott Drury, D-Highwood; former chief administrator of the Chicago Civilian Office of Police Accountability Sharon Fairley; Chicago defense attorney Aaron Goldstein and Highland Park Mayor Nancy Rotering.

So far Harold is the only candidate seeking the GOP nod. But Kane County State's Attorney Joseph McMahon told Illinois Times he is considering challenging Harold in the Republican primary.

"I will make a decision in the next couple weeks after consulting with my family," he said. "The attorney general is the top prosecutor in the state and it calls for an experienced prosecutor."
Harold has not worked as a prosecutor.

She has worked in Chicago, as an attorney at Sidley Austin LLP and at Burke, Warren, MacKay & Serritella. She now works for Meyer Capel law firm in Champaign. Her focus has been business law and estate planning.

She entered the race early and received the endorsement from many Republican leaders when it appeared Madigan would be her opponent.

So far she has been endorsed by 45 Republicans in the state legislature and six of the seven of Illinois' Republican members of Congress.

Harold has not received a formal endorsement from Gov. Bruce Rauner. However, she is receiving support from the Illinois Republican Party, which is largely funded by Rauner.

Harold's campaign adviser, Jason Heffley, said Republican polling showed Madigan's approval rating at 34 percent.

"Bruce Rauner spent $50 million attacking the Madigan name and we can expect him to spend another $50 million again next year doing the same thing," he said.

Of course, Rauner's rhetoric and cash were primarily directed at longtime House Speaker Michael Madigan. But Heffley contends this effort has damaged his daughter's reputation as well.

Money is the lifeblood in politics and it remains to be seen whether Harold can raise sufficient funds.
She has about $66,000 in her campaign coffers so far, according to the most recent campaign disclosure report. Most of that money came from the Illinois Republican Party.

"Hey, she has only been a candidate for five weeks and we are 14 months from the election. We have meetings set up with major donors and she is doing the right things in meeting people in the donor class," Heffley said.

The trinity of major donors in Illinois Republican politics are: Gov. Bruce Rauner, hedge fund manager Kenneth Griffin and businessman Richard "Dick" Uihlein, according to Kent Redfield, an expert on Illinois campaign finances and a retired University of Illinois at Springfield political science professor.

"For a Republican, who is not widely known, seeking a lower-ballot statewide office like attorney general, she would really need to raise between $6 million and $7 million to gain the name recognition necessary to win. … That kind of money can't be raised entirely at a grassroots level. She needs the support of one of those major donors."

Tim Schneider, chairman of the Illinois Republican Party, said he believes Harold can raise the needed campaign contributions.

"Of course, Gov. Rauner has his own campaign to run. I can't speak for the other two, but they may be receptive to donating. They are not the end-all, be-all. I think Erika will do well with other donors. She presents herself well and comes off as very genuine."

Abortion, drug legalization

One issue looms over Harold's candidacy: abortion.
During her unsuccessful primary race against U.S. Rep. Rodney Davis, D-Taylorville, she ran on a platform opposing legal abortion.

Today, while she still identifies as "pro-life," she is more nuanced in her answers on the issue.
She said if elected attorney general, she will respect the legal precedents on the issue and not interject her personal views.

Still her position on abortion rights has left those in the abortion-rights community wary.

"The majority of Americans and I think the majority of people in Illinois believe women should have access to safe and legal abortions," said Brigid Leahy, director of public policy for Planned Parenthood Illinois Action.

"And the attorney general position is an absolutely critical position when it comes to abortion."
For example, Lisa Madigan defended a 1995 law that requires that a parent be notified when an underage daughter seeks an abortion. That remains state law. And when Roland Burris was attorney general, he declined to appeal a court ruling that required the state to pay for some medically necessary abortions. The state now pays for such procedures for low-income women and girls through the Medicaid program.

For Republicans seeking statewide office, one of the most critical constituencies to win over is suburban women, a swing group with a history of supporting abortion rights, Mike Lawrence said.

Former state Rep. Elaine Nekritz, D-Northbrook, said she believes Harold's positions opposing abortion rights and supporting abstinence-only sex education will alienate her from many of her fellow suburban women.

But state Rep. Jeanne Ives, R-Wheaton, said she doesn't believe it will be a significant factor with the suburban women she knows.

"What is the line that they always use? 'Safe, legal and rare.' Perhaps she can help make sure that abortion clinics are safer by pushing for more inspections," she said. "Who can be opposed to making things safer?"
For her part, Harold says she would respect all legal precedents regarding abortion rights. "I'm a lawyer. Legal precedent is important to me."

On hot-button issues such as whether recreational marijuana should be legal, she is less clear.

"Because of my work with prison ministry and criminal justice reform, I want to make sure I get it right. There are issues that deal with addiction and the kind of penalties we have. At this point I don't have a comprehensive proposal," she told WVON. When asked by WVON hosts, she said she has never smoked pot and does not drink alcohol.

Rauner stirred dissension last month among social conservatives when he signed House Bill 40, which requires the state Medicaid program to fund elective abortions for low-income women.
Harold's response was measured.

"While we disagree on this issue, there remains much on which we agree – and that is what unites us as Republicans. We both agree on the need to make Illinois more competitive, we agree on the need to lift up the less fortunate and we agree on the need to crack down on corruption and wrongdoing. As I have stated several times in the past, as attorney general, I will enforce all of the laws of the state."

Political identity

Harold said she voted for neither Donald Trump nor Hillary Clinton. Instead, she said, she wrote in a candidate's name. She said the person she voted for is a Republican but declined to say more about the vote.

Harold added she has supported both Republicans and Democrats.

"I vote for the person. What's important for me is the values that someone holds and that is not necessarily captured by one political party or the other. … I'm hopeful that Democrats and independents will give me some consideration during this cycle."

Harold said her political awakening came while a student at the University of Illinois.
"I really didn't consider myself a Republican until I was in college," she said. "Issues of taxation and limited government are what attracted me."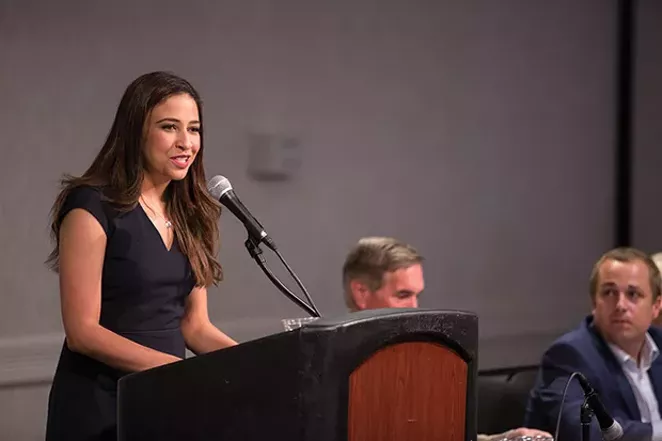 A new face in a challenging year

"As a young woman in the legislature, I find it refreshing to see another woman entering Illinois politics," said state Rep. Avery Bourne, R-Raymond. "I think she will do a better job than the current attorney general. … Lisa Madigan has done a good job of advocating for consumers but hasn't done much when it comes to prosecuting government corruption. I believe Erika will."

But Harold may be swimming against the tide by running in 2018, Redfield said.

Traditionally, the party in the White House does not do well in midterm elections. And because Donald Trump has been a polarizing figure, Democratic voters may be more energized and likely to vote, he said.Harold is dismissive of such concerns.

"I have never been one swayed by conventional wisdom," she said. "If I believe a goal is worth pursuing, then I work hard to pursue it without regard to conventional wisdom."

Scott Reeder is a veteran Statehouse journalist. He works as a freelance reporter in the Springfield area and produces the podcast Suspect Convictions. He can be reached at ScottReeder1965@gmail.com.