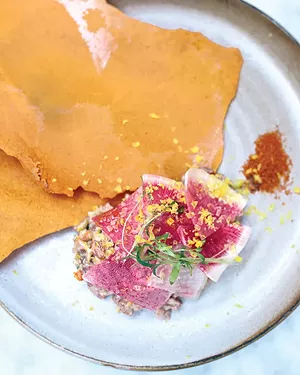 For the past six months one of my jobs at the restaurant has been making pasta from scratch using freshly milled flour from heritage grain, and the taste is really superior. But unfortunately, many of our guests can't tolerate gluten so I always make gluten-free alternatives using rice flour and chickpea flour. I've worked with rice flour before and know how it handles, but I was considerably less familiar with the properties and applications of chickpea flour. The more I work with it, the more I like it.
Though not widely used in the States, chickpea flour, also known as besan or gram flour, is used extensively in the cuisines of other countries. It is the predominant flour used in the Indian subcontinent. In Nepal, chickpea flour is used to make dumplings for a curry called tarkari.
In India, chickpea batter is used to make pakora, fried vegetable fritters and savory crepes called pudla. Crepe siblings to pudla are France's socca and Italy's farinata. Chickpea flour can also be cooked like polenta, then cooled and sliced into logs and deep fried. In France these are known as panisse and, in Italy, panella.
Chickpea flour is made from dried, ground garbanzo beans and has a nutty flavor, a powdery texture and a golden hue. It is high in protein, iron and fiber, and is one of the most nutrient-packed gluten-free flours available. It can tightly bind fritters and veggie burgers, thicken gravies and stews, and make tempura-like batters for deep frying.
Chickpea flour doesn't rise and expand the way AP (all-purpose) flour does, so it can't be used to make flaky pastries. It doesn't hydrate as quickly as AP flour, so it requires a resting period before using. It becomes tackier and stickier than AP flour, which gives it great binding power.
The chickpea flour you find at an Indian store, labeled besan or gram, is slightly different from the garbanzo chickpea flour you'll find at your supermarket, such as Bob's Red Mill. They are made from different varieties of chickpeas. Besan is firmer and denser and garbanzo is coarser and fluffier. The flavor is similar, but besan requires less water than garbanzo flour to make a similar batter. So consider the source of your recipe. You might need to adjust your water amounts if using Indian flour for an American recipe.
Chickpea flour doesn't have a long shelf life. You should try to use it up within six months. A one-pound bag of Bob's Red Mill will only set you back $3 and change, so go ahead and toss the old bag that's been hanging out in the back of your cupboard for the last several years. If you own a Vitamix blender, you can make your own flour by blitzing 2 cups of dry chickpeas for about 45 seconds.
Chickpea flour crisps
Top these delicate crisps with a spoonful of your favorite dip.
Ingredients
1 cup chickpea flour
½ teaspoon salt
¼ teaspoon paprika
1 cup water
1 tablespoon olive oil
Preparation
In a bowl, combine the flour, salt and paprika. Whisk in the water and olive oil until completely incorporated. Let the batter rest for at least 20 minutes or refrigerate overnight.
Preheat oven to 325°.
Spray a silpat baking mat with baking spray. Slowly pour the batter onto the baking mat and spread out into a thin layer with an offset spatula or the back of a spoon. Slide the baking mat onto a sheet tray. Bake for 15-20 minutes or until golden.
Carrot pakoras
Serve these pakoras with cool cucumber raita or the spicy green chili Zhoug from the calamari recipe below.
Ingredients
2 cups coarsely grated carrot
1 small onion, thinly sliced
1 teaspoon sea salt
1 teaspoon ground cumin
½ cup fresh cilantro, chopped
1 teaspoon ground turmeric
Pinch of cayenne
1 egg, beaten
1 cup chickpea flour
3 cups canola or other fry oil
Preparation
Put carrots and onions into a colander and sprinkle with salt. Let drain for 10 minutes. Wrap in a clean kitchen towel and squeeze out as much liquid as possible. Put in a bowl and add the cumin, cilantro, turmeric, cayenne, egg, and mix well. Add the chickpea flour and stir until the vegetables are evenly coated in the batter. Let the mixture rest for 20 minutes.
Heat the oil to 350° in a heavy-bottomed pan. Working 2 at a time, carefully lower spoonfuls of the pakora mixture into the oil, keeping space in between. Fry for 2 minutes on one side, then 1-2 minutes on the other side until golden. Transfer to a paper towel to drain. Serve warm.
Cucumber raita dipping sauce
Ingredients
1 ½ cup plain Greek yogurt
1 cup diced cucumber
¼ cup fresh cilantro, finely chopped
½ teaspoon ground cumin
½ teaspoon garam masala
½ teaspoon salt
Preparation
Combine ingredients in a bowl.
Chickpea battered calamari
I've given this popular appetizer a Middle Eastern twist by pairing it with a spicy green chili sauce.
Ingredients
1 pound calamari (tubes and tentacles)
1 cup chickpea flour
¼ teaspoon cayenne pepper
¼ teaspoon ground turmeric
¼ teaspoon ground ginger
1½ teaspoons ground cumin
1½ teaspoons ground coriander
1 teaspoon salt
¾ teaspoon baking powder
1½ teaspoons canola oil, (plus 3 cups for frying)
1 tablespoon fresh lemon juice
cups water
Preparation
Combine the chickpea flour, cayenne, turmeric, ginger, cumin, coriander, salt and baking powder in a large bowl. In a separate bowl, whisk together 1½ teaspoons canola oil with the lemon juice and water. Whisk the wet ingredients into the dry. Let the batter rest for at least 20 minutes.
Rinse, drain and dry the calamari. Cut the tubes into ¼-inch rings.
Heat the remaining 3 cups of canola oil to 350° in a heavy-bottomed pan.
Put the calamari into a bowl and add the batter. Mix thoroughly and carefully add half the battered calamari to the oil and fry for 1 to 2 minutes until golden brown. Remove the fried calamari with a slotted spoon and place in a paper-towel-lined bowl. Repeat with remaining calamari. Season with a little salt and gently toss. Serve with green chili Zhoug (recipe follows.)
Green chili Zhoug
Makes 1 cup
Ingredients
1 bunch cilantro, chopped
1/2 bunch parsley, picked and chopped
6 small serrano chile peppers
1/2 teaspoon ground cumin
1/4 teaspoon ground cloves
1/4 teaspoon sugar
1/4 teaspoon ground cardamom
2½ teaspoons kosher salt
1 clove garlic
2 teaspoons extra-virgin olive oil
3 tablespoons water
1/4 cup plus 4 teaspoons distilled white vinegar
1 pinch orange zest
Preparation
Place all ingredients in a food processor and pulse until mixture is a fine puree. The sauce can be refrigerated for about a week.
Peter Glatz has embarked on a 12-week road trip exploring the foodways of the Atlantic coast.