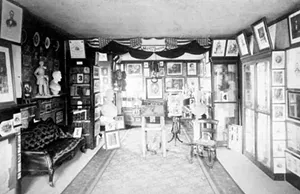 When the Abraham Lincoln Presidential Museum opened, it was heralded as the first of its kind. However, there was an unofficial version housed in the Lincoln Home from 1884 to 1893. It was run by Civil War veteran Osborn Oldroyd, a man who was as quirky as the museum he created.
When Oldroyd began collecting items related to Lincoln in 1860 ("books, sermons, eulogies, poems, songs, portraits, badges, autograph letters, pins, medals, envelopes, statuettes," anything related to the man, Oldroyd wrote), he was among the first Americans to do so, and we have him to thank for their preservation. However, Oldroyd was as much historical huckster as hero. He had a P.T. Barnum approach that probably did as much damage as good.
Perhaps he couldn't help it; eccentricity ran in his genes. His parents, William and Mary Oldroyd, loved their home state of Ohio so much they named their son "Osborn Hamiline Ingham Oldroyd" so his initials would spell its name, according to Dr. Wayne Temple's By Square & Compass: Saga of the Lincoln Home, (2002, Mayhaven Publishing).
Oldroyd found his calling in 1880, a few months after his arrival in Springfield, while attending services at Lincoln's Tomb on the 15th anniversary of the president's death. "As I gazed on the…resting-place of him whom I had learned to love in my boyhood's years, I fell to wondering whether it might not be possible for me to contribute my mite [sic] toward adding luster to the fame of this great product of American institutions," wrote Oldroyd in his book, The Lincoln Memorial: Album-Immortelles, published two years later (by G. W. Carleton and Publishers). He had a plan: he would build a Memorial Hall in Springfield to display his growing collection of Lincoln memorabilia.
Oldroyd assembled his 500-plus-page book to raise money for the Memorial Hall. The book contained snippets of Lincoln speeches and writings, as well as reminiscences of the president which Oldroyd sought from Lincoln's friends and contemporaries. Book sales were fairly good, but Memorial Hall was never constructed.
In the meantime, he ran a succession of failed businesses and moved his family closer and closer to the Lincoln Home at Eighth and Jackson streets. First they lived at 1101 South Seventh, then 500 South Eighth Street (immediately south of the home) and then, in 1883, when the Lincoln Home became available to rent, Oldroyd moved his family in before the last occupants had completely moved out.
At that time, Lincoln's oldest and only surviving son, Robert, owned the home. He charged Oldroyd $25 monthly rent.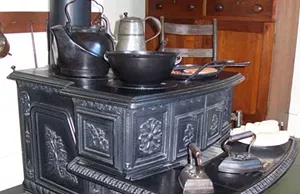 Oldroyd arranged his nearly 2,000 Lincoln items on the home's first floor (his family lived on the second) and on April 14, 1884 — the 19th anniversary of Lincoln's assassination, he opened his museum. Admission was 25 cents, according to a 1992 Lincoln Home report. (Later in his life Oldroyd denied ever charging admission, says Temple's book.)
"The reception at the Lincoln residence last night was a brilliant affair," said the next day's Illinois State Journal. "Mr. Oldroyd has been at work for years on this matchless collection, and it is believed its equal does not exist in the United States…. At last his labors have been crowned with success, and the hundreds of people who thronged the rooms last night are loud in their praise."

Not everybody liked Oldroyd's "traps," as Robert Lincoln later called them. Years later (in the July 1888 issue of the nationally popular Harper's magazine), Charles Dudley Warner wrote about his impressions of Springfield and the Lincoln Home. He bemoaned not finding Lincoln's "sense of personality" here. "Nor is the Lincoln residence much more satisfactory in this respect…. Although the parlor is made a show-room and full of memorials, there is no atmosphere of the man about it."

Meanwhile, Oldroyd, ever the promoter (Temple says Oldroyd called himself "Captain" after the Civil War despite not achieving that rank), found creative ways to publicize his museum while filling the public's desire for Lincoln artifacts. He sold photographs of his collection for 25 cents and a box of "Lincoln relics" for 75 cents. The box contained bits of the Lincoln Home and grounds: pieces of brick, shingle, ceiling plaster, elm tree, apple tree, lath, joist, and floor, according to James Hickey's article, "Own the House Till it Ruins Me" (The Collected Writings of James T. Hickey, Illinois State Historical Society, 1990). Oldroyd claims he saved the items during house repairs.
Two years after Oldroyd moved into the home of the man he adored, he began stiffing the man's son. Oldroyd stopping paying rent in 1885, according to Temple's book. Robert Lincoln, reluctant to attract public attention to the matter, didn't pursue legal proceedings against the "deadbeat," as he called Oldroyd in a letter, even two years and no rental payments later.
Not only did Robert feel he was being used, but "he was not happy with the way Oldroyd had turned the home into a sort of carnival sideshow, selling pieces of it and putting other things into it that had not been the Lincolns'," says James Cornelius, Lincoln curator at the Abraham Lincoln Presidential Library and Museum.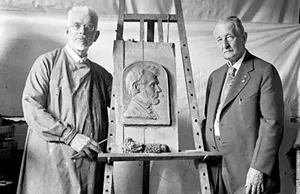 While Oldroyd wasn't paying rent, he was working on a way to live in the home rent-free. Hickey's article explains how Oldroyd "quietly" lobbied Illinois legislators to acquire the Lincoln Home for the state and let Oldroyd and his museum remain in it. The legislature's first two attempts to ask Robert Lincoln for the house were unsuccessful. Robert said he wasn't ready to part with the home yet.
The legislature succeeded on its third try. In 1887 Robert deeded the Lincoln Home to the state on the conditions it "be kept in good repair and free of access to the public," according to Hickey's article. (Some historians speculate this was Robert's indictment of Oldroyd's management of the house.)
Oldroyd got his wish. He was appointed custodian of the house for a yearly salary of $1,000, he didn't have to pay rent and he was allowed to keep his museum, even though he couldn't charge admission anymore. Perhaps to make up for that loss of income, Oldroyd had several in-laws move in and charged them rent, according to Temple.
There is no evidence Oldroyd ever paid Robert the two years of rent he owed.
For the next five years "Captain" Oldroyd kept the Lincoln Home and built his Lincoln collection. But in 1893, the political powers shifted and Oldroyd was unceremoniously ousted. A Democrat became governor and put one of his own into Oldroyd's former position.
The Illinois State Journal criticized the move. "The removal of Captain O. H. Oldroyd… means that the Lincoln Home will be stripped of the features of most interest to visitors, which are the personal property of Captain Oldroyd, and…the new custodian…will have nothing to show to those who visit the Home," said its April 13, 1893 issue.
Oldroyd found a new home for his "museum." He took his collection to Washington, D.C., and set it up in the Petersen House, the home where Lincoln died across from Ford's Theater. Like before, he set up his museum on the first floor and lived on the second. This time he actually paid rent, according to Temple's book.
The problem is, the new museum featured pilfered artifacts. "He pretty much cleaned house" when he moved out of the Lincoln Home, says Susan Haake, curator of the home. "He stole property."

She says he took at least 25 items from the home that were the state's, including "important pieces" such as the heavy cast-iron stove Mary loved and the cradle the three youngest Lincoln boys had used.
"By the time Oldroyd had been removed as custodian, the home had suffered irreversibly significant damage, with irreplaceable historic fabric removed and discarded without either a trace or documentary record of its appearance" said the 1992 Lincoln Home report. "After Oldroyd, the Lincoln Home would truly never be the same home known by the family for their 17 years in Springfield," it summarized.
Three years after Oldroyd set up his museum in the Petersen House, the federal government bought the home and Oldroyd stayed there, with his collection, for free. Thirty years later Congress bought his Lincoln collection, which was later put on display at Ford's Theater.
Justice was done decades later. Between the 1950s and late 1980s, the Lincoln Home got 25 items back from Ford's Theater that Oldroyd had "taken," says Haake. "For the most part, (the items) are in wonderful shape.
"Oldroyd felt he was doing a public service," she says. "In reality he was, because this stuff wasn't really valued (during his time). The fact that Oldroyd was saving all these Lincoln items probably did save a lot of them from being used until they were worn out."

"I think Oldroyd reflected the larger attitudes of the time period," says Tim Townsend, historian at the Lincoln Home National Historic Site. "This was before the concept of historic preservation or the idea of the proper way to restore and interpret an historic house museum. The idea of curiosities or relics on display was everywhere."

"In truth, O. H. Oldroyd had made a most significant contribution to the history of Lincoln," writes Temple. "Even though (his book on Lincoln) contains flowery platitudes, a few of Lincoln's close friends wrote wonderful reminiscences for (it). No serious Lincoln scholar today can afford to ignore this work."

The benefits of Oldroyd's work are still showing up. In 2006 the Abraham Lincoln Presidential Library and Museum purchased a "unique" 1858 ambrotype (a type of photograph) of Lincoln, which appears to have been owned by Oldroyd. "It is the first example of a 'Photoshopping' job done on Lincoln that we know of," says Cornelius. The ambrotype was of an 1854 daguerreotype (another type of photo) of Lincoln that had been altered. The daguerreotype was lost in the great Chicago Fire, which makes the ambrotype even more important.
"Thanks to Oldroyd for preserving it," says Cornelius.

Tara McClellan McAndrew writes
the history column for Illinois Times