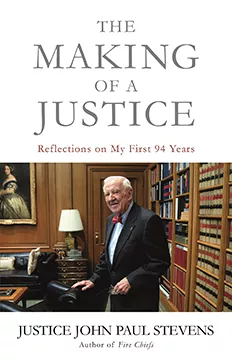 Arriving home on the evening of July 17, I was saddened by the news that retired Supreme Court Justice John Paul Stevens had died at the age of 99. Having spent the past few months reading The Making of a Justice: Reflections on My First 94 Years, I felt that not only had I lost a friend but that our country had lost a truly great man. There have been few autobiographical works by Supreme Court justices with as much behind the scenes detail as The Making of a Justice. Biographical studies of the justices from John Marshall to John Roberts often flounder on a sea of dry scholarly writing crashing on the shoals of discussions of the Equal Protection Clause, judicial philosophy and countless legal and political arguments from gun rights to abortion. The Making of a Justice is very different from the typical judicial biography. It is written in a breezy informative style, almost as though Justice Stevens and the reader were sitting down over a beer or coffee.
The first quarter of Stevens' memoir covers his life before joining the Supreme Court in 1975. Nominated by President Gerald Ford, he sailed through a confirmation process that could never be duplicated in the current political climate. There was little, if any, debate on his judicial philosophy or the fact that he was selected by an unelected president. But the self-effacing discussion of Stevens' life growing up in Chicago, his service in World War II and his legal career is entertaining and easy to read. Even without considering his tenure on the court, Justice Stevens led a remarkable life. In 1932, he attended the legendary World Series game between the Cubs and Yankees when Babe Ruth pointed his bat towards center field and on the next pitch homered. While his discussion of the game is brief, Stevens has spoken many times about the "called shot" that remains a topic of baseball debate. Stevens mentioned it years later in an interview for "60 Minutes." In 2005, he returned to Wrigley Field to throw out the first pitch before a game against Cincinnati and in 2016 rejoiced in the Cubs World Series victory. Throughout his life he remained a believer in Ruth's called shot.
After graduation from the University of Chicago, Stevens enlisted in the U.S. Navy, serving in the communications intelligence unit during World War II. While analyzing Japanese military communications he learned of a military trip to be undertaken by Admiral Yamamoto, the architect of the Pearl Harbor attack. President Roosevelt was informed of Yamamoto's travel plans and authorized a successful American mission to shoot down Yamamoto's plane. Stevens describes being troubled by the action but also recognizing its strategic benefit. After the war, Stevens returned to Chicago and enrolled at Northwestern Law School in 1945.
John Paul Stevens' legal career involved many important cases, some that are briefly recalled. An active participant in Republican politics, he was chosen to serve as counsel to a nonpartisan commission created in Illinois to investigate a scandal involving Theodore Issacs and two Illinois Supreme Court Justices, Roy Klingbiel and Byron House. Both would eventually resign from the court after evidence was uncovered that both jurists held stock in a bank controlled by Issacs while criminal charges were being reviewed by the Supreme Court. Stevens' work on this commission brought his legal skills to the attention of U.S. Sen. Charles Percy, who supported his nomination to the U.S. Court of Appeals for the Seventh Circuit. He served on that court until his nomination to the Supreme Court to fill the vacancy created by the retirement of William O. Douglas.
The balance of The Making of a Justice is a breakdown of Stevens' tenure on the Supreme Court, with each term of the court discussed. Each section is identified by the new justices who arrive on the court and influence the decision-making process. Stevens quotes Justice Byron White's observation that, "Each time a justice joins the court it creates a new dynamic and a different institution – in effect a new court." The discussion of the court's work is an enthralling look at America's highest court. Stevens' offers remarkable insights.
At the Supreme Court, judicial opinions influencing the course of our nation are more than a simple vote to affirm or reverse the lower court. The process of getting five of the nine justices to agree on how a case is decided sometimes involves surrendering some principles of the decision in order to keep a majority for the ruling. Supreme Court Justices must often be willing to compromise for what they consider might be an appropriate outcome but not a total victory. Some of these negotiations are vividly discussed in The Making of a Justice.
One case where compromise was impossible was Bush v. Gore, where Stevens was in the minority. His discussion of that case ends in the sad observation that the court by its decision inflicted great damage on public confidence in the court's role in America. Sadly, in the years since that ruling, many other decisions have continued to chip away respect Americans place in the Supreme Court.
Other decisions, including cases involving the Second Amendment, abortion, the death penalty and constitutional issues are discussed in detail. Stevens' views were neither rigid nor directly linked to an unwavering judicial philosophy. At his passing, legal commentator Jeffrey Toobin observed: "His death is more than just the vanishing of a generational landmark; it's his ideology, his understanding of the Constitution, that's disappearing, too. And that's the gravest loss to the country." We will probably never have another Justice Stevens serving on the Supreme Court until we return to selecting nominees unmoored to unbending judicial philosophy. Both the court and the nation deserve better.

Stuart Shiffman served as an Illinois trial court judge for 23 years. His reviews on legal matters and baseball frequently appear in Illinois Times.