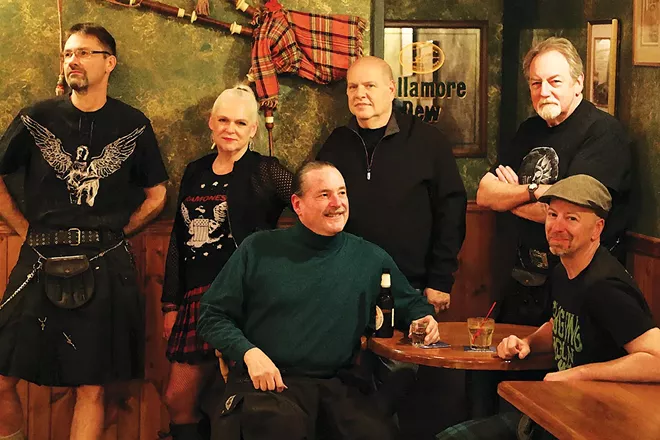 For nearly two decades, this group of kilt-wearing cohorts has combined forces to be the hardest-working band during the High Holy Days of the Celtic party centered around St. Patrick's Day and Springfield's long-running downtown parade. Members come and go, and come back and go again, but The Emerald Underground, and its immediate predecessor, Stone Ring Circle, continues to be our preeminent, one and always, Celtic fusion musical group. Band members Nat Radwine (drums, percussion), Joe Kath (fiddle, vocals), Bill McKenzie (bass, vocals), Lori McKenzie (vocals, percussion), Chas Blythe (electric guitar, vocals) and Steve Meyers (acoustic guitar, vocals) plus honorary TEU member Troy Roark (drums, percussion), bring on the hits for the St. Pat's celebration with iconic twists on Irish classics covering the likes of the The Young Dubliners and Gaelic Storm, as well as many other contemporary purveyors of the ancient and lasting sounds of music from the Celtic Nation.
The Emerald Underground
Friday, March 13, 8 p.m.
Saturday, March 14, 8 p.m.
Tuesday, March 17, 7:30 p.m.
Lime Street Cafe
Sunday, March 15, 2 p.m.
Danenberger's Family Vineyard