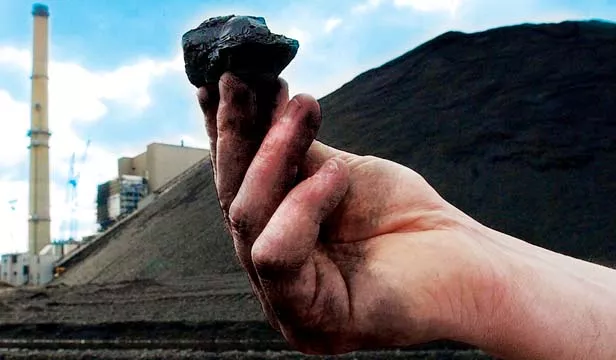 Take a drive this time of year down any state highway and you'll likely see chipboard signs promoting this guy for sheriff and that guy for Senate. This much is true when traveling down Route 48. But along this road, which slices through the heart of Christian County, you'll also see a slick metal sign, sitting among the prairie grasses just a mile north of Taylorville, promoting jobs, industry – and coal. "The Future Home of Taylorville Energy Center," the sign reads, a reminder of a proposed coal-to-gas energy project that – 10 years later – has yet to arrive.

"Every election cycle, they [politicians] are standing at that sign, saying they're for this thing," says Jim McCoy, a lifelong resident of the sleepy town, population 11,400. "I'm all for this thing, if it's feasible. But I don't like to see grant money paid out and nothing being done."

The so-called "clean" coal project has an army of supporters – in Taylorville, in the coal industry and in the Illinois Statehouse, but it also faces fierce opposition and continues to elicit questions about its environmental effects as well as its economic practicality, considering the millions of dollars in subsidies it requires to get off the ground.

Powerful opponents say those questions are serious problems, ones that should keep the project from going forward as planned. Many who support the project disagree – they tout the 2,500 construction jobs, 155 permanent jobs and the tax revenues the $3.5 billion project promises. But they also recognize that the project's future is less certain than its highway sign implies.

"We're hopeful," says Taylorville Mayor Greg Brotherton. But he points to a news segment from three or four years ago that he watched for the first time last week. "The exact same thing was being said then as it is now. We're in the same place."

The uncertainty could go on for years. But possible action, or inaction, by state government this fall could signal the Taylorville Energy Center's fate. Right now, the Illinois Commerce Commission (ICC) is reviewing cost reports and engineering design studies from the project's main investor, Nebraska-based energy company Tenaska. By Sept. 2, the state agency charged with ensuring that Illinois' public utilities are both affordable and reliable, will report to the General Assembly about how the project might affect ratepayers and competition within the electricity market. In order for the project to move forward, lawmakers would then have to approve legislation to implement the General Assembly's 2009 decision to require Illinois utilities to buy energy from the plant. The measures would include a maximum return rate on Tenaska's equity and agreements between Tenaska and electric suppliers that require customers to pay above-market prices for their electricity in order for Tenaska to pay off the loans needed to build the power plant. A vote could come during this fall's veto session.



Money matters

Tenaska contends that the market itself will not attract new energy generating facilities to Illinois; so ensuring that a company will get returns on its investment is essential. "There is no energy policy [in Illinois]," Tenaska's vice president of business development Bart Ford told the Illinois Commerce Commission last week. "Competitive forces will not attract base load generation in Illinois," he says, justifying requirements on ratepayers to pay above-market prices for energy produced by the Taylorville Energy Center. "Base load generation" refers to power plants that are on at all times, providing for the steady electricity needs of the state. When demand rises above those plants' capacity, additional power plants, called "peakers," are turned on, at an additional cost, to provide supplemental power.

Ford told the ICC that one in four Illinois coal plants likely will retire by 2020, reducing the state's capacity for base load generation and requiring increased use of the costly peakers – unless new plants are built. The problem will be compounded with an expected increase in energy consumption, he says.

Under the Illinois Clean Coal Portfolio Standard, signed into law in January 2009, electric companies would be required to enter into 30-year purchase agreements with Tenaska. The cost of producing the Energy Center's "clean" coal electricity is higher than that of conventional coal power plants, but the same legislation ensures that residential and small business customers wouldn't see rates increase by more than about 2 percent each year. But, for those not protected by the legislation, such as some manufacturers, schools and hospitals that use industrial-sized supplies of power, the cost per kilowatt hour would increase by as much as the plant's construction cost requires – even if that turns out to be more than expected.

Potential increases could have an adverse impact on Illinois' overall economy, says Phil O'Connor, former ICC chairman, now spokesman for the STOP Coalition (Stop Tenaska's Overpriced Power), a group representing businesses and manufacturers. The group estimates that its members' rates would increase between 3 and 5 percent, causing the state to lose at least 15,000 jobs each year.

But Tenaska says industrial users' costs would still be low. Right now, such customers pay 6.8 cents per kilowatt-hour, while residential customers pay 11.5 cents per kilowatt-hour.

The percentages look scarier than the actual numbers, says Tenaska consultant Dave Lundy. "The large … customers have worked hard to create and protect their 40 percent rate advantage over residential customers, it's not surprising that they're trying to prevent that from changing," he says.

Over 30 years, the above-market rates customers would be paying for the Taylorville Energy Center's electricity would mean Tenaska gets an $8.7 billion subsidy from ratepayers, O'Connor says. About $4.5 billion of that would come from industrial customers while about $4.2 billion would come from residential customers. "It's just an extraordinary amount of money," he says. "Imagine if anybody else walked in the door and said 'I want you to go on the hook on my behalf for almost $9 billion in subsidies so I can build a relatively small gas plant.'" The Energy Center will provide about 3 percent of Illinois' energy needs.

The Illinois Sierra Club, an environmental advocacy group, takes issue with what it considers another form of subsidy – the tax credit.


The U.S. Department of Energy earlier this month approved the Taylorville Energy Center as a recipient of $417 million in tax credits, if it successfully captures 65 percent of its carbon emissions. The largest tax credit ever awarded for a single project, the sum would be taken from the same funding allocation as that for renewable energy projects, such as wind and solar – technologies in which the Sierra Club would rather see the money invested.

"I don't think that wind is going to fix the problem in and of itself. It's definitely going to have to be a whole portfolio of energy sources, but we shouldn't be investing in coal at this point," says Becki Clayborn, Illinois Sierra Club regional representative.

She adds that Illinois residents' pocketbooks would get hit too many times – increased rates, federal credits and loans, and state grants – if the project goes through. Already the state has given Tenaska $23 million in grants, $18 million of which the company will repay, assuming the plant is built. The Taylorville Energy Center is also still eligible for a $2.57 billion loan guarantee from the U.S. Department of Energy.

"There's a whole clean energy economy that could be invested in for jobs," Clayborn says, noting that investment in wind and solar could mean jobs just as investment in "clean" coal means jobs.


A filthy fuel

The Illinois Sierra Club points to coal fuel as inherently damaging – from the point that it's mined to the moment it becomes electricity. "They [coal plant developers] are trying to be as environmentally responsible as they can with coal, but we still think that it either may not be possible to do clean coal at all or that they could do a little bit more for this one," Clayborn says. "Unfortunately, it's just a dirty business in general."

Tenaska contends that coal is necessarily part of the state's energy portfolio – about 43 percent of Illinois' electricity comes from coal-fired power plants – and that its Taylorville Energy Center project would make the fuel as efficient as possible.

Instead of directly burning coal, which results in all kinds of harmful emissions, the Energy Center would morph the hard, black rock into a synthetic gas, "syngas." In doing so, Tenaska can more easily separate and sell the coal's byproducts, which include mercury, nitrogen oxides and sulfur. High sulfur content is the reason Illinois coal fell out of favor when the federal government placed limits on the acid rain-causing emissions in 1990. With the Energy Center's technology, sulfur would no longer be a problem and Illinois coal could make a full rebound, project supporters say.

The process of transforming coal into syngas is called "gasification" and is the first part of the project's "integrated gasification combined cycle" (IGCC) system. Before the gas enters the "combined cycle" phase, it is further refined through a process called "methanation," becoming chemically identical to natural gas, or methane. During methanation, the carbon dioxide (CO2) is removed and captured. The remaining gas is then burned in the same manner as natural gas, using two turbines to harness its energy, doubling its capacity to produce electricity and completing the "combined cycle" process.

Using about 150 megawatts of electricity each year just to keep it running, the Energy Center would annually consume about 1.59 million metric tons of Illinois coal to produce upwards of 700 megawatts of electricity, enough energy to power about 600,000 homes. It would also produce about 3.45 million metric tons of CO2 each year.

But not all of that CO2 would be released into the atmosphere, as happens with conventional power plants. Tenaska plans to capture more than half of the greenhouse gas, about 1.9 million metric tons. What to do with it is still a toss-up. Options include sending it down an as-yet unrealized pipeline, selling it for enhanced oil recovery, and sending it down a more than 5,600-foot-deep well, where it would be stored locally in the 60,000-square-foot Mount Simon Sandstone, a super salty water-bearing rock formation that's topped by a 200-foot-thick layer of impervious shale. After 30 years of injection, Tenaska's Mount Simon CO2 plume would span about 8.2 miles.

Illinois State Geological Survey (ISGS) scientists, who are now conducting studies at Archer Daniels Midland's future geologic sequestration site in Decatur, are confident that the technique will have no adverse effects on the environment. They cite the depth of the wells, the rock layers' properties and the non-toxicity of carbon dioxide – qualities of Decatur's site that would likely ring true for Tenaska's Taylorville site, as they are both above the same geologic formations. Although the buried CO2 would cause asphyxiation if released in large quantities without ventilation, director of the ISGS Advanced Technology Initiative Robert Finley says that even if CO2 found a way to the surface – a highly unlikely event considering the multiple layers of impervious rock – it would exit the earth in insignificant amounts and be greeted by plenty of fresh air to whisk it away. Finley adds that the country has used similar procedures for decades for storing explosive natural gas, taking it in and out as needed.

But Clayborn says carbon sequestration is still too new. "You just don't know until it's been underground for awhile," she says, adding that Taylorville's project, which could inject up to 3.41 million metric tons of CO2 each year, would be three times the size of the Decatur site.


And even with carbon capture, the Energy Center would still send 1.55 million metric tons of CO2, the equivalent of that produced by about 296,000 cars, into the air each year. That portion of the project's CO2 is released after the coal becomes identical to natural gas and is burned as in any other natural gas power plant, without any carbon capture technology.

In 2007, all Illinois power plants, both natural gas and coal-fired, combined to emit about 98.9 million metric tons of CO2.

Tenaska says that the Taylorville Energy Center's presence would result in dirtier plants closing down and a decreased use of their electricity, which comes with more CO2 emissions than the Taylorville Energy Center's electricity would. As a result, the IGCC plant would cause a net decrease in Illinois' CO2 emissions of about 1.9 million metric tons each year.

Chicago-area electricity provider Commonwealth Edison (ComEd) disputes Tenaska's emission figures, arguing that the company should include certain related off-site emissions in its calculations. The company points to an air separation unit used in the gasification process that Tenaska plans on contracting to an outside provider. The unit is integral to the gasification process but produces no emissions on site. It does, however, use electricity from other power plants, which means it is responsible for some CO2 emissions created elsewhere in Illinois.

The Sierra Club's Clayborn says Tenaska's belief that older, dirtier coal-fired power plants will shut down is opinion, not fact. "You can't guarantee those closures," she says.

ComEd also takes issue with the facility's use of outside natural gas for start-up and back-up fuel. "Because of the heavy reliance on natural gas as a fuel for the project, we do question whether or not it still meets the definition of a clean coal facility," William McNeil, ComEd vice president of energy acquisition, told the ICC.


Tenaska turbulence

Although the for-profit Taylorville Energy Center and another coal-to-gas proposal, the experimental and federally backed FutureGen, are two separate projects with different forces shaping their futures, recent changes to FutureGen plans, which until two weeks ago named Mattoon as the project site, have Taylorville city officials on edge.

"This is the state of Illinois, and what happened in Mattoon is a little scary," Mayor Greg Brotherton says. "Until dirt is being turned, we're not going to count our chickens."

His cautious optimism is a sentiment that's proliferated throughout the community – from the good old boys in the corner coffee shop to the head of the town's coal mine museum. After all, Taylorville has been courted, and dumped, by coal projects a time or two before.

Mary Renner, director of the Christian County Economic Development Corporation, which fully supports Tenaska's proposed project, says any major development project is bound to be "a roller coaster ride." Considering what's at stake, the long timeline of the Taylorville Energy Center's development is to be expected, she says. "This one is exceptional because it's such a state-of-the-art thing. There are so many elements to it that the fact that it has taken probably close to 10 years is not surprising."

Still, Renner adds, "Anything can happen."

Contact Rachel Wells at rwells@illinoistimes.com.