<!—————————————————————————————————————————————————————————————————————————————————————————————————————————————————StartFragment—————————————————————————————————————————————————————————————————————————————————————————————————————————————————>

Bars, restaurants and schools have been ordered shut through at the least the end of the month. The reality is, this could go on for awhile, according to experts. Here are some tips for getting through, but it boils down to one thing: If you don't have to be in proximity to other people, don't be.

Health experts say that the virus can survive on a surface for as long as three days and that the virus can be transmitted if someone is within six feet of a contagious person for 10 minutes. A person can be contagious without showing symptoms.



Anyone feeling symptoms should not go to an emergency room. Instead, county health officials say, consult primary care physicians. Anyone without a primary care physician should call a county health department hotline at 217-321-2606. The Illinois Department of Public Health is regularly putting out updates and has its own hotline and email address to field questions.

The state has set up a website with resources and information, here, and we have created a guide as well highlighting local resources.

Wednesday, April 1



<!——StartFragment——>
Sangamon County healthy officials and hospitals are reporting 17 confirmed cases of coronavirus, including two people who have died. Four of the confirmed cases are hospitalized at Memorial. Memorial and St. John's have 13 patients awaiting test results. Officials tells those who are at home with those infected with COVID-19 should monitor their symptoms and separate themselves as much as possible. If they experience symptoms, they should call their doctors.




<!—————StartFragment—————>

Illinois Department of Public Health announced 986 new confirmed cases of COVID-19, including 42 additional deaths. From a release: Currently, IDPH is reporting a total of 6,980 cases, including 141 deaths, in 56 counties in Illinois. The age of cases ranges from younger than one to older than 100 years.



<!————StartFragment————>

Illinois residents seeking unemployment benefits are hitting snags according to a joint release sent on behalf of State Reps Darren Bailey, of Louisville and Blaine Wilhour of Effingham. Both are Republicans. From the release: "We're told people trying to access the state's online jobless claim process are frustrated to the point of surrender. Applicants get messages of 'invalid information' or 'incorrect password.' When they comply with changing their password, there is still no access." The legislators said people are also having trouble making headway with the state phone hotline, and urged the governor to address the situation.




Tuesday, March 31

One new case in Sangamon County has been reported, bringing the total to 17. 350 tests were negative. 90 people are awaiting test results, 14 of whom are hospitalized.



<!———————StartFragment———————>

Gov. JB Pritzker announced the "stay-at-home" order will be extended until the end of April

. Schools will remain closed and are entering remote learning days as "act of God" days have expired, though Pritzker said there we will be no makeup days for this school year. In Springfield, the public school district is in the middle of

distributing devices

to those who need them for online classwork.

Illinois public health officials have announced 937 new confirmed cases,

for a total of 5,994. 26 additional deaths were announced today, bringing the total to 73.<!———————EndFragment———————>


Monday, March 30

One more person has died in Sangamon County as a result of COVID-19. "On Sunday, March 29, the Illinois Department of Public Health confirmed that a patient who was being treated at HSHS St. John's Hospital tested positive for COVID-19. Later that evening he passed away in hospice care," a news release from the Sangamon County Department of Public Health read. The man was in his 90s and "presented to the emergency department at St. John's on Friday, March 27" according to the release. County health officials announced three new cases, bringing the local total to 16 cases and two deaths. 17 patients in area hospitals are "under review."

Gannett set for cutbacks: The corporate owner of the State Journal-Register will require employees to take five-day monthly furloughs, starting in April and lasting through June, according to media reports. Pay cuts, also, will be made. Gannett stock plunged to $8 a share in August, when a merger with GateHouse Media was announced and ultimately consummated last fall. It has fallen even further in recent weeks, to less than $2 a share today. The merger was financed with $1.8 billion in debt that carries an 11.5 percent rate, and layoffs began shortly after the deal became final.

Today's numbers from the Illinois Department of Public Health are in: 461 new confirmed cases, seven new deaths, including one man who was incarcerated at Stateville Correctional Center in northern Illinois. "Additionally, 12 men who were incarcerated at Stateville are now hospitalized, including several requiring ventilators. There are 77 more incarcerated individuals with symptoms who are isolated at the facility. Eleven staff are also being isolated," a news release said. IDPH said correctional centers with confirmed cases are on lockdown "which means there is no movement around the facility except for medical care."

Sunday, March 29

From the Sangamon County public health department and area health providers: "At the time of this press release, we are announcing three new positive cases in Sangamon County. One is a Sangamon County resident, another is from Menard County, and the 3rd case is from Morgan County. The total number of confirmed cases between our five organizations is twelve, including one death. Currently, three of the confirmed positive cases are hospitalized at Memorial Medical Center." 410 people have been tested. 85 await results.

1,105 new cases in Illinois were announced, as well as 18 additional deaths. This is the highest amount of deaths and new cases announced in a single day thus far. 65 deaths in all have been counted by the Illinois Department of Public Health — and there are 4,596 confirmed cases total. Gov. JB Pritzker said he expects the number of cases to peak sometime in April.

Saturday, March 28

Three new confirmed cases have been announced in Sangamon County. There are 12 cases total, including one death. 410 people have been tested, and 313 have been confirmed negative. There are 18 people under investigation by local hospitals.



<!—————————————StartFragment—————————————>

An infant was among the lives lost to COVID-19

according to the Illinois Department of Public Health's update today. There are 47 deaths statewide in all. Information and numbers are regularly updated on IDPH's

website

. "If you haven't been paying attention, maybe this is your wake up call," said IDPH's Dr. Ngozi Ezike, regarding the death of a baby. Thus far in Illinois, 85% of deaths have been among people 60 years of age or older. This is one of the first deaths of its kind. A state employee is also among the 13 new deaths announced today. Many state workers have been working from home.

Gov. JB Pritzker said social distancing guidelines will be more visible at grocery stores

, per state guidance. That includes more signs upon entry and frequent announcements over the PA systems, telling people to remain at least six feet separated. Floor markers should show appropriate distance for customers to keep in line. Shield guards between customers and those working at check-out are being suggested. Pritzker urged customers to use self check-out, pick up and delivery when possible and

not

to bring in reusable bags at this time. He also said it is up to individuals to ensure social distancing takes place.

District 186, Springfield Public Schools, will be offering devices, such as iPads, to students in need of them to continue learning

. Each school has a designated pickup time next week. They will be prioritized for students who do not have devices at home to use. The distribution schedule is

here

, parents are encouraged only to go to the school their student attends on the assigned day.




Friday, March 27

Nine people in Sangamon County have now tested positive for COVID-19. Health officials remind people that staying at home is one of the best ways to prevent the spread, as there are no known treatments or vaccines. Local hospitals and the county also reminded residents in statement that seeking medical care is "safe": "While postponable visits and procedures are being delayed to conserve resources, the public should continue to seek other needed treatment." Those with COVID-19 symptoms, like fever, coughing or shortness of breath, should let health providers know before showing up for visits.

488 new Illinois cases of coronavirus, including eight deaths, were reported today during the governor's press conference with state officials. That brings the total of positive cases to 3,026, with 21,542 tests total. 34 people have died. Gov. JB Pritzker mentioned a state hotline for those dealing with domestic abuse: 877-863-6338. He acknowledged the prospect of staying home indefinitely can be scary for some. SNAP benefits, which provide funding for food for low-income people, will be boosted with an increase of federal money. "A family of four making less than $42,000 a year is now eligible for $646 a month in SNAP benefits," said Illinois Department of Human Services director Grace Hou. Applicants are directed to use a website. Pritzker also addressed childcare: "We've received more than 600 applications for small group emergency child care licenses," he said, noting options are still needed for those on the front-lines — like health care and grocery workers, while others are encouraged to work from home.
Springfield's 10th annual PrideFest is canceled. Jonna Cooley heads the LGBTQ resource center, The Phoenix Center, which organizes the event. In a statement she said too much is unknown to continue to plan around an event in May, and the health of the public is paramount. "Right now, and for the unforeseeable future, social distancing is critical," she wrote.

Notary requirements relaxed under order issued by Gov. JB Pritzker. No personal appearances required under order, and witnessing standards also changed.

Thursday, March 26
Sangamon County Department of Public Health announced two new cases, with eight in total. Two people are from outside of the county, including one woman who was visiting from Florida and died after falling ill. There are 18 patients at area hospitals awaiting test results. 389 people have been tested in total and 283 have been confirmed negative.





<!—————————————————StartFragment—————————————————>The agency is reminding essential businesses like banks and grocery stores to consider setting aside certain hours for the elderly and vulnerable people, promote frequent hand-washing and use of hand sanitizer, screen employees for illness, encourage sick employees to take time off, have people practice good "respiratory etiquette" like using and discarding tissues, and discouraging employees' sharing of personal items. It also reminds businesses to organize in a way that enables people to keep a distance of six feet between each other. The county department also urges residents not to stockpile certain medicines they may hear are beneficial, as no treatment has yet been approved by the FDA for COVID-19, and "medications currently being stockpiled by individuals (such as chloroquine) could actually be detrimental to the health of others who actually need it."
The Sangamon County Department of Public Health and area hospitals also released information about testing guidelines. Tests for symptomatic hospital patients and symptomatic people in "congregate settings" like nursing homes and prisons are being authorized by the state and county health departments at this time, with an average wait of one to two days for results. Private testing by hospitals is being more liberally utilized and results take longer, up to six days on average. In addition to hospitalized patients and those in congregate conditions, private testers prioritize people who have been in contact with a positive case, symptomatic senior citizens, symptomatic health care workers, symptomatic immune suppressed people, and symptomatic pregnant women.


How much will you be getting? An online stimulus check calculator can help you find the answer.

We're number one: U.S. goes past China, now has more confirmed cases than any other nation on the planet.

The Illinois Department of Public Health announced there are now 2,538 confirmed cases of coronavirus throughout the state, and 26 deaths. Governor JB Pritzker announced that President Trump has approved the state's request to be declared a federal disaster area. Pritzker chided those who gathered outdoors yesterday and neglected to follow social distancing guidelines that say to stay six feet apart. "You are putting not only yourself, but your family and your friends in danger," he said. He begged residents to stay inside if possible, and to find a place "that is not crowded" if outdoors. Chicago's lakefront recreational areas are closed to the public starting today.




U.S. Sen. Dick Durbin of Illinois joined the governor's press conference and spoke about federal relief measures, including one just passed by the Senate with more than $2 trillion of relief funds, including $1,200 checks for individuals who made less than $75,000 in adjusted gross income last year (or 2018, for those who haven't yet filed taxes). "Something miraculous has happened in Washington, we've actually done something on a timely basis," Durbin said. The measure, with bi-partisan support, also addresses paid family and medical leave, and funds for small businesses and health care. It's expected to pass the House on Friday.

Unsurprisingly, unemployment numbers have hit record highs. From a state press release: "While the Illinois Department of Employment Security (IDES) announced today that the unemployment rate fell -0.1 percentage point to 3.4 percent, a new record low, the state is responding to a surge of unemployment claims in March due to the impacts of COVID-19. To this point, March unemployment claims total 133,763 compared to 27,493 over the same period in 2019."




More than $20 million has been raised for a new COVID-19 response fund.

The governor's sister, Penny Pritzker, is chairing the Illinois COVID-19 Response Fund which will seek donations that can be dispersed to nonprofits across the state.





<!————————————————————————StartFragment————————————————————————>

HSHS Medical Group, which includes St. John's Hospital in Springfield,

announced that, like Memorial, it will waive fees for its

online doctor visit option

. However, appointments related to screening for coronavirus will be free, while others will be $29. (Memorial has said all of its

online visits

will be free of charge for the foreseeable future).




University of Illinois at Chicago "has been selected as a clinical trail site for a nationwide National Institutes of Health study of a potential COVID-19 treatment" according to a news release. The study will test the safety and effectiveness of an anti-viral drug. Also from the release: "The University of Illinois Hospital in Chicago implemented COVID-19 testing on Monday, with capacity for 800 tests and results within six to seven hours. The University of Illinois at Urbana-Champaign has provided equipment, supplies and personnel from its laboratories to facilitate testing at Carle Foundation Hospital in Urbana, which serves central and downstate Illinois." And U of I at Urbana-Champaign " is fabricating and packaging hand sanitizers at industrial scale to help ease shortfalls."


From Wisconsin: A state legislator describes what it's like to get sick. He got tested while others wait, according to the Milwaukee Sentinel Journal.

Wednesday, March 25



Springfield Mayor Jim Langfelder declared an emergency

this afternoon by signing a declaration

made possible by city council action on Tuesday

. Under the ordinance passed by the council, the mayor will have authority to spend up to $100,000 on any one item, twice the amount normally allowed, but must report such expenditures to aldermen within 24 hours. The ordinance passed Tuesday also gives the mayor authority to declare a curfew. The declaration signed today will remain in effect as long as a statewide emergency previously declared by Gov. JB Pritzker is in force.

The Sangamon County Health Department announced one new confirmed case

of COVID-19, bringing the total to six confirmed cases in the area. Starting today, the health department issued data on tests conducted by both public and private labs. Since the pandemic hit, 372 people have been tested, with 101 tests proving negative and results pending in 265 cases. It is taking between one and two days for results to come back from tests authorized by public health authorities, according to a press release issued by the county health department and private health care providers, and between four and six days for tests authorized by the county health department and/or private health care providers. There has been one death. The five other people who have tested positive are not hospitalized, according to the press release, but 21 people who may have contracted the illness are hospitalized.

Jennifer Gill, superintendent of Springfield School District 186,

sent an email to parents stating that said the Scholastic Aptitude Test for high school student that had been scheduled for April 14 is postponed. She said more information could be expected by the end of April, as the state board of education works on a new test schedule. She said all other state assessments have been canceled. "Some of you may be wondering when this school closure will end and when we can go back to our normal operations of life," Gill wrote. "The simple answer is that we do not know."




The Illinois Department of Public Health announced 330 new cases of coronavirus, including three deaths; bringing the death count to 19, and the overall amount of confirmed cases to 1,865. According to an IDPH release: "Two correctional officers and one man incarcerated at Stateville Correctional Center have tested positive as well as a contractual worker at Sheridan Correctional Center. The two Stateville correctional officers are recovering at home and the individual who is incarcerated is isolated and recovering in the hospital. Those who have been identified as being potentially exposed are being quarantined and the facility is on a 14-day lockdown. After consulting with IDPH, the Department of Corrections determined staff and men incarcerated at the Sheridan facility were at low to medium risk for potential exposure. The facility also was placed on a 14-day lockdown."

Gov. JB Pritzker announced a three-month extension for income tax filing, the deadline is now July 15. He also announced a $60 million fund is for low-interest loans "for small businesses in every industry outside of Chicago," according to a release. Businesses that made less than $3 million in 2019 and who have fewer than 50 employees can apply. Applications will be on the DCEO's website by Friday.

Illinois Attorney General Kwame Raoul joined a group of 33 attorneys general in calling on the country's top online marketplaces to crack down on price gouging. A letter was sent to urge Amazon, Craigslist, eBay, Facebook and Walmart — to "quickly implement preventative measures on their platforms to ensure that consumers don't get taken advantage of during this public health crisis," according to a release.


The Sangamon Mass Transit District will move to a reduced-hours schedule starting Monday.

A fund to help local charities established last week has swelled to more than $120,000, according to the Community Foundation for the Land of Lincoln and United Way of Central Illinois, which together provided $50,000 in seed money. The first grant, $30,000 for the Central Illinois Foodbank, was announced today. Food will be distributed organizations that include Catholic Charities, Compass for Kids, Kumler Outreach Neighborhood Ministries, Salvation Army, 490 Outreach, St. Martin De Poores Center and Real Life Church.

"We've obviously had a huge upswing in calls," says Dean West, program supervisor for 490 Outreach, which supplies food to group homes and sober-living houses. Dean urged prospective donors to give money directly to food agencies as opposed to buying groceries, then giving foodstuffs to charity. The local food bank, Dean says, is supplying charities with food for 19 cents a pound or less, much cheaper than food can be purchased in grocery stores. John Kelker, president of United Way of Central Illinois, said the first grant from the fund established last week went to the food bank because the committee that considers grant request was looking for an umbrella group that served multiple charities. Grant requests will be accepted through Friday, Kelker said, with the next round of grant awards expected on Tuesday. More information is available at websites for the community foundation and the United Way.

Contributions can be made by texting HELPNOW to 40403 or online. Checks made payable to COVID-19 Reponse Fund can be mailed to either Community Foundation for the Land of Lincoln, 205 S. Fifth St., Suite 530, Springfield IL 62701 or United Way of Central Illinois, 1999 Wabash Ave., Suite 107, Springfield, IL 62704.



The Illinois Department of Public Health is using strict guidelines for which coronavirus tests it can process.

In an email to

Illinois Times

Wednesday morning, an IDPH spokesperson said its

testing criteria

is that a person must be in "residential congregate living with clusters (2 or more) of possible or confirmed COVID-19 cases in a vulnerable population." Those settings include an assisted living facility, group home, homeless shelter or correctional setting. The other criteria for testing is for "hospitalized patients with unexplained pneumonia."

The guidance is subject to change, and IDPH says that patients who do not meet the criteria should be "managed as clinically indicated and providers may determine to proceed with testing at a commercial or hospital laboratory." There has been much said about a lack of available tests, and the governor has repeatedly blamed the White House for not supplying more tests to the state.

In

anecdotal cases

in central Illinois, potentially infected people have waited

several days

for test results. As said at a press conference with the governor and IDPH head on Tuesday, the IDPH labs are now running 600 tests per day. In addition, there "are four commercial labs and 15 hospital labs operating across the state, which average about 1,500 tests per day," according to the spokesperson.


New York Mets pitcher Noah Syndergaard is scheduled to undergo Tommy John surgery on Thursday to repair his pitching arm in time for...well, that's a decent question. Spring training has been canceled, opening day has been postponed, recovery time for such surgery is about one year, he isn't expected back on the mound until the summer of 2021 and the governor of Florida, where the surgery has been scheduled, has prohibited nonessential medical procedures to preserve medical resources during the pandemic.

Tuesday, March 24

"How can we practice social distancing here?" India installs stay-at-home order covering 1.3 billion people.

Sangamon County is still reporting five confirmed cases, a number that hasn't changed since last Thursday. As students head home from spring break trips, county and medical officials urge them to practice social distancing, and to self-quarantine for 14 days, especially if they are returning from locations where coronavirus infections were prevalent.

They should stay away from those with compromised immune systems and those over the age of 60. And they should take their fever twice a day, and call a health care provider in event of respiratory symptoms. "Younger people are also getting seriously ill," according to a joint written statement from county public health and local health care providers.

The state health department announced 250 new confirmed cases, including four deaths. Gov. JB Pritzker said plans to ramp up testing throughout the state are taking shape. Even with those efforts, "We still need tens of thousands more tests to get an accurate picture of our state," he said. 2,000 tests are being conducted by the state per day, he said.

Pritzker said, "No person is more or less worthy of saving," in regards to recent rhetoric that some elderly people would be willing to die to help the country's economy. He said that yesterday he heard from the White House that 300 ventilators would be supplied to the state and 300,000 N95 masks. He said in a "worst-case scenario" the state would need thousands more ventilators to equip ICU beds.

Pritzker also said the April 7 deadline of the stay-at-home order might need to be extended. "The honest answer is, we don't yet know."

Springfield City Council is scheduled to meet tonight at 5:30 p.m. to consider an ordinance granting the mayor authority to declare an emergency. The ordinance, which is up for a final vote, also would give the mayor power to set a curfew, prohibit sale of gasoline unless dispensed into a vehicle and ban the sale of alcoholic beverages, firearms and ammunition. The council will consider more routine matters as a committee of whole. Gov. JB Pritzker has authorized public bodies to meet remotely, and five aldermen last week participated by telephone instead of traveling to council chambers. In Kirkland, Washington, where a nursing home has been hit hard by coronavirus, the city council started holding virtual meetings on March 17, with neither the mayor nor council members physically present.

Gouging complaints surge: Consumers across the state are reporting retailers for overpriced sanitizer and toilet paper. If you have a concern about gouging, you can file a complaint with the attorney general.

Child abuse reports drop while advocates for children worry.

Senior assessment freeze applications on hold: Sangamon County is delaying the deadline to file senior citizen assessment freeze applications, which are normally mailed on April 1 and distributed at the Supervisor of Assessments office through July 1. No date has been set for forms to be mailed, but the county in a press release says it expects to issue applications later this spring or in early summer. The county has closed the assessment office, according to a Tuesday press release. More information is available online, and anyone with questions should call (217) 753-6805.

While homeowners with federally backed mortgages have been thrown a lifeline by the government, a plan for other homeowners still is in the works. Those with federal backed mortgages who are in financial distress should contact their lender if they wish to alter payment arrangements.

Monday, March 23

Sangamon County announced one new confirmed coronavirus case, bringing the local total to five, including one death.

Donations of clean masks, including N95 masks, clean sewn masks, gowns, gloves, hand sanitizer, and bleach and alcohol wipes will be accepted at Hospital Sisters Mission Outreach (4930 Laverna Road - Springfield) starting Wednesday March 25, from 1-4pm. Collections will continue on Mondays, Wednesdays and Fridays until April 3. This is the only location items should be donated. Questions can be directed at: 217-525-8843.

The governor's press conference focused largely on efforts to get protective wear to health care workers on the front-lines. "One way or another we need these supplies," he said after giving the break-down in equipment asked for from the federal government, versus what has been provided. Respirators were among the items requested where none were given at all. Illinois had asked for 4,000. Gov. JB Pritzker said the state continues to ask for gloves and masks to be donated, including from places like salons and tattoo parlors, which are currently closed down. Pritzker also announced the launch of an "Essential Equipment Task Force."

Pritzker said he spoke with President Donald Trump directly on Monday and asked for more equipment. It "seems like he's being very responsive," Pritzker said. Pritzker said he also joined in those asking Trump to invoke the Defense Production Act, which could be used to direct private companies to make products needed for national defense.





The latest numbers of confirmed COVID-19 cases from the state's public health department: 236 new cases, which include three deaths, all elderly men in Cook County. There are 1,285 cases total, in 31 counties.

The University of Illinois announced most research activities should "ramp down" due to the stay-at-home order. In an email sent over the weekend, the U of I clarified, "Most campus research labs, facilities, and field sites should cease in-person operations—safely— with consideration during ramp-down of requirements to effectively ramp back up to resume activities when allowed." A university spokesperson told Illinois Times that exceptions include work that "directly relates to preventing, containing, or treating the COVID-19 pandemic or that is related to national security."

Sunday, March 22

A baby is among new confirmed cases of coronavirus announced by the Illinois Department of Public Health: IDPH today announced 296 new cases of coronavirus disease (COVID-19) in Illinois, including an infant. IDPH also announced three deaths. The deaths included a Cook County man in his 80s, a Chicago man in his 80s, and a McLean County woman in her 70s. Jo Daviess, Livingston, Rock Island, and Stephenson counties are now also reporting cases. Currently, IDPH is reporting a total of 1,049 cases in 30 counties in Illinois. The age of cases ranges from younger than one to 99 years.

Mayor Jim Langfelder's message to the city after stay-at-home order was issued.

Saturday, March 21

Get a hobby and binge-watch Game of Thrones: So advises an expert on isolation who spent nearly a year in space.

The Illinois Department of Public Health announced 168 new confirmed cases of coronavirus on Saturday, and began to release data on which cases, of which there are 753, come from which counties. Sangamon County represents 1%, with the majority in Cook County. Six people have died in the state.

During a press conference, Gov. JB Pritzker also encouraged retired health care professionals to head back to work. "We need your help now," he said. License reinstatement will be expedited. Renewals will be automatically extended through September.

Pritzker stressed that protective wear for health workers is being used rapidly. An email address has been set up by the state to donate Personal Protective Equipment (PPE): PPE.donations.illinois.gov



Friday, March 20

HSHS and Memorial will no longer allow visitors in most cases. Pediatric patients, maternity patients and those undergoing surgery are allowed one visitor. As of 3pm, the county said of all those tested for COVID-19 to date, 35 tested negative, four tested positive (including a woman from Florida who died) and 16 patients were awaiting results.



At 3pm, Gov. JB Pritzker confirmed the stay-at-home order.

Read it,

here

. Residents can still get groceries and food from restaurants that are offering it on a pick-up or delivery basis. Pharmacies and gas stations will remain open. Those who perform essential functions will continue to go to work. Walking and hiking outdoors is still ok. The order takes effect at 5pm on Saturday, and for now, is set to run through April 7.

Pritzker said he conferred with scientists and medical experts, and "they've come to me with one inescapable conclusion to avoid the loss of potentially tens of thousands of lives," hence the stay-at-home order. He said the effort is part of stemming the flow of sick patients into the medical system.

"Things are already tough in Illinois hospitals," said Chicago-based epidemiologist Emily Landon during the conference. She said physical distance is one of the only known ways to stop the spread and endorsed the order.

Best case scenario? "You're going to feel like it was all for nothing," Landon said. "Nothing, means that nothing happened to your family. And that's what we're going for here."

The Illinois Department of Public Health announced 163 new confirmed cases in the state. That's a total of 585 cases in 25 counties. Five people in the state have died from complications.

Springfield Supt. Jennifer Gill said in a statement to parents

, "Based on the information that we have today, it is likely that District 186 will resume on April 14, 2020, after our regularly scheduled Spring Break unless we receive communication that the closure will be extended beyond that date."

Illinois set to be partially locked down, according to Chicago Tribune report. The stay-at-home order, which the Tribune says will start tomorrow, parallels gubernatorial action in California.

Christmas during Easter season: A St. Louis radio station will begin broadcasting Christmas music today at 5 p.m. and you can get it via the internet. May the true spirit of Christmas come through.

A local business relief fund has been established by the Greater Springfield Chamber of Commerce, which has provided $15,000 in seed money with an additional $10,000 contributed by members of the chamber's board of directors, according to a chamber press release. The goal is to provide a short-term lifeline. Businesses can apply by going to the chamber's website at www.gscc.org, and organizations and people who wish to contribute should do the same thing. Donors can also text "RELIEF" to 8666125378, or mail a check payable to The Greater Springfield Chamber Foundation. Checks can be mailed to The Greater Springfield Chamber of Commerce, 501 E. Capitol Avenue, Suite A, Springfield, IL 62701. Grants will be made on a first-come-first-served basis based on applications received by April 6.

Thursday, March 19

Stay home, California governor orders, making the Golden State the first to issue a statewide order barring people from leaving their homes except for essentials. "We need to recognize reality," Gov. Gavin Newsom said.

Five cases confirmed in Sangamon County, public health officials and health care providers announced today. One woman died today at Memorial Medical Center, officials said, but the other four people are no longer hospitalized. Memorial Health System has six patients under investigation for coronavirus and St. John's Hospital has an equal number. The results of 16 tests are pending.

Ward 8 Ald. Erin Conley has tested negative for the coronavirus. She self-quarantined after coming into contact with someone who tested positive. Conley, who participated by telephone in this week's Springfield City Council meeting, announced the good news on Facebook: First of all, thank you to everyone who has reached out to me this week! I just got my covid test result back and I am negative. I'm relieved, and will be back at city council on Tuesday, but I continue to pray for the people who are sick.

Hold a virtual special legislative session, says former Gov. Rod Blagojevich in a Chicago Tribune op-ed.

Cases, death toll climb statewide: Public health officials and Gov. JB Pritzker announced three more deaths on Thursday, bringing the statewide toll to four, including a woman who died today at Memorial Medical Center in Springfield. Officials said there have been 134 new cases since Wednesday, bringing the total to 422 spread across 22 counties.

Gun purchases are skyrocketing in Illinois and elsewhere.

Respirators, masks needed: The Illinois Health and Hospital Association is calling on dentists, construction companies, veterinarians and other businesses or entities to donate face masks and N95 respirators to help protect health care workers who are, or will be, caring for coronavirus patients. "Hospitals all over the state are in jeopardy of potentially running out of critically needed protective medical supplies," said Illinois Health and Hospital Association President and CEO A.J. Wilhelmi in a press release. "With continuing uncertainties about global and U.S. supplies of face masks, we urgently need to find alternative supplies, no matter where they are, so our hospitals can continue to provide life-saving care to current and future COVID-19 patients." Anyone who wishes to donate face masks or N95 respirators should contact Patrick Sonin, the association's vice president for group purchasing and business development, at psonin@team-iha.org.

The Springfield Mass Transit District is suspending service to Chatham, Riverton, Rochester and Sherman effective Monday, March 23, due to low ridership. People in those areas who need transportation can call 217-522-8594 to be entered into the agency's paratransit ride-scheduling system, which normally focuses on the disabled under the Americans With Disabilities Act, the district says in a press release, but is now open to folks in outlying communities who usually relay on fixed-route buses. SMTD is also closing its public service areas at main offices on South Ninth Street at close of business today. No fares are being charged, so no bus passes are necessary.

The Sangamon County courthouse is closed to anyone with a temperature higher than 100, and public health workers will be posted at the courthouse entrance to screen visitors and take temperatures. Most court proceedings have been canceled, with several offices closed to the public and visitors asked to call ahead before visiting offices that haven't been closed to everyone except employees. Authorities are asking the public to not visit the courthouse unless absolutely necessary, and then call ahead and be prepared for health screening at the door upon arrival. Courthouse offices that are running as normal, according to a press release from the county board office, include the sheriff and the county auditor. The state's attorney's office, the supervisor of assessments, the circuit clerk's office are open, but anyone having business should call those offices before going to the courthouse. The court administrator and court services are offering emergency services only, with visitors instructed to call before visiting. Other county and court offices are closed to the public but offering help by telephone.

Oak Park issues shelter-in-place order as two emergency room doctors test positive. Under the order, village residents are supposed to stay home but can go out for food and other essentials.

Planned Parenthood of Illinois announced it will be consolidating some offices and expanding hours. Springfield's location at 601 N. Burns remains open. Those who are scheduled for non-essential appointments are being asked to postpone their visits until a later date and use telehealth services for the time being. For latest updates, you can check out PPIL's website, here.

Wednesday, March 18

No new cases of coronavirus have been reported in Sangamon County since Monday, public health and hospital officials said in a press release issued at 5:23 p.m. Three of the four confirmed patients are at home, officials said, and the fourth is at Memorial Medical Center. Eight people with symptoms are in Memorial facilities, and nine additional patients with symptoms are at St. John's Hospital. Results are pending on 30 tests for the virus, officials said. Both Memorial and HSHS St. John's have established screening centers, where people are assessed to determine whether they will be tested.

The number of confirmed cases in Illinois has risen 80% between yesterday and today, going from 160 to 288, with state officials expecting the number of confirmed cases to rise as more tests are performed. More than 2,000 people have been tested. People in 17 counties, including Sangamon, have tested positive. Anyone with symptoms that can mimic a cold should assume they have the virus and stay home, said Gov. JB Pritzker at an afternoon press briefing. "We should look at the mistakes made in Europe," Pritzker said. "It should be a cautionary tale."

Hours reduced: Hy-Vee has announced it will cut hours, opening at 8 a.m. and closing at 8 p.m. starting today.


More than 41,000 unemployment claims have been filed in two days, according to Capitolfax, which reports that 4,445 claims were filed during the same two-day period a year ago. Gov. JB Pritzker this afternoon says the state is working to streamline the process to release money quickly. "We've actually worked very hard to narrow the time it takes," Pritzker said at today's press briefing.

The Springfield City Council will hold an emergency meeting next week to consider an ordinance giving the mayor the power to declare an emergency. The ordinance, which is patterned after those in effect in other cities, allows for curfews, a ban on alcohol sales, a ban on selling or distributing firearms and ammunition and a prohibition on selling or distributing gasoline except for fuel pumped into vehicles.

Menards accused of price gouging in Michigan.

Simon Property Group, owner of White Oaks Mall, has closed all its malls in the United States.

The Diocese of Springfield has canceled public masses, effective immediately through April 11, the Saturday before Easter.

The City of Chicago has stopped responding to Freedom of Information Act requests, maintaining that responding to such requests is not an essential government function. The state is still responding to FOIA requests, but on a delayed basis. Here's what the Freedom of Information Act says in the first section:

It is a fundamental obligation of government to operate openly and provide public records as expediently and efficiently as possible in compliance with this Act.

UPDATE: Chicago mayor says the city will respond to FOIA requests.

The legislature has canceled session for the second week.

Details on the first person confirmed to have died in Illinois: She was 61. She didn't get out much, and so someone likely brought the virus to her.



<!———————————————————————————————————————————————————————————————————————————————————————————————StartFragment———————————————————————————————————————————————————————————————————————————————————————————————>Nursing homes are on lock-down, as it was announced yesterday that 21 people, mostly residents and four staff, at nursing home in DuPage County have fallen ill. In a statement, a spokesperson for the Veteran's Home in Quincy said the following:

<!———————————————————————————————————————————————————————————————————————————————————————————————EndFragment———————————————————————————————————————————————————————————————————————————————————————————————>

"The safety of our veterans is our top priority, and we believe it is in the best interests of our residents to temporarily restrict visitation to the home. The risk of severe illness and death from COVID-19 is believed to be higher for populations like those in our veterans' homes. We recognize this will be difficult, and we hope this restriction will be short lived. As we move forward, we are encouraging everyone to video chat, call, and write as often as possible."



Folks in need of emotional support can get help by calling a hotline set up by Memorial Health System, where mental health professionals are available. Calls will be handled on a confidential basis, and there is no charge. The number is 217-588-5509 and will be open from 8 a.m. until 8 p.m. for the foreseeable future. Calls already are coming in, according to Diana Knaebe, system administrator of behavioral health for Memorial Health System. Potential issues range from the effects of social isolation to concerns about relatives to worries about employment and the stock market, she said.

"They can reach out and call if they're confused, if they're frustrated, if they're anxious, if they're not sure what's going on," she said. Memorial has additional employees ready if the number of mental health professionals on hotline duty proves insufficient, Knaebe said. Mental health professionals will talk to callers and help determine what services or further help, if any is needed, might be best, she said. The service is available to anyone in the central Illinois area.


Residents in good health are being urged to donate blood.

According to State Sen. Scott Bennett of Champaign, blood centers around the state are seeing a decrease in donation appointments.


"While our national attention is on the coronavirus, other health issues - like anemia, serious injuries, surgeries, and cancer patients that require blood - continue at pre-pandemic rates," Bennett said in a statement. "If you are healthy and eligible, it is critical to donate now."



The Springfield City Council on Tuesday gave preliminary blessing a deal to purchase the vacant former Vibra hospital building at 701 North Walnut for $2 million.

The measure, which gives the city 90 days to close a purchase, is intended to provide space for medical care, quarantine or beds for the homeless. At Tuesday's city council meeting, Mayor Jim Langfelder described the deal as an option. "I think it gives us 90 days or what have you," the mayor said. "Not saying we will, but if we need to, that's what that's for."

The council unanimously voted to put the measure up for a final vote at its next regular meeting.

"It could be medical or what have you," Langfelder said. "We need to be nimble or flexible enough to take action in these ever-changing moments. Every day is different. Today, we're doing better than yesterday and tomorrow, we need to do better than today."

Note: Provisions to purchase the building are expected for a final vote at the council's next regular meeting, contrary to an earlier version of this post.

Helping Hands of Springfield released a list of supplies needed to help the homeless.



Tuesday, March 17



The Sangamon County jail is seeing a dip in population since police have started giving more consideration to issuing notices to appear instead of trips to jail. The population on Tuesday morning was 302. No flu-like symptoms have been reported by any inmate, according to Sheriff Jack Campbell. Keeping inmates six feet apart has been tough, he said. "We are doing the best we can with this suggestion," Campbell wrote in an email. "It is difficult given our facility and headcount."


Sangamon County Circuit Court Judge John "Mo" Madonia on Monday canceled most court proceedings except for those involving defendants who are in jail. Resulting reductions in foot traffic in the courthouse were offset on Monday by people going to the courthouse for early voting, said Campbell. "Today may be even higher," he said, citing the primary election. He said he expects traffic to drop on Wednesday.



<!——————————————————————————————————————————————————————————————————————————————————————————————————————————StartFragment——————————————————————————————————————————————————————————————————————————————————————————————————————————>

State officials announced 160 confirmed cases

in Illinois, and the first death related to the virus. The person was a woman in her 60s who lived in Chicago. Health officials also announced Tuesday that

17 residents and four staff are infected

at a nursing home in DuPage County. "There are going to be moments during the next few weeks and months when this burden feels like it is more than we can bear — this is one of those moments, but we will get through this together," Gov. JB Pritzker said in a statement. Meanwhile, officials say the number of confirmed cases will likely rise as commercial tests are utilized.

In Sangamon County, the confirmed cases remained at four,

and included two local residents. County officials said they're awaiting the results of more than 20 tests.

The city announced Springfield's Municipal Center buildings will be closed to the public

starting Wednesday, March 18. The police station located at 800 E. Monroe will remain open. Administrative court hearings scheduled for March 18 and 25 have been canceled.

Memorial and St. John's hospitals announced new efforts to screen ER patients for coronavirus symptoms

in a triage area locate outside of emergency room entrances. All patients will be screened. Those with respiratory symptoms, a hallmark of the new virus, will be directed to treatment settings. Memorial also announced its virtual visiting services will be free "for the foreseeable future." The effort can help keep people dealing with non-emergency issues from over-burdening the hospital system. The service is available at

MemorialNow.com

.

Memorial also announced elective surgeries are being postponed

at its five hospitals and affiliated surgical facilities until further notice, starting Wednesday, March 18. "The U.S. surgeon general and the American College of Surgeons have asked health-care providers to consider postponing elective surgical procedures during this time," said Jay Roszhart of Memorial in a statement. The measure is part of attempts to limit healthcare providers exposure to coronavirus. The postponements include colonoscopies and cosmetic procedures.

Voter turn-out appears to be down for this primary election,

according to Sangamon County clerk, Don Gray. Whether or not to hold an election at all during a time that social distancing is recommended has been a point of contention. "We're working through the measures the best that we can, all posts have been separated six feet from each other," said Gray, who added sanitizing is happening regularly. As of noon, turnout was around 6.5%, he said. "It's considerably lower than what we would expect in a normal presidential year."

The University of Illinois announced

that all three campuses have canceled scheduled commencement ceremonies. University of Illinois Springfield Chancellor Susan Koch said in a statement that there will be no face-to-face instruction for all of spring semester. She ordered students who live in on-campus housing that can safely return to their home addresses to do so. Brookens Library at UIS will be closed starting Tuesday. Dining services will remain operating and food will be limited to "grab and go" options to comply with social distancing guidance.

A "COVID-19 Response Fund" has been announced

by the Community Foundation for the Land of Lincoln and the United Way of Central Illinois. It's been seeded by both organizations with $50,000. "It is designed to complement the work of public health officials and expand local capacity to address all aspects of the outbreak as efficiently as possible," a statement read. Contributions can be made at

CFLL.org

.

Monday, March 16



State officials announced 105 cases in Illinois. Local officials say four cases have been confirmed in Sangamon County, with one patient discharged from Memorial Medical Center. Seventeen test results were pending in the county, officials said in a press release, and six negative test results came in on Monday.



The show must go on: The Springfield City Council will meet as scheduled at 5:30 p.m. on Tuesday. The public is asked not to attend but instead watch via streaming on the city's website, www.springfield.il.us. Those who do attend are being asked to stay six feet away from other people. In a disaster proclamation issued Monday, Gov. JB Pritzker suspended a section of the Open Meetings Act requiring that members of city councils and other public bodies be physically present for meetings. In his proclamation, the governor urged public officials to postpone business if possible. Meanwhile, a spokeswoman for state Attorney General Kwame Raoul said via email that the attorney general is still reviewing a Champaign ordinance passed last week that suspends the Open Meetings Act requirement that public bodies provide 48 hours advance notice before holding meetings. The sweeping ordinance also gives the mayor broad powers, including the power to halt sales of firearms, ammunition and gasoline.

Lincoln Library is closed until further notice. Due dates have been extended to May 16. The city has suspended delivery of library materials to homebound people.

The Springfield Fire Department is asking residents to report the addresses of any households that have been exposed to coronavirus via hotline, 217-789-2464. The department says in a press release that it wants addresses, not names. "We are simply looking for addresses so our first responders will know to wear the appropriate level of protection when responding to emergencies in the neighborhood," the city said in a press release issued Monday night. "The addresses will be temporarily flagged in our dispatch system, and will be removed after 60 days. In order to keep residents safe, it is essential to police, fire, and ambulance services to have up-to-date information of possible exposure locations. This hotline will be only be used for address reporting. ... You can also email the address information to selfreporting@springfield.il.us."

No room at the inn: Washington Street Mission has closed due to the state ban on gatherings of more than 50 people. The mission, which provides daytime shelter to the homeless, averages 200 visitors a day, operators say. Meanwhile, Helping Hands is opening its lobby during the day to folks who stay at the city's winter warming center, which is run by the Salvation Army. Capt. Jeffrey Eddy of the Salvation Army said his group is struggling to find sufficient space at the warming center while complying with health guidelines calling for six feet of separation between people. About 50 people each night have been sleeping on floor mats at the center, Eddy said. "We're trying out best," Eddy said. "There's really not enough room in the building to sleep them six feet apart." The city and county are searching for alternate locations, Eddy said. Volunteers to help at the center, he said, are becoming scarce. "People are afraid of getting exposed," Eddy said.

Free bus service: The Sangamon Mass Transit District and Sangamon Menard Area Regional Transit won't collect fares on rural, fixed route and paratransit vehicles to help prevent the spread of the virus by reducing contact with drivers. "We recommend the public remain at home at this time, of course, but for those that must use public transportation, we're doing what we can to decrease the amount of contact between people to protect our operators and our passengers," said Frank Squires, SMTD managing director, in a press release. "SMTD and SMART both have passengers that use us to get to dialysis treatments, to banks, or to groceries," Squires said in the release. "We recognize the need for the services we provide. So we are continuing to clean vehicles, equip our operators and make the process as sanitary as we can."

Video gaming shuts down: The Illinois Gaming Board has announced that all video gaming will be suspended at 9 p.m. today (Monday, March 16). The board had previously ordered casinos to shut down.

Leave me alone, please: Springfield Park District Board member Lisa Badger, one of the first two people diagnosed with the virus in Sangamon County, has issued a statement. She says she's recovering at home and needs space. She also says some folks have been less than kind, "bombarding" her and her family with negative statements on social media, with some people threatening to sue her.

"I understand everyone is scared," Badger wrote. "I'm scared, too. But I've done nothing wrong. I have taken every precaution possible, and I caught this from someone else. Now I need time to rest and recover without the overwhelming stress of so many personal attacks and accusations."

Here is Badger's full statement:

"Since learning over the weekend I am one of the first confirmed cases of coronavirus in Sangamon County, my life has been turned upside down. I join everyone who is feeling fearful and uncertain about what is happening and what is to come.

But I would please ask for time alone at home to recover with my family, as our local, state and federal officials work to stop the spread of this disease that has brought everything to a halt.

I had NO symptoms when I was in contact with the public from March 5th on. When I developed a slight fever and other symptoms that initially were unconcerning last week, I stayed home from work and contacted my healthcare team. I have not been out of the country, had any known contact with anyone who had traveled abroad, nor have I had direct contact with anyone who has yet tested positive for coronavirus. I assume I contracted this virus through community spread. Please understand, I used to work as a nurse, and I am very proactive about my health and underlying conditions.

I am in direct and constant contact with my doctors and recovering, although it is a slow process and I am concerned about getting worse instead of better.

I am a public official and proud of being open and accessible to my constituents and anyone who needs help. In addition to being a Springfield Park Board trustee, I work in a very visible position as a community affairs specialist in the State Treasurer's office, and I am a union steward for Teamsters Local 916, a Democratic precinct committeeperson and am involved in many other ways in Springfield. I take pride in being easy to reach.

My family and I have been bombarded with negativity since my case went public: hundreds of texts, voicemails, Facebook messages and more. People are threatening to sue me. They've been terrible to my daughter.

I understand everyone is scared. I'm scared, too. But I've done nothing wrong. I have taken every precaution possible, and I caught this from someone else. Now I need time to rest and recover without the overwhelming stress of so many personal attacks and accusations.

Please, stop reaching out to me and my family. Call the Sangamon County Public Health Department and urge them to do more to help find out how I contracted the virus, and to do everything they can to test people with symptoms and ensure immediate treatment. If you're concerned about exposure at the youth career fair I attended on behalf of the Treasurer, please contact the Treasurer's office.

I love this community, and I only wish to be well again, and for all of us to be well. I will provide further updates as warranted. Thank you to everyone for respecting our privacy and for banding together during this difficult time to stop this pandemic as soon as possible."

Gov. JB Pritzker praised Springfield residents for showing kindness toward each in response to coronavirus concerns. He specifically praised McAlister's Deli, which is offering free meals for school-aged kids. He also commended those who have established miniature pantries where folks can drop off food if they have enough and pick up some if they do not.

"One small step at a time and we will get through all of this together," said Pritzker, who continued to plead that people stay home as much as possible. He also warned that no geographical location is immune. "No matter where you live, it will come," said Pritzker.

Sangamon County Board Chairman Andy Van Meter and officials with the Sangamon County Health Department joined Pritzker at the press conference, held at the state's Emergency Operation Center in Springfield. Brad Cole, director of the Illinois Municipal League, also joined the governor at the podium.

Neither Springfield Mayor Jim Langfelder nor any city officials participated in the press conference, in contrast to prior press briefings in Chicago, where Chicago city officials appeared alongside the governor. Langfelder has faced criticism for going to bars on St. Patrick's Day, after health officials had urged people to avoid crowds. The city also canceled last weekend's scheduled St. Patrick's Day parade only after the governor called Langfelder. By then, city public works crews had distributed crowd control barriers on downtown streets, in anticipation of the parade that was ultimately canceled.

With schools closed, all school-aged children can pick up bagged breakfasts and lunches from 8:30 a.m. until 10:30 p.m. at Lanphier High School, Southeast High School, Springfield High School and Franklin Middle School, the governor said, and more meal sites will be set up. The governor also said that he is canceling any event that includes more than 50 people, in accordance to Centers for Disease Control guidelines.

Van Meter commended local responders and reiterated that the public should heed warnings, as the virus is "deadly serious to our most vulnerable population." The county board chairman, a Republican, praised both the governor and the mayor.

"The governor's decisive leadership, I am sure, has saved lives," Van Meter said. "I want to also thank Mayor Langfelder, who has led the way in emphasizing cooperation and coordination."

Memorial Health System opens drive-through screening clinic on South Sixth Street. The clinic at 2950 South Sixth Street will be open from 8 a.m. until 8 p.m. People should call 217-588-4019 before visiting, but walk-ins will be accepted. The clinic is open to anyone with respiratory issues that could be conne

cted to the coronavirus. No testing will be conducted onsite.

"Healthcare providers are stationed outside the clinic to screen patients and determine the appropriate level of care," Memorial says in a press release. "The clinic will provide COVID-19 testing for those patients who meet the guidelines set by the Illinois Department of Public Health."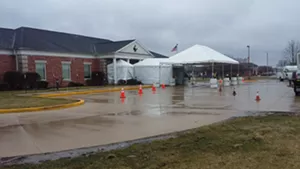 The point is to assess whether people have contracted the virus while keeping them separated from others to reduce risk of transmission, says Dean Olsen, Memorial spokesman.

"For the respiratory screening clinic at South Sixth ExpressCare, if a patient arrives who has not set up an appointment through the hotline, they will be directed to a designated parking space, where signage will direct them to call to register by phone," Memorial officials said in the press release. "For anyone who needs to be brought into the clinic for a test, there's a separate entrance where they will receive a nasal swab and be returned to their cars." Olsen said he did not know what payment arrangements, outside of existing insurance plans and sources, have been set up.

Memorial today also instituted visitor restrictions at all facilities.

"One visitor will be permitted per patient at Memorial Medical Center in Springfield, Decatur Memorial Hospital, Passavant Area Hospital in Jacksonville and clinics for Memorial Physician Services," Memorial officials wrote in the press release. "Pediatric patients under 18 will be allowed two visitors or caregivers. All visitors must be 18 years old or older and show no sign of illness."

No visitors are allowed at the Passavant Transitional Care Unit, or at Taylorville Memorial Hospital or Abraham Lincoln Memorial Hospital in Lincoln.

A Springfield police officer was posted but no patients were evident outside the Memorial drive-through facility on Sixth Street when a half-dozen reporters gathered on Monday afternoon for a press conference headed by Jay Roszhart, president of Memorial Health System's ambulatory group. Roszhart told reporters that copays and deductibles will be waived for people with insurance. He said he couldn't address how people without insurance will be handled, other than through Memorial's existing programs for needy patients.

Not everyone who goes to the clinic will be tested for the virus. Rather, health care providers will determine whether tests for the virus should be performed, Roszhart said. There are not, Roszhart said, enough tests for everyone who demands one.

"We are concerned,"Roszhart said. "There is limited testing available, currently."

Asked why Memorial held a live press conference instead of answering questions remotely, Roszhart cited Centers for Disease Control guidelines that state a person can be infected after spending ten minutes within six feet of a contagious person.

Ohio has postponed tomorrow's primary until June, but Illinois is still going ahead.

In the silver lining department, penguins in Chicago are getting a treat. Great dispatch about what's going on at the Shedd.

Friday, March 13

Springfield School District 186 schools

will close on Monday through the end of the month while Pritzker has ordered all schools in the state to close starting Tuesday.




"When you make this decision you don't make it lightly," the governor said at a Friday press conference in Chicago." He said he would not tell parents to prepare for a "lengthy" time of school cancellations, though he believes the closures will last through the end of the month to battle spread of the coronavirus. "If we could go back to school earlier we'll choose to do that," said Pritzker. The state on Friday announced 14 new cases of coronavirus, bringing the total number of confirmed cases in Illinois to 46. No fatalities have been reported. Coronavirus updates can be found on a state government website.




"I'm very concerned about flattening this curve," said Pritzker. He said the decision to close schools could help lessen the burden on health care workers. Of the 14 new cases announced Friday, nine are Chicago, four are in Cook County, and one is in Lake County. Those affected range in age from people in their 20s to people in their 90s. Cases have been concentrated in the northern part of the state, but state officials said no one should consider themselves safe.




"Your community is not immune," said Pritzker.




State government is providing guidance to childcare facilities, the governor said, but is not requiring closures. Pritzker said he wants to expand benefits for workers who might need to stay home to care for their children.




The governor said he doesn't know if the state has sufficient test kits. "We will be able to expand the tests," said Pritzker. Kits are being created in the state, he said, and the federal government still needs to provide more.




School employees will be paid while school is suspended, the governor said, and meals will be provide to children who normally eat at school.

<!—————————————————————————————————————————————————————————————————————————————————————————————————————————————————EndFragment—————————————————————————————————————————————————————————————————————————————————————————————————————————————————>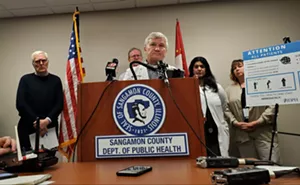 The Champaign City Council
on Friday
passed an ordinance
giving the mayor broad powers, including the power to halt gun sales and ration goods, while suspending requirements contained in the state Open Meetings Act. Under an emergency declaration that will last 28 days and an ordinance approved in a special meeting, city council meetings "may be conducted at the call of the mayor or two city council members via electronic means, including audio or video conference. Such meetings may be held, providing such notice to the public and media as is reasonable under the circumstances, and if possible, providing access to the public and including a means for public participation." That falls short of state law, which requires 48 hours notice before meetings and mandates that meetings be open to the public except for narrow exceptions. "The failure to pass an ordinance might send a message that the situation was of diminished importance," writes Frederick C. Stavins, city attorney, in an analysis of the ordinance. Annie Thompson, spokeswoman for state attorney general Kwame Raoul, said the attorney general's office is aware of Champaign's actions and, while the office hasn't thoroughly reviewed the ordinance, the Open Meetings Act and other state laws have precedence over local ordinances. "Generally speaking, it's (the Open Meetings Act) a state law that cannot be suspended by municipal ordinance," Thompson said. "With that said, we will be reaching out to Champaign officials."
In addition to modifying the Open Meetings Act, the Champaign ordinance and emergency declaration gives the mayor 30 powers, including the power to order cessation of gun and ammunition sales, the power to set curfews, the power to ration and freeze prices for food, clothing, fuel and "other necessities of life," the power to order city employees to take possession of real estate, the power to close businesses, the power prohibit sale or distribution of any products deemed a hazard to public safety, the power to halt alcohol and gasoline sales, the power to shut down public utilities and the power to stop burning of any items or property within city limits as well as two miles outside corporate boundary lines.


Thursday, March 12

Sangamon County
banned large gatherings in both incorporated and unincorporated areas, effective Saturday.
Indoor events will be limited to 250 people or less and outdoor events can be no larger than 500 people, officials announced Thursday at a press conference at the Sangamon County Health Department. The restrictions will last for at least 30 days, officials said. State's attorney Dan Wright said authorities will enforce the restrictions if necessary.
So far, there have been no confirmed cases of coronavirus in the county. Gail O'Neill, health department director, said that 11 people have been monitored since January and are assumed not to have been infected. Dr. Brian Miller, chairman of the health department, said four people have been tested.
The governor has complained about a shortage of test kits from the federal government. Local officials during Thursday's press conferences stated no such concerns.
"To my knowledge, we've never had a problem with getting a kit for a test," Sangamon County administrator Brian McFadden said. "Locally, it seems like it's been fine."
The Diocese of Springfield
is recommending, but not requiring, that chalice use be suspended.
In guidelines published
today on the diocesan website, church officials say that local pastors or parochial administrators will decide whether to use chalices for communion. The diocese also says that communion wafers can still be placed on worshippers' tongues if they wish. The diocese says that placing wafers directly on tongues "is very sanitary when done properly. Clergy "may consider" refraining from shaking hands after masses, but worshippers should not hold hands while praying "Our Father" during Mass. No contact with other people should be made when the Sign of Peace is exchanged, and those who say "Peace be with you" should bow heads toward those around them.
Whether to hold public masses in Catholic hospitals and nursing homes with chapels will be left up to individual facilities, the diocese says. Meetings, classes, gatherings and events may continue at the discretion of local church leaders under guidelines published by the Centers for Disease Control.

In other church-related news,
the Rev. Martin Woulfe, who presides at Abraham Lincoln Unitarian Universalist Church, said service Sunday will be canceled, as will services and other group events that had been planned at least through the remainder of the month.
First Presbyterian Church is also cancelling non-essential church activities, including worship services. In a statement, Rev. Susan Phillips said, "W
e are doing this because we understand that preventative measures are necessary to 'flatten the curve' and slow down the transmission of the coronavirus."

The Sangamon County sheriff's office
is encouraging officers to issue notices to appear rather than booking people in an effort to keep inmates and staff healthy. "We are undertaking all precautions we can think of," Sheriff Jack Campbell said on Thursday. "We're trying to reduce the headcount coming in." Jail staff is asking arrestees if they'd had a fever within the last 24 hours, if they have a cough, if they have a sore throat, or a runny nose, or nasal congestion. If a person answers yes to two or more questions, medical providers are summoned to make further inquiries, Campbell said.
The Hoogland Center for the Arts
had said Thursday that it was not canceling performances or events, but that changed after county guidelines limiting crowds came out. A murder mystery dinner over the weekend and
the Hoogland Education's production of Joseph and the Amazing Technicolor Dreamcoat has been canceled with future dates to possibly be announced. Executive director Gus Gordan said in a release that staff will contact ticket holders for canceled events to offer a refund or exchange.
An art reception planned for Friday at the Hoogland for the Springfield Art Association Collective gallery is also canceled. SAA head Betsy Dollar said a March 26 luncheon for former board members has been canceled and so has a celebrity bartender event that had been scheduled for Arlington's restaurant on April 1. Classes are not being held at this time.
"Everything else is very much in a wait-and-see mode, and we're doing a lot of cleaning," Dollar said.
Saturday's St. Patrick's parade
in downtown Springfield has been canceled.
The cancellation was announced just
one day after public works crews distributed crowd barriers
on downtown streets. In a joint written statement, parade organizers and the city said the event will be rescheduled. "Based on new health guidelines related to COVID-19, and new recommendations, it was inherent to postpone this event for Springfield," organizers and the city wrote in a press release.
It's not clear what the new recommendations might have been, nor is it clear what new health guidelines have been issued or by whom. Jordan Abudayyah, Pritzker spokeswoman, writes in an email that the governor contacted Mayor Jim Langfelder and expressed concerns. Health experts and politicians, including President Donald Trump, have urged people to avoid crowds. On Tuesday, Pritzker said the virus can spread if someone is six feet from a contagious person for 10 minutes, and health experts say contagious people don't immediately show symptoms.

Sangamon County Clerk Don Gray says
there's been a surge in requests for absentee ballots for Tuesday's election, 35 percent higher than in 2016. Some polling places in buildings frequented by seniors have been moved. "We certainly have election judges who are concerned about their health and the health of others on Election Day," Gray said. A few poll workers have pulled out, he said. "It's a small number at the moment," Gray said. "I can probably count on one hand."
Eddy of the Salvation Army
says Sangamon County officials have been in touch asking about using the charity's building on Clearlake Avenue as a quarantine area for families of anyone who tests positive for the virus. So far, no local cases have been diagnosed. The center would have room for between six and 10 families, Eddy said. Between 40 and 55 homeless people have been sleeping dormitory style on floor mats at the city's warming center that's run by the Salvation Army, Eddy said. The center is in need of sanitizer, Eddy said, and, while there is concern, no plan has been found to come up with a housing solution less susceptible to spreading the virus. "Across the board, we've thought about a lot of things," Eddy says.
The Illinois High School Association
has canceled remaining postseason athletic competitions, ending boys basketball seasons for Sacred Heart-Griffin, Lanphier and Glenwood high schools.
The Abraham Lincoln Presidential Library and Museum
will close to the public starting Friday. The library, museum and Union Station will all be closed until further notice. In a statement, officials said anyone with pre-paid tickets for the museum or events will be issued a refund. The cancellation is planned through April 10 but could change. Those seeking more information are encouraged to visit the museum's
website
.
University of Illinois Springfield
is extending spring break and has announced that classes afterward will be conducted online. University housing remains open, as does food service. A daycare center at the university also remains open.
This post will be supplemented as information becomes available or is changed.