It's about as far as you can get from the main entrance to the sprawling Oak Ridge Cemetery, one of the nation's most visited burial grounds.
Go past the soaring monument to the Great Emancipator, meander a bit toward the north, pass the Wishing Well and maintenance shed, and take the steep, one-lane pavement that looks like it gets lost in the trees.
There it is, atop a small hill. A small, shaded enclave on the cemetery's far northwest end with 117 stones bearing the etched names of Springfield history.
Serene. Spiritual. Segregated. Back of the bus, back of the cemetery.
Block 5 of Oak Ridge Cemetery is known as the "Colored Section." This was an area established in 1879 when the Springfield City Council passed an ordinance directing the cemetery's board of managers to set aside portions of the grounds for "the burial of the poor, another for the burial of strangers, or persons not belonging to the city, another portion for the burial of inhabitants of the city not having private lots, and another portion for the burial of colored persons."
Richard E. Hart, the author of The Colored Section: Oak Ridge Cemetery, notes that Jane Pellum died on Nov. 9, 1867, and was the first Black resident to be buried in what the ordinance 12 years later would establish as the Colored Section. Block 5 also includes the graves of people who knew and associated with Abraham Lincoln, an Underground Railroad conductor, and a man killed in the 1908 Springfield Race Riot.
Descendants of those buried in the Colored Section of the cemetery have mixed feelings about their ancestors' final resting places. They are proud of the family heritage that has been passed down through the generations, but remain saddened by the system that enforced segregation even after death.
"You mean to tell me that even when you're dead, you are separated?"
Theresa Faith Cummings traces much of her family history to the grave markers in the Colored Section. She is the historian for Springfield's St. Paul AME Church and for the Fourth Episcopal District of the AME Church, which has given Cummings the opportunity to do in-depth research about her ancestors.
"My family has been in Springfield since the 1830s on both sides," Cummings said. "Ancestors on both my mother's and father's sides are buried out there, my grandparents and great-grandparents."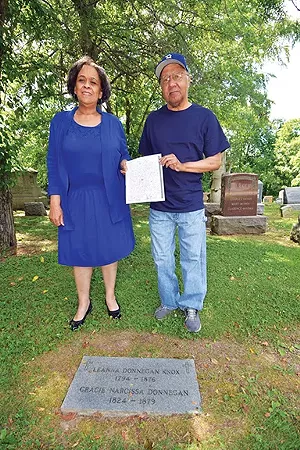 Cummings' great-grandparents, William and Amanda Fry Nelson, are buried in the Colored Section underneath a stone that also lists several of their children. Cummings' grandparents are not among them, as they are interred in another part of Oak Ridge. According to Hart's book, William Nelson was a bricklayer who resided at 530 W. Canedy and died in 1909, while Amanda was a laundress who died in 1930.
Salona Nelson Patterson is Cummings' great aunt and also lived at 530 W. Canedy. She was widowed at age 53, according to Hart, and died in the family home in 1959. Patterson has her own individual grave marker in the Colored Section.
Maud Nelson Grant was William and Amanda Nelson's daughter and is Cummings' great aunt. Hart's book lists Maud's husband, Charles, as a porter at the Leland Hotel, and Maud died in 1910 at her home at 1144 South Pasfield Street. Maud has her own individual marker in the Colored Section.
Cummings' great-aunts, Jessie D. Nix and Mary Ann Fry, and Jessie's husband, Thomas Franklin Nix, are buried under the same Colored Section marker. The Colored Section book had the Nix family residing at 206 West Elliott and lists Thomas as the Statehouse janitor. Mary died in 1924, Thomas in 1948 and Jessie in 1952.
"You can tell the people's status in the community by the kinds of stones that they have and how the stones are still standing," Cummings said. "A lot of them were the leaders of Springfield at that time, and those are the ones that have stones that are still standing in that section."
But community leader or not, your final resting place was determined by skin color.
"When I started doing some family histories I said, 'You mean to tell me that even when you're dead, you are separated?'" Cummings said. "I thought that was really ridiculous. You're dead and you're still being separated."
"They suffered so our generation would not have to suffer."
Otha Davis grew up in Carbondale and moved in 1975 to Springfield, where you can read his family history on several Colored Section tombstones.
"We used to visit my aunt, uncle and grandfather in Springfield when we were growing up, so we were pretty much aware of the family history," Davis said.
That history includes a casualty of the 1908 Springfield Race Riot, William Donnegan. William's mother, Leanna Donnegan Knox, who was born in 1794, is Davis' great-great-great-grandmother. Leanna died in 1876, three decades before her son was lynched by the racist mob that rampaged through Springfield. Both Leanna and William Donnegan are buried in the Colored Section.
Otha Davis' grandfather, John Hamilton Davis, died in 1970 and is buried in the Colored Section. Great-great-uncle Thomas Leander Davis, who died in 1939, is also interred there.
Thomas Madison Davis and his wife, Arissa Donnegan Davis, are not among the family burials in the Colored Section. But Otha said he learned that his great-grandfather Thomas worked with and knew Abraham Lincoln.
"To us it's a cemetery. It's notable that Lincoln is buried there also but it's not something that you really dwell on," Davis said. "When I go to visit the cemetery I go to the plots where my family members are located and get some inspiration from that.
"I feel awe and pride and a sense of responsibility because of a lot of the things that they suffered and had to go through," Davis said. "They suffered so our generation would not have to suffer. I feel prideful and in a way sorrowful that they had to deal with the things they did."
"The family line has endured and overcome with God's help."
Connie McGee of Springfield is Otha Davis' cousin and they share the same ancestor in the Colored Section. McGee has gathered information from research and five generations of family stories to give her a better understanding of her great-great-great-grandmother, Leanna Donnegan Knox.
McGee is descended from slaves in most branches of her family, but "Granma Leanna" and her descendants were never slaves, and McGee has the paperwork to prove it. She has obtained a copy of an original 1847 document from Kentucky that verified Leanna's status as a free Black woman. Although Kentucky was a slave state, Leanna and her children were free because Leanna's mother was a "free white woman."
"In Kentucky they had gained such respect that 21 white men in and around Hopkinsville, Kentucky, were willing to sign the document," McGee said.
The Donnegan family migrated to Springfield and Leanna's sons became advocates for the local Black community as well as successful businessmen.
"Unfortunately, oftentimes in history when African Americans started to become successful, they were viewed as 'stepping out of their place,'" McGee said. Spencer Donnegan's barber shop was burned down, Wiley Donnegan was shot and run out of town, and William was killed during the 1908 Race Riot, she said.
"Despite the hardships the Donnegans encountered, the family line has endured and overcome with God's help," McGee said.
"Visiting the cemetery stimulates a time of reflection within me. I want to know more details about what my great-great-great-grandmother's life was like and how she overcame being considered free but not equal," McGee said. "I do feel a sense of community present in that section, a community that sought justice and peace."
McGee has learned that Abraham Lincoln was greatly admired by her ancestors who knew him personally when he lived and worked in Springfield.
"I believe my family most likely would have prayed for him when he was president, celebrated when he issued the Emancipation Proclamation, believed in his successful leadership in the restoration of the Union during the Civil War and grieved upon his assassination," McGee said. "I am more proud of his living work and legacy than of the fact that both Lincoln and my ancestors share the same cemetery."
"That piece of the cemetery hadn't been given its due."
Lashonda Fitch, executive director of Oak Ridge Cemetery, hears lots of stories about the cemetery's most famous decedent, Abraham Lincoln, but she knows places like the Colored Section have equally important tales to tell.
"What about the stories of Jane Pellum, the Hicklins, Eva Carroll Monroe, William John Florville, and Rev. Brown?" Fitch said. "The Colored Section at Oak Ridge Cemetery connects us to the dignitaries of Springfield's past. Many of the descendants are still living in the area today. I've spoken to a couple of them and it has been rewarding hearing their stories."
The Colored Section by its very existence gives us a stark but important lesson today, according to William Furry, executive director of the Illinois State Historical Society.
"Oak Ridge Cemetery is one of central Illinois' best classrooms for understanding the history of social justice on the prairie, its historic segregated populations offering an unapologetic window into Springfield's troubled history with race and ethnicity," Furry said. "But from a sociological point of view, Block 5 illuminates a community that thrived in spite of the prejudices of the time, and found strength in community and vitality in oppression."
Richard Hart had written several books about central Illinois cemeteries and notable Black residents before he decided to research and write The Colored Section: Oak Ridge Cemetery.
"I just thought that piece of the cemetery hadn't been given its due," Hart said. "Nobody had ever really done anything about describing its importance and the people that were buried there."
Hart took photographs of every grave in the Colored Section that had a marker, researched the individuals named on the markers, and wrote a book that every person interviewed for this article considers an invaluable reference for understanding Springfield's Black history.
"Many of the people buried in the Colored Section were a very important part of the environment that Abraham Lincoln lived in when he was in Springfield," said Hart, who is past president and has long been involved with the Abraham Lincoln Association. "I hope there would be pride in the people who are buried there and what they achieved and did during their lifetimes."
Hart was particularly drawn to the story of Jamieson Jenkins, an Underground Railroad conductor who later in life drove the carriage to deliver President-elect Abraham Lincoln to the Great Western Depot on Feb. 11, 1861. Jenkins is interred under a very unassuming flat marker in the Colored Section.
The Colored Section: Oak Ridge Cemetery is available as a free download at http://abrahamlincolnassociation.org/wp-content/uploads/2019/01/Colored-Section.pdf. Capitol Blueprint of Springfield will also print copies of the book at cost upon request, and Hart said most area public libraries have a copy of the book.
"Whenever I go out there it's just a sense of remembering."
Allan Woodson's parents and grandparents aren't interred in Oak Ridge's historic Colored Section, but their grave markers are among those of many more contemporary Black families who chose to be buried near each other in another part of the cemetery.
Block 40 of Oak Ridge on the cemetery's open, rolling northwest side includes the grave markers for Woodson's maternal grandparents, Eugene and Minnie Jones, and his parents, Charlotte and Eugene Woodson.
"As I was going out there over the years to decorate the graves, I noticed that there were a lot of other black family names that I recognized, they were all buried in that section," Woodson said. "Then after subsequent discussions with my parents and other people, it was just kind of understood that back in the day, that's where African Americans who chose to be buried at Oak Ridge were buried."
Woodson said things have changed, and his wife's parents passed away more recently and they are buried in the west side section of Oak Ridge closer to the war memorials.
"I don't think anything about it from the black-white perspective," Woodson said. "Whenever I go out there it's just a sense of remembering, as most people do when you have lost loved ones, about the good times you had and how much you miss them."