Brad Jones doesn't stand out amid 100 or so vendors at HorrorHound Weekend in Indianapolis earlier this month.
He is a diminutive, bearded, 30-year-old guy from Springfield in baseball cap and glasses sitting behind a folding table with DVDs of The Cinema Snob Movie, his latest movie, as well as copies of earlier creations. When he isn't making movies, he is making fun of them, which has made him a household name among movie fans who can knowledgeably discuss such obscurities as Hack-O-Lantern. As The Cinema Snob, Jones caters online to aficionados of the weird, who have made his website a destination for folks who appreciate the humor in horror.
Beside Jones is a table offering zombie-themed lingerie. Jewelry made from human bones is for sale a few rows of tables away. You can also buy sheep eyeballs and all kinds of other icky things (scorpions, snakes, a turkey's head) preserved in glass jars, or get your picture taken with an alligator during this three-day convention aimed at slasher movie fans.
People dressed as zombies and serial killers stroll around. Vendors' tables groan with DVDs and VHS tapes from the golden age, when producers cranked out splatter and gore and mayhem as quickly and cheaply as possible. Night Of The Juggler (1980). Never Too Young To Die (1986). The Prey (1984). Piranha (1978). Stars of such B-grade productions as Terror Train (1980) and Prom Night (1980) are selling autographs. The main attraction is Jamie Lee Curtis, star of the 1978 blockbuster Halloween, whose signature costs $80, and in advance. Voucher sales were cut off several days prior to the annual convention.
This place may not be for everyone, but it is for Jones, whose autograph is free with the purchase of any of his DVDs. While not overwhelmed on the second afternoon of the event, business is steady, especially considering he has become a regular on the horror convention circuit – this is his third time through Indianapolis in recent years. Jones sells three copies of The Cinema Snob Movie in less than an hour to fans who want to know what Jones thinks of this movie or that one.
"What about Gross Out?" asks Nick Ryle, referring to a 1990 film about a woman who tells her children they will inherit her fortune only if they can make a movie bad enough to make her physically ill.
"Gross Out was just dumb," answers Jones, who marvels at the chutzpah needed to make such films as Rats: Night of Terror, a movie about rodents that attack bikers in a post-apocalyptic setting.
After a few minutes of chat, Ryle buys an autographed copy of The Cinema Snob Movie and walks away impressed.
"You talk about the most bizarre, dark corners of cinema," Ryle says. "He just adds this irreverence to what he loves. I'm jealous of his voice."
Ah, the voice. Jones' pipes invite comparisons with Don Pardo, and he was once a late-night disc jockey for 101.9 FM. It is an elastic instrument that he wraps around characters ranging from pimps to gangsters to The Cinema Snob, the pretentious movie critic who reviews low-budget movies and – surprise, surprise – never seems to have a nice thing to say.
"He's both hilarious and prolific – they are equally important," says Ed Glaser, a digital media specialist at the University of Illinois in Urbana who makes his own films on the side and has appeared in at least two of Jones' productions. "It's staggering. He has produced hundreds and hundreds of videos, and they're still great."
While he is best known as The Cinema Snob, Jones on his website also cranks out episodes of 80's Dan, a high-camp sitcom featuring a time traveler from the Reagan era, and the occasional installment of Kung Tai Ted in which Jones, while dressed in martial-arts garb, reviews brucesploitation flicks (the label is a nod toward Bruce Lee) from faraway lands that feature bad dubbing, bad acting and even worse plots.
Exploitation films are Jones' first love, and he has much to choose from. Beyond brucesploitation, there is chopsocky (martial arts movies without Bruce Lee lookalikes) blaxsploitation (films with stereotyped black characters), carsploitation (lots of chases and crashes), nazisploitation (Nazis doing bad things, usually to attractive women) and even nunsploitation (you don't want to know). The genre is a veritable smorgasbord, with some efforts such as Vampyros Lesbos, a 1971 film about lesbian vampires that mixes sexploitation with horror, nothing short of heaping helpings of sub-genres from the B-grade movie-theme buffet.
Since 2007, Jones has reviewed nearly 200 films so bad, so deliciously awful, that they become entertaining, even moreso as Jones lays layers of oft-sarcastic commentary atop clips from such cult classics as The Corpse Grinders, the 1971 story of a cat food company that turns cadavers into tasty kitty treats.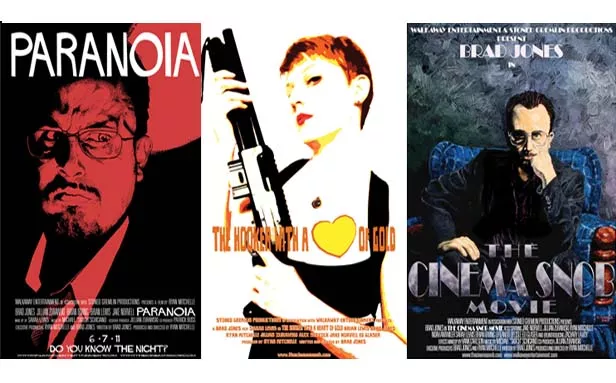 "You know, I once took Ritalin for a reason, and that reason was The Corpse Grinders," Jones intones.
There is no shortage of material to review: Jesse James Meets Frankenstein's Daughter. Entrails of a Virgin. Deathrow Gameshow. Geek Maggot Bingo. Nudist Colony of the Dead. The Hoboken Chicken Emergency.
It all took off with a 2009 review of Nail Gun Massacre, the scintillating 1985 tale of evil construction workers and others who meet their doom at the business end of a pneumatic nail gun wielded by a vigilante who wears camouflage and a black full-face motorcycle helmet. After a no-doubt short-lived cinematic run, its promoters sold, or tried to sell, the VHS version with a cover that included such come-ons as "It's cheaper than a chainsaw" and "A very penetrating story."
Jones proclaimed it a stinker, with awful jokes to boot: The killer says "You just pissed me off" when a soon-to-be victim urinates on him and announces "It's time to do your nails" as he dispatches two young women.
"Not only do we have the worst slasher movie ever, but the comedy in it is about as funny as baby AIDS," proclaimed Jones, who at that time was posting his reviews on YouTube and making fun of movies just for fun.
Someone, apparently, was not amused, and so registered a complaint with YouTube, which took down the review.
"From what I understand, it was the DVD company and not the actual makers of the film who complained about the review," Jones writes on his website. "I might be wrong about that, but that's how I understood it. I actually have them to thank."
A recession's silver lining
Until Jones crossed online paths with Nail Gun Massacre, he was just another exploitation film junkie, posting reviews on YouTube as a lark. At the time, he was working at Comcast on a temporary basis, one of a series of jobs that didn't last long after he graduated from Lutheran High School in 2001.
"I usually ended up getting laid off," Jones says. "I had bad luck."
So, too, have several employers who went belly up while Jones was on the payroll. He was a driver, delivering prescription drugs for the downtown Osco store that closed in 2006. Then he was a driver for the State Journal-Register, which he says eliminated his position. He also worked for Hollywood Video at Montvale Junction before the store ended operations in 2010.
"I was thinking, 'I'm cursed or something,'" Jones recalls.
When YouTube banished his review of Nail Gun Massacre, Jones created his own website and hooked up with
www.thatguywiththeglasses.com
. That website was spawned when its creator, who, like Jones, specializes in satirical reviews of movies and television shows, left YouTube after complaints about copyright infringement.
In the traditional media world,
www.thatguywiththeglasses.com
would be a multi-plex theater with several movies, or in this case, links to multiple websites, including
www.thecinemasnob.com
. But this isn't a traditional media world. Thrown into the mix is Blip, a company roughly equivalent to a television network that makes deals with advertisers and has a site that includes hundreds of homemade shows, including The Cinema Snob, that delve into such genres as drama, comedy, news, politics and health and fitness. Advertising revenue is split between Blip, which has contracts with such companies as Starbucks, Microsoft, Nikon and T-Mobile, and content producers such as Jones, whose website is promoted on both www.thatguywiththeglass.com and blip.tv.
Blip is serious business, with a list of investors that includes Bain Capital Ventures, Mitt Romney's former investment firm, and Canaan Partners. The New York Times last year reported that venture capital firms had invested $18 million, and Blip in February announced that it had secured another $12 million from private equity firms. The company says that Blip-affiliated videos produced by do-it-yourselfers such as Jones get viewed more than 330 million times each month. The Times last year reported that top producers were on target to earn $1 million in annual advertising revenue.
Jones isn't a millionaire yet. But he's having more fun than a lot of us, typically working barefoot while CNN drones in the background. It's a good enough living that he was able to quit his last job with Comcast three years ago, he says, and Blip recently sweetened his deal so that he can start paying friends and collaborators who help produce and appear in his shows. He says he is not a businessman.
"I don't even check to see how many hits my videos get – I'm afraid I would get obsessed by it," Jones says. "I'm good at promoting. I'm good at the creative end."
A filmmaker himself
The inspiration for The Cinema Snob came from Roger Ebert, says Jones, who recalls the famous Chicago film critic reading way too much into Friday The 13th: The Final Chapter, tsk-tsking its makers for how they portrayed sex and violence, as if the film could be taken seriously.
The Cinema Snob debuted in 2007 on YouTube, lasting two years there before Jones launched his own website and populated it with additional shows, including one called "Brad Tries" in which he samples Crystal Pepsi, Billy Beer, turkey testicles, candy-coated insects and other offbeat foodstuffs and beverages. His livelihood depends on viewers clicking on his videos that are preceded by ads, and so he strives to keep things fresh.
There is no accounting for taste. Consider what Ebert, The Cinema Snob's doppelganger, wrote about a 2008 thriller called The Happening that concerns a deadly airborne toxin.
"I suspect I'll be in the minority for praising this film," Ebert wrote. "It will be described as empty, uneventful, meandering. But for some, it will weave a spell. It is a parable, yes, but it is also simply the story of these people and how their lives and existence have suddenly become problematic."
Jones' assessment of a film that proved a box-office flop is far less charitable.
"The villain is the wind, and it's chasing them. They're in an open field and they're running away from the wind," he says with a laugh of disbelief. "It's really bad – it's kind of funny because it's so freaking bad."
Jones doesn't stop at making fun of work done by others.
Jones has written screenplays for seven movies and directed five, with promotion coming online and by word of mouth. His most recent effort, The Cinema Snob Movie, cost about $20,000 to make, he says, an investment that was recouped in one weekend of sales at $20 per DVD.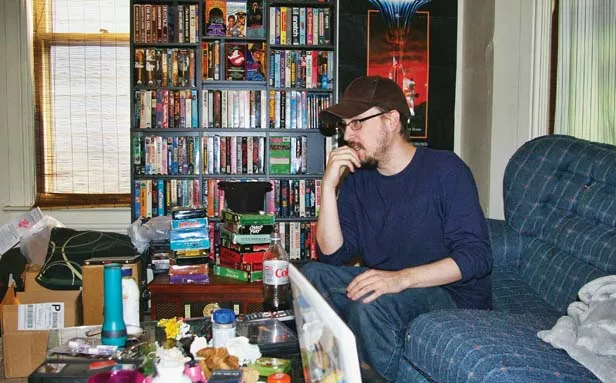 Shot in Springfield, The Cinema Snob Movie brings such local landmarks as the downtown Hilton and Café Moxo to the world. The movie is best pigeonholed as a murder-mystery spoof with liberal helpings of horror and exploitation thrown in. The plot concerns the adventures of Craig Golightly, a filmmaker trying to produce Black Angus, a flick about an African-American man whose sister is forced into prostitution while his parents are butchered by a crooked roller derby team owner. Hungry for revenge, the hero becomes a shotgun-wielding, roller-skating, disco-dancing badass. There are just two obstacles to production: One, filmmaking permits aren't available and, two, Golightly doesn't know any black people.
With wisecracks and a love story and purported cops who drive a Prius and depictions of people getting killed – the bow-and-arrow death scene is particularly good – The Cinema Snob Movie captures perfectly Jones' fascination with the exploitation genre.
"It doesn't have to be a good story, just entertaining," Jones says. "The appeal is, you really can do just about anything with it. You can take qualities of other genres and put them into these movies: Horror with comedy, horror with romance, horror with action. The appeal is to just to see how far you can go. It's really about how much balls the person behind the camera has."
Produced in a series of five episodes in late 2010 and early 2011, The Hooker With A Heart Of Gold is easily the equal of The Cinema Snob Movie, and available for free on Jones' website to boot. The premise, a hooker implanted with an artificial heart made of gold, came to him while he was drunk, Jones says. Even sober, it seemed like a good idea, and so, why not?
The result is highly entertaining, if not technically perfect – or even close. Jones says he rarely requires three takes, which is a good thing, given that he doesn't always have permission to shoot in hotels and other businesses that serve as sets. Much of Hooker was shot in basements, and it looks that way, with characters talking from impenetrable shadows. When the shooting moves outside, wind roars into microphones at full volume.
Easily fixable flubs are left in, adding to the my-mom-can-make-the-curtains charm. While bullets fly during a shootout, a dog ambles up and sniffs a would-be assassin wielding an AK-47. Who cares if the fold-out pet barrier that keeps Jones' cat from coming downstairs and onto the set is fully visible but never mentioned in the background of the evil pimp's lair? It would probably have been better if the outdoor scene where characters sip wine sitting on a deck had been filmed when there was not eight inches of snow on the ground.
What comes through, and what counts to his audience, is Jones' passion and wit. As a screenwriter, he has serious chops. Consider The Hooker With A Heart of Gold:
"This is a business, and you're all just office supplies," the evil pimp tells his stable.
"I'd rather spend money on a Segway," the heroine retorts when the evil pimp asks for cash.
"He was sliced down the face and gave a high-five to a machete – we all realize that Humpty Dumpty wouldn't be 100 percent, doc," a gangster sneers when a doctor apologizes for not doing a better job of patching up a villain left with a prosthetic hand and eye patch after an off-screen confrontation.
"Brad does what I want to do," says Andrew Peters, creator of the thegiallaogoon.wordpress.com, a website devoted to American and Italian slasher films. Peters, who has tried his hand at screenwriting, says that there are other online movie critics out there, but Jones stands out.
"I don't think anybody does it like Brad does," Peters says.
Peters says that landing an interview with Jones was one of his main goals during the Indianapolis convention. It wasn't too hard – Jones and a few friends who appear in his movies found a few minutes in a hotel hallway during the second day of the three-day event.
When Peters asks how far out in advance he plans reviews by The Cinema Snob, Jones says he usually plans a week or so in advance, with production of each episode taking a couple days.
"I know what I want to do for the 200th episode," Jones says in a tone both ominous and melodramatic. "No one will be surprised when they see it."
Stay tuned.
Contact Bruce Rushton at brushton@illinoistimes.com.