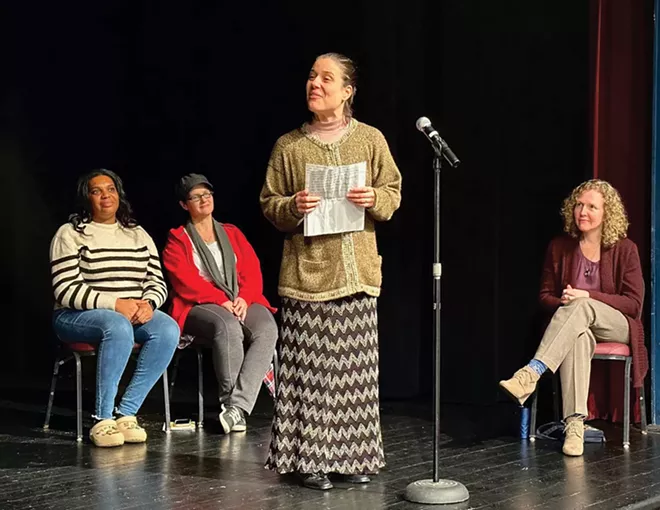 Phil Funkenbusch will be directing The Christians by Lucas Hnath at the Hoogland Center for the Arts starting Friday, March 24, and running two weekends: Fridays and Saturdays at 7:30 p.m. and Sundays at 2 p.m. The 2014 play by the Tony and Outer Critics Circle award-nominated playwright takes place in a modern megachurch and shows the pastor and other leaders arguing publicly about a matter of faith that may split the congregation, destroying what the pastor has so assiduously built. In this show, the audience plays the part of the congregation, with the pastor addressing members directly.
Funkenbusch grew up in Springfield and spent a dozen years working in the theater in New York City before coming back home. He's been active in local theater ever since, starting a theater company in Havana, and participating in plays in Petersburg, Springfield and other places.
"I saw The Christians in Chicago a few years ago, and it was the first time I'd seen a play that portrays people of faith as real human beings and not caricatures or cartoons," he said. "Even though the particular controversy in the play is about religious doctrine, the theme is more about communication and relationships, and presents a story that could be told anywhere, not just in a church." Funkenbusch emphasizes that no matter what an audience member's religious beliefs, the play will be entertaining and thought-provoking for everyone.
The Christians runs about 90 minutes, with no intermission. For ticket information, call 217-523-2787 or go to the Hoogland Center for the Arts website at https://www.hcfta.org/tickets.
Don Howard is an intern at Illinois Times while completing his master's degree in
Public Affairs Reporting at the University of Illinois Springfield. He can be reached at dhoward@illinoistimes.com or 336-455-6966.