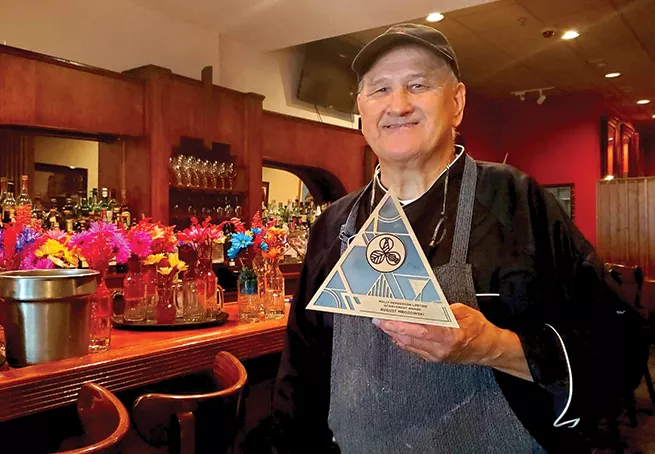 Augie Mrozowski was at an awards ceremony when the announcer described a chef who was the son of immigrant parents and who began his storied career as a 14-year-old. Huh, he thought. Sounds familiar. To his surprise, within moments, hundreds stood to applaud him. Winning a Downtown Springfield, Inc. lifetime achievement award earlier this year was one of his prouder moments, he said.
Now, five months later, a lot has changed. His career has come to a close. Saturday, June 27, was the last day he served guests on the patio of Augie's Front Burner in downtown Springfield. The longtime chef said the pandemic gave him time to pause and reflect on where he is in life. At 65 years old, he's ready for a break. He said 15-hour workdays were his norm. "I'm just glad I survived doing the job every day. It's hard to be a chef," he said. But, "I'm very passionate about it. And that's the hard part about giving this up."
Mrozowski's career began in the steps of his father. Both worked in the kitchen of the St. Nicholas Hotel in Springfield. The family mostly spoke Polish around each other. His mother was from Poland. "My mother always washed her clothes by hand ... we never wasted anything in life. And my father was always organic, he always had homeopathic remedies." Mrozowski's dad was from Germany, and "was really an incredible guy, hardworking and very talented ... I learned some really basic things from him, how to caramelize things, how to make stocks. Butchering is what he taught me more than anything." Still a devotee of fresh, locally sourced food, Mrozowski spent one of his last days on the job butchering a cow he picked up from a farm.
Mrozowski had left Springfield for Florida for nearly two decades, where he had a successful career as an executive chef. He opened Augie's Front Burner in Sarasota and went through life stuff – a divorce and a motorcycle accident, namely – before returning to his hometown. "I love Springfield," he said.
Augie's Front Burner found a home across from the Old State Capitol on Fifth Street, where it's been for more than two decades. Known for gourmet, locally sourced fare, it was also the stomping ground of many state legislators. "I've seen so many changes in Springfield when it comes to politics," he said. At certain points, lawmakers would be holed up in his basement until morning, working on bills. He'd feed them and they'd walk back over to the Statehouse – "crazy stuff" as he described it.
Jordan Coffey was just a "punk kid" when he started dishwashing at the Front Burner as a teen. Mrozowski tapped him to lead the kitchen of a cafe at the Abraham Lincoln Presidential Museum where he learned fast. Coffey's wife, Aurora, is also a chef. The two ran American Harvest restaurant, which Mrozowski and his wife owned and allowed the Coffeys to buy into and operate. Aurora said Mrozowski was willing to invest in them in a way that allowed them to blossom as young chefs. "I think that mutual respect, that give and take, has just created something that you don't find a lot in any work atmosphere, let alone in something as high-strung and high-stakes and volatile as the restaurant industry," said Aurora. The Coffeys said they will forever be grateful for the guidance and freedom given to them by Mrozowski and his wife, Sharon Ehrat. The Coffeys decided not to renew their lease on the American Harvest space earlier this year, and instead will start a new venture.
For now, the Coffeys will take over the downtown space and licenses that Mrozowski is letting go. Mrozowski was an early adopter of the local food movement, choosing to purchase seasonal produce from the farmers market and gardening himself. He now has beehives in his backyard. That will keep him busy, he said. Ehrat said she looks forward to traveling. "It's just as big of a deal for her to be retiring as it is for him," said Coffey. "The amount of financial knowledge and the business aspect of things, she's really heavy-handed in all of that."
Mrozowski has passed along his family's love and appreciation of fresh and wholesome food to the Coffeys, themselves now part of his legacy. Mrozowski said he'll continue to cook for fun. And he has plenty of bees, blackberries, tomatoes and plants to tend in his garden.