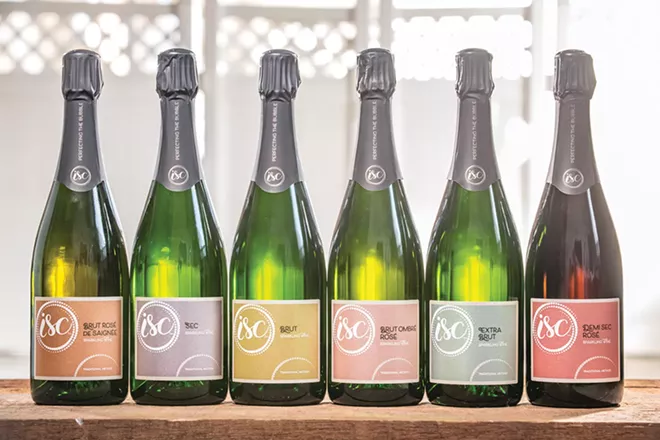 There are few things I enjoy more than a good glass of bubbly. Champagne, while not the birthplace of sparkling wine, is considered to be the benchmark for top-quality bubbles. The region of France itself is quite small, measuring just under 135 square miles, and only wines grown and produced within its borders are allowed to be labeled as Champagne.
The process itself is also strictly regulated – true Champagne must be made in the traditional method. Grapes are harvested when they're still relatively tart, then pressed and fermented into a base wine, which is then bottled along with a splash of liqueur de tirage. This mixture of sugar, yeast and nutrients sparks a secondary fermentation in the bottle, which creates the wine's iconic sparkle. Once this second fermentation is complete, the wine is matured on the lees (spent yeast cells) for a minimum of 12 months, but the finest wines will often spend several years aging on the lees before it is released. Also known as méthode champenoise, or méthode traditional, this process was developed and perfected by generations of winemakers in Champagne, and all wines bearing that label are made in this way. This costly, labor-intensive process, combined with limited supply from this tiny region, is why true Champagne is never cheap.
Luckily, wine regions around the world have adopted this same technique, and top-quality méthode champenoise wines can be found in both old-world and new-world regions alike. Traditionally made sparklers from a number of French regions are labeled as cremant, with those from Alsace, Loire and Burgundy being some of the most noteworthy. Spanish cava is also made this way (Italian prosecco is made using a different process). Premium méthode champenoise wines can also be found in practically every New World wine region. Graham Beck is one of my favorite producers from South Africa, and here in the United States, brands like Schramsberg, Chandon and Gruet have achieved legacy status, thanks to their consistently high quality.
Even bubbly lovers in Illinois don't have to travel far to imbibe in delicious méthode champenoise wines. Illinois Sparkling Company, located just two hours north of Springfield, has been making crisp, quaffable traditionally made sparkling wine since 2008. Mark Wenzel is the winemaker and owner of August Hill winery in Utica, Illinois. While he was developing wines for August Hill he noted that Illinois grapes had a similar composition to fruit from Champagne, in that they were high in acid and low in tannin (compounds that contribute texture and structure in red wines). The climate and geography here in Illinois are remarkably similar to Champagne, which is relatively flat compared to other winemaking regions and has a cold, continental climate.
"It all started, I guess, because my wife and I love to drink sparkling wine," Wenzel explains. "I made some base wine and took it around to folks at conferences who had some experience with sparkling wine and just tried to research and learn as much as I could." Eventually Wenzel would go on to create a separate brand for his bubbly: Illinois Sparkling Company. Using state of the art technology and equipment direct from Champagne, Wenzel has crafted a line of award-winning sparkling wines that showcases the potential of Midwest wines.
ISC's crisp Brut is a blend of Illinois-grown chardonel, frontenac gris and lacrosse varieties that combine the best characteristics of old-world grapes with the hardiness of American varietals. The wine spends three years on the yeast lees before being riddled and disgorged, a slow labor-intensive process that involves slowly inverting the bottle so the sediment collects in the neck of the bottle. The neck is then dipped in a super cold brine solution and the frozen plug of yeast is ejected. Wenzel riddled his wines by hand in the early days of ISC, but now uses a machine called a gyropalette. Designed in France and used by all the top Champagne houses, these machines accomplish in a matter of days what used to take weeks of tedious work.
After disgorgement, the wine is topped up with liqueur d'expedition, a mixture of wine and sugar that dictates the sweetness of the final wine. Wenzel uses this opportunity to craft a line of wines in a range of sweetness levels. The brut is the driest, followed by increasingly sweet demi sec and sec offerings. ISC also makes sparkling Rosé from 100% chambourcin grapes, picked early while still fresh and vibrant. Aged for a shorter time on the lees to better preserve the wine's juicy red fruit aromas, the ISC Brut Ombré Rosé is incredibly food-friendly, pairing perfectly with everything from grilled lamb chops to fried chicken and buttery popcorn. Perhaps best of all, ISC's line of wines are competitively priced starting at around $25. Look for them at your local wine shop or at ISCbubbly.com.