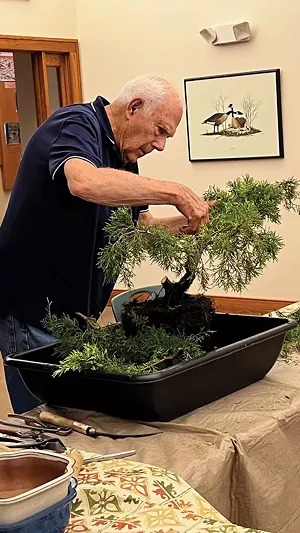 Dr. Roland Folse chaired the SIU School of Medicine Department of Surgery for nearly 30 years, retiring in 2000 after a distinguished medical career. For more than a half-century, he has also used his hands to create art in many forms. A retrospective of his paintings and 3-D work is on exhibit at the Jacksonville Art Association's David Strawn Art Gallery, 331 W. College Ave., through Feb. 26.
Folse has painted for most of his life, beginning with oils and later pastels. He's a renowned bonsai artist, and some of his creations are now in the collections of the Pacific Bonsai Museum in Federal Way, Washington. In the late 1980s, he began making ceramic pots for his bonsai. This evolved into creating art pottery, using shino and crystalline glazes. He has an art studio and ceramics studio at home and expanded into woodworking. He built a woodwork shop where he creates furniture in unique designs using native woods. When his children were young, Folse worked seven-day weeks. Consequently, he pursued hobbies where he could be at home. Instead of playing golf, he pruned bonsai trees, painted and created ceramics.
Folse is a world traveler, often taking painting classes in other countries. The places he visits are reflected in his paintings. Folse believes art is an integral part of life, and it is a driving force in his daily activities. To witness his creativity, visit the Strawn Art Gallery in Jacksonville, Tuesday-Saturday 4-6 p.m. and Sunday 1-3 p.m.